What goes around comes around
I heard, on the radio, a weasel from the Israeli Defence Force [IDF] saying how moral and ethical the Israelis are, because before they drop bombs or attack with missiles a residential apartment building, the Jews drop a lesser bomb on it as a "warning", and sometimes drop leaflets etc in a "get out now" threat. For the Jew, that apparently made it OK…No thought that most of the residents of such a building were uninvolved civilians: families, children, companion animals etc. The Israeli Jews mix brutality and hypocrisy in a most unpleasant way.
BBC World Service
Heard a couple of other reports. The first was a laughably-poor one about repatriation of historical artefacts and so on. The BBC presenter, a black man from London (but from a family background in what is now Zambia) admitted that, prior to the programme, he had never heard of the Elgin Marbles! https://en.wikipedia.org/wiki/Elgin_Marbles
Incidentally, the presentation of the Marbles at the British Museum looks more aesthetically-pleasing than when I was last there nearly 30 years ago. Maybe my memory is at fault, though.
On the same BBC World Service show, another African made the point that the wealth of what is now Zambia, the mineral wealth mainly, was "plundered" by the British, without which "plunder" the "Zambians" (i.e. the Africans then living there and their descendants) would have been able to develop a better, more prosperous (etc) society. Ha ha! What nonsense! For one thing, the Africans had no idea of how to mine, refine, or use the product of all that. They did not have any idea that there was anything useful under the ground on which they walked.
The other BBC World Service feature was about a cafe in Innsbruck called Cafe Schindler, once owned by Jews who were bought out (at an undervalue, supposedly) in 1938, after the plebiscite and Anschluss that joined Austria to Germany . They decamped to London.
The granddaughter of the 1930s owner (which owner established or bought the cafe in 1922) has researched her family history extensively. She discovered that her father, who was a fraudulent Jew businessman, and who had said that he had been beaten up in Innsbruck in 1938 by "Nazis", had in reality been living in London by then (aged 12). In other words, he had told "porkies"…not very kosher!
Apparently, the woman's father found that a fake "holocaust" connection was a good excuse (in both London and Austria) against allegations of business fraud in the 1960s and 1970s, though he was eventually imprisoned in England. His daughter claimed that one of the reasons why her father never paid his business creditors was because he spent all his money or much of it on lawyers, trying to get "restitution" for value allegedly taken by (yes, you guessed it) "the Nazis".
Apparently, in the 1960s or 1970s, her father also demanded (and received) non-existent arrears of "rent" for the seven years from 1938 to 1945 from the National Socialist, Franz Hofer [https://en.wikipedia.org/wiki/Franz_Hofer], who had bought the Cafe Schindler in 1938, and who had turned it into a favourite place for the Innsbruck National Socialists. The "rent" was paid to the Jew by Hofer (who may have been unwell and who died in 1975) "unofficially", in cash. A form of blackmail, really.
The cafe still exists, under a similar name.
An interesting feature, that made me laugh, was that the presenter seemed to take some of the assertions made as truthful, despite having been made by a Jewish business cheat whose own daughter admits he was a fraudster and serial liar. In fact, I found the daughter's account rather naive in places, as when she said that her family had to sell in 1938 in order to avoid "being shipped off to Poland". Well, Germany only invaded Poland in 1939, so…
Tweets seen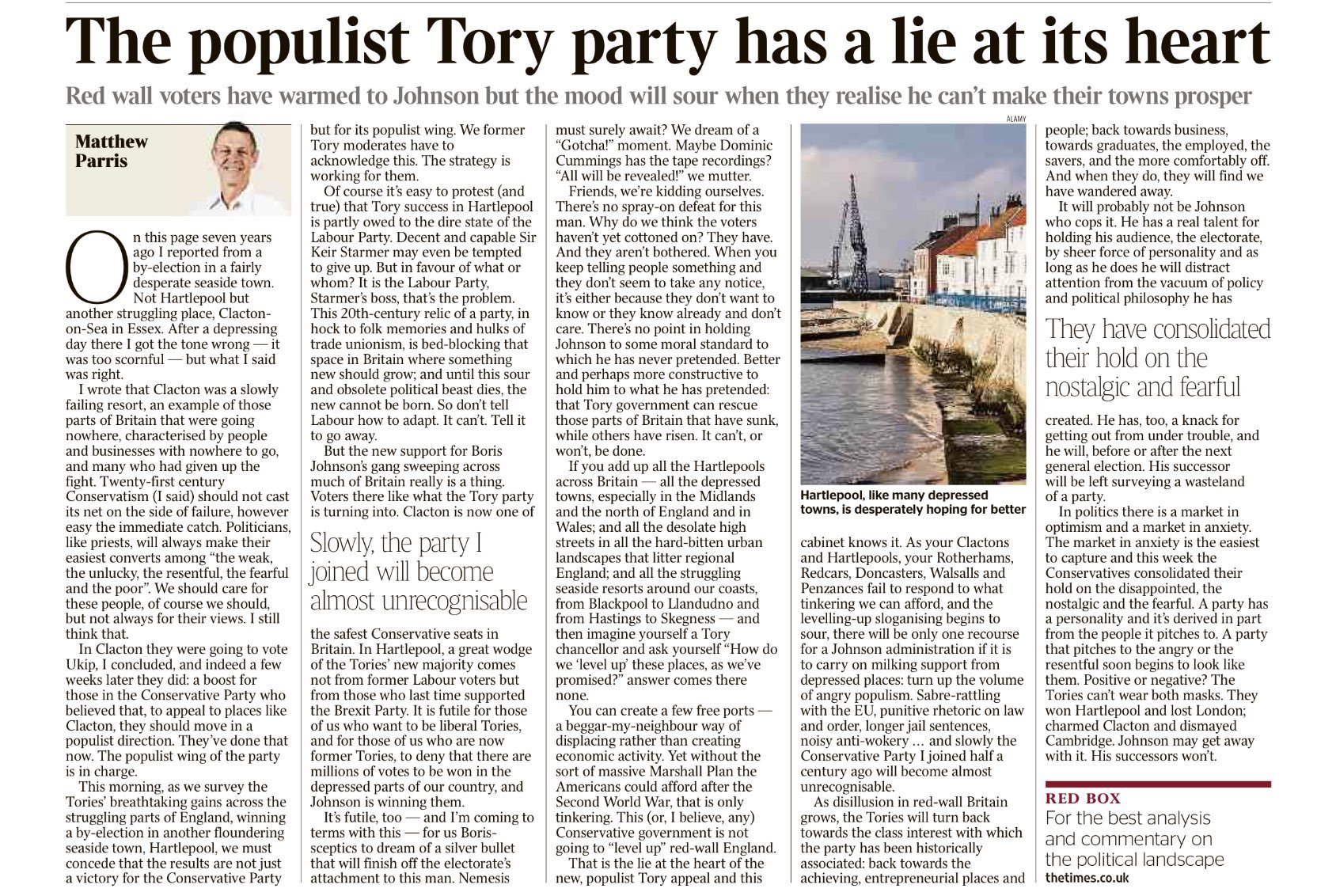 I am ideologically far from Matthew Parris, but I notice that many of the points in his article have been made by me in my blogging of past days, months, and years. My conclusions are not exactly the same, however…
Both Conservative and Labour parties are now incompetent fakes.
Tweets seen
Rather poor from a well-known journalist. Guderian [https://en.wikipedia.org/wiki/Heinz_Guderian] was a German officer who was not, however, a member of the NSDAP (National Socialist party). In fact, most German officers were not NSDAP members, though about a third of junior officers were, by 1945.
Krivoshein [https://en.wikipedia.org/wiki/Semyon_Krivoshein] however was a member of the Communist Party of the Soviet Union [CPSU]. Almost all Soviet officers were, particularly those who, holding the rank of major or above, were considered to be members of the nomenklatura [https://en.wikipedia.org/wiki/Nomenklatura].
Hitchens, despite making equivalence between the Reich and the Soviet Union, always seems to me to have more genuine animus against the German Reich, possibly (I speculate) because of his own part-Jewish background [see https://ianrobertmillard.org/2019/05/19/peter-hitchens-and-his-views/].
Late tweets seen
Well, why not? After all, Wall Street has a "bull" statue [https://en.wikipedia.org/wiki/Charging_Bull], so why should Rockefeller Center not have a "bullshit" statue?…
This must be a first. At almost any time in the near or historical past, a "British" Prime Minister who had handed down against him a County Court money judgment would probably have been forced to resign. It would certainly have been a huge embarrassment. Now? So unworried is the part-Jew chancer now posing as Prime Minister that he has just ignored it for six months!
As I have blogged previously, Boris-idiot has weaponized his own incompetence and sleaze. Almost nothing that he does, or fails to do, counts against him, because the public simply do not expect correct or even ordinarily decent behaviour from "Boris".
This (the fact that the UK gave Poland in 1939 a "guarantee" that it did not honour and indeed was unable from the start to honour) still resonated when I was last in Poland in 1989.
My answer to the rhetorical question posed by Hitchens is that the Jews (primarily in the sense of "international Jewry" or "the Zionists' leaders") wanted war, to destroy Hitler and National Socialism. In Britain, in its ruling circles, there was a "War Party" fronted by Churchill, paid for secretly by the Jews, and that "War Party" included leading civil servants such as Vansittart [https://en.wikipedia.org/wiki/Robert_Vansittart,_1st_Baron_Vansittart] and leading System politicians, such as not only Churchill but also Duff Cooper and others [https://en.wikipedia.org/wiki/Duff_Cooper].
Late music