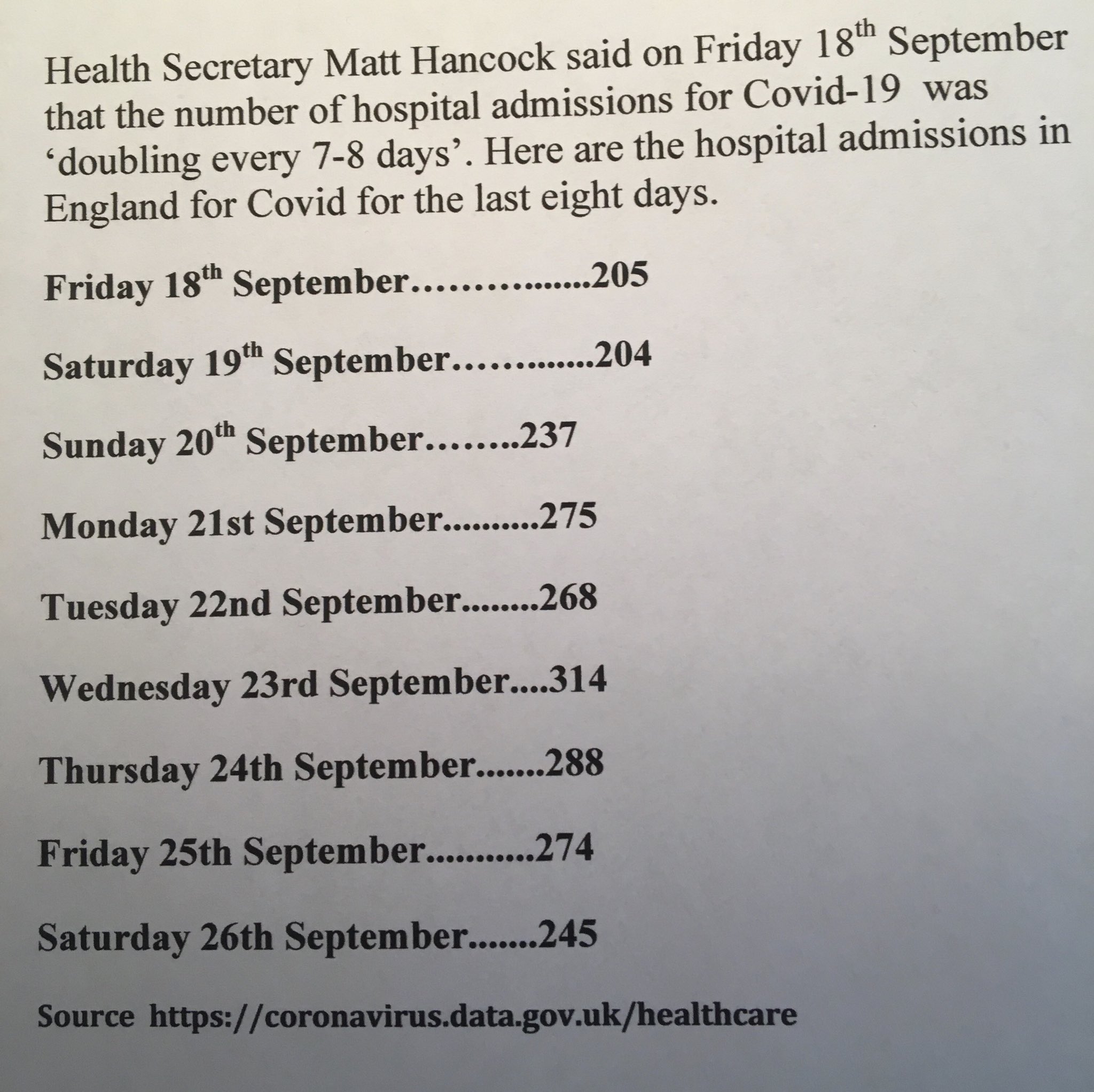 The moment —see below— when little Matt Hancock woke up from the delusion that he is a serious political leader…
Other tweets seen
Below, from yesterday, but worth thinking about:
Looks like ignorant TV face Piers Morgan is finally (just) starting to wake up…
As for "lockdowns" supposedly "protecting the NHS", the NHS staff have been protected (many are working from home, and not even at hospitals and medical centres) but the patients have in many cases been left to sink or swim…
The present Parliamentary system "needs scrapping", too!
The irony is that changes to state power in various other countries in the past century were done because a party and a dictator wanted to institute a dictatorship in order to carry out a programme; in Germany, the Enabling Act 1933 [https://en.wikipedia.org/wiki/Enabling_Act_of_1933]; in the Soviet Union, a number of decrees, conference resolutions and executive actions [https://en.wikipedia.org/wiki/Government_of_Vladimir_Lenin].
The present clownish government in the UK has no real, let alone radical or revolutionary programme to promulgate and execute. It is swept along by events. There may be an overarching "international conspiracy" "programme", but that goes beyond this discussion and is being directed from secret sources. As far as the "Conservative" Party government led or headed by Boris Johnson is concerned, it really has no programme at all. Rudderless.
Boris-idiot resembles the jester or court fool of the mediaeval period, who is made "King for a Day".
Who to blame? Obviously, firstly, Boris-idiot himself. It was his ambition to be "World King", —Prime Minister is the nearest offered by the UK— that has led him to his present rank.
I blame also the Conservative Party MPs, who supported "Boris" as party leader, thinking that he would be popular with the voters. I blame, also, the 90,000+ (out of 140,000) Conservative Party members who wanted "Boris" to be their leader.
Most of all, I blame the uncritical mass media, the scribblers and talking heads of which have been promoting "Boris" openly for about 20 years.
What of the voters themselves? Yes, they, at least those that voted for Conservative Party candidates, are also to blame, but they were misled by the msm, which promoted "Boris", and at the same time demonized Corbyn. The Jewish lobby was a large part of that.
Still think that you live in a "free and fair" "democracy"?
Here (above) we see Peter Hitchens offering a non-solution to the problem. Abstention, while it may send a vague message of sullen resistance to the System (eg if the voter turnout is 10% rather than the usual General Election figure of 60%+), achieves nothing beyond that. The same parties (in Hitler's words, "the dirty democratic politicians") will fight for that 10% just as they usually do for the present 65% or 70%), ignoring the non-voters.
Any similar graph showing world "Covid-19" statistics would be even more striking, because in the world as a whole a million have died, but of course that is out of eight thousand million! One death for every eight thousand people on the Earth.
Once again, above, Hitchens has no answer except to say "don't vote" or "vote for someone/anyone else"! Parliamentary democracy as we have known it for the past couple of centuries just does not do its job any more.
Proportional representation would help, but on its own would not be enough. There must be movement towards the Threefold Social Order concept: https://en.wikipedia.org/wiki/Social_threefolding.
"Bloody Sunday"
Sometimes this country (as it now is) infuriates me, often it exasperates me. "Bloody Sunday" is one example. Whatever the rights and wrongs, the fact is that those events took place nearly 49 years ago. In earlier ages, Britain (Ireland maybe not) made history, good or bad, then moved on, to make new history. These days, everything drags on forever.
It is the same with the Hillsborough football stadium thing. Yes, very sad that people died in an incident probably avoidable, yes the behaviour of some of the police and Press was wrong, but it was 31 years ago. Enough!
More tweets seen
Corbyn libel case
Jeremy Corbyn is being sued by a BBC journalist and maybe others (I have not kept up with the nonsense). I notice that Corbyn's legal defence fund has now slowed almost to a halt, but not before it has reached (as of today) £332,803: https://uk.gofundme.com/f/47gyy-jeremy039s-legal-fund. That compares to about £318K a couple of months ago.
The mouse that roared
On my way back from, as the Americans say, running an errand, I decided to call in at a "Mole Country Store", one of a medium-size chain of such outlets. I had only been there once or twice over the years.
They had instituted a silly "one-way" system, presumably in case someone is a plague-carrier. I went through the labyrinth without finding what I wanted, so approached one of the two cashiers, a woman in late middle age wearing a mask despite being behind a perspex screen.
I pulled my disposable facemask down to say "I am looking for…", and that was as far as I got before the harridan barked (and that is the accurate term) "PUT YOUR FACEMASK ON PLEASE SIR!" (the "Sir" very much the kind of "Sir" sometimes tacked on by the police to some sarcastic remark, or by instructors of Army officer-cadets, as in "you will call me Sir and I shall call you Sir; the difference is that you will mean it."…).
After a brief exchange in which it turned out that "Mole Country Store" did not have the product I wanted (I think that the old bitch was lying, in fact, in order to mess me around), I expostulated that "this is nonsense!", as I stormed out, tearing off the mask.
There were only three customers anyway (it was much busier there a few years ago), so it may be that the place is living on borrowed time. I hope so, if that is how their serfs treat the customers. Anyway, they have just lost one customer.
I think that the sort of situation just described is one of the worst aspects of the Government-imposed nonsense of the past months. That woman is no longer a poorly-paid wage-slave in some rural store. Oh, no. She is now the guardian of publc health, who can bark at people to do this, do that etc. All sorts of nuisances, pains-in-the-whatever, and busybodies, have been emboldened and their existences somehow validated by the "lockdown", "social distancing" and now facemask nonsense imposed by Boris-idiot and his Friends of Israel regime.
Late tweets seen
Is that woman's face and expression that of the British police, or of what amounts to that of a merciless invader, alien and wishing harm to us? I hope not the latter, but am not very optimistic.
Late music
https://en.wikipedia.org/wiki/Checkmate_(ballet)