The world is not without kind people [Russian saying]
Nice story: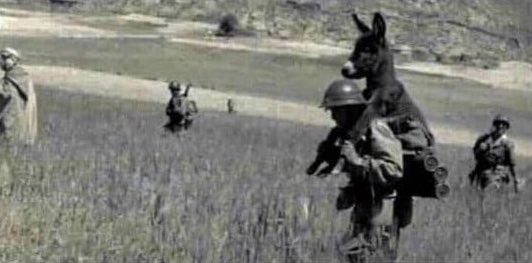 "This photo is from Paris Match, 1958. The Algerian donkey was starving to death, so a soldier from the 13th brigade of the French Foreign Legion carried it back to base where it became a regimental mascot named "Bambi""
Coronavirus
"Police across the country are wielding powers they do not have – with vanishingly little public scrutiny"
https://www.telegraph.co.uk/news/2020/04/05/police-across-country-using-powers-do-not-have-vanishingly/?li_source=LI&li_medium=liftigniter-rhr
"Italy has announced plans for ending its lockdown after the coronavirus-ravaged country today recorded its lowest daily death toll for more than two weeks.  
Rome recorded another 525 deaths, taking its total to 15,887 – the highest of any country in the world – however, this marked its lowest daily increase since the 427 registered on March 19.
Furthermore, the number of people in intensive care (3,977), fell by 17 since Friday, and the number of cases rose to 128,948 from yesterday's 124,632, a lower increase than the day before.
It comes amid growing signs that Spain's strict coronavirus lockdown may be working, as the country records its lowest death toll for a third consecutive day." [Daily Mail]
https://www.dailymail.co.uk/news/article-8189585/Italy-records-lowest-daily-death-toll-nearly-two-weeks-525-fatalities-24-hours.html
Keir Starmer and the Labour Party
His surname is English, rather than Scottish, it seems:
https://www.houseofnames.com/starmer-family-crest
Keir is now a Scottish first name, Keir Hardie having been, of course, the main founder of the Labour Party:
https://en.wikipedia.org/wiki/Keir_Hardie
but "Keir" was the surname of Hardie's mother, which he kept as part of his surname, only later using it as a first name.
Keir Starmer's parents named him after Keir Hardie:
"Keir Rodney Starmer was born in Southwark, London, on 2 September 1962[5][6] and grew up in the small town of Oxted in Surrey.[7][8][9] He was one of five children of Josephine (née Baker), a nurse, and Rodney Starmer, a toolmaker.[9][10] His mother had Still's disease.[11][12] His parents were both firm Labour Party supporters, and named him after the first Labour Party MP, Keir Hardie." [Wikipedia]
https://en.wikipedia.org/wiki/Keir_Starmer
Note:
"Personal life
Starmer married Victoria Alexander, a solicitor, in 2007. The couple's son and a daughter are being brought up in the Jewish faith of their mother.[12][61]"
[Wikipedia]
There you have it: Starmer's wife is Jewish, and his children are therefore half-Jewish (according to ordinary genetics), and simply "Jewish" according to Jewish religious practice, as well as being brought up as culturally Jewish.
So far, Starmer has appointed members of Labour Friends of Israel to Shadow Cabinet: Rachel Reeves and Lisa Nandy. Emily Thornberry is to stay in Shadow Cabinet.
[above: Emily Thornberry at a Zionist dinner in London, photographed with her husband —a half-Jewish High Court judge— and —in central position— Mark Regev, the Israeli Ambassador]
I think that we can write off the Labour Party now.
Ghetto life in Israel
The Israeli state is considering sealing off "ultra-Orthodox" areas, thus creating quasi-ghetto zones within the Jewish state. Who would have predicted that?!
https://www.theguardian.com/world/2020/apr/06/calls-to-seal-off-ultra-orthodox-areas-adds-tension-to-israels-virus-response
[above: Orthodox Jews in early 20thC Vienna]
The Guardian article also makes the point that the Orthodox Jewish areas in London may also have been major incubators for Coronavirus. The boroughs of Barnet and Harrow, as well as Brent, are in the top half-dozen Coronavirus "hotspots" not just in London but in the whole of the UK.
Coronavirus— the exit strategy
Or to put it another way, what exit strategy? It is one thing to say to people, "stay inside except for a few closely-defined outings for a few weeks", and quite another to say "stay inside your homes for several months, and if you dare to come out even to spend an hour walking in a national park, or on the beach, or sunbathing harmlessly in a largely empty park, or driving on an empty motorway, the police will stop you, question you, fine you and may fine you as much as £1,000"…
How long is this "lockdown" going to be sustainable? I see that even the msm outlets are beginning to ask the question now.
If someone has a country estate, or even a sizeable ordinary detached suburban or smaller rural house, perhaps with gardens, a swimming pool, a tennis court, an orangerie, a vegetable garden, "staying home" is not so hard to do. For the majority of the population, stuck in small houses, flats etc, perhaps with children or bored teenagers, this "lockdown" is a house arrest which cannot continue indefinitely. At some point, before long, the Government is going to have to announce a relaxation and then an end, before people start to ignore the restrictions.
Good points by Lewis Goodall of BBC TV Newsnight (ex-Sky News):
Little Matt Hancock and others may threaten more severe restrictions, but without public consent, even the present restrictions cannot be enforced widely. The present conditions are holding because the public has been persuaded or stampeded into compliance. I think that we are just approaching 2 weeks of "lockdown". Can the UK sustain 2 months? That would be five times as long.
The economic damage is already huge.
Tweets:
Anyone who believes that Keir Starmer's Shadow Cabinet is anything more than a nominal "Opposition" is very naive. In 2015, the Jewish-Zionist lobby lost control of one of the previously-controlled two main System parties. After nearly 5 years, that lobby now has regained control. The Jews as a group care only that the (sort-of) "anti-Zionist" Corbyn has been removed. Hardly any Jews have voted Labour for many years.
Quite. Unreasoning fear is all around. Shoppers at Waitrose stand about 10 feet apart before they are allowed to have a trolley and enter the store, but inside they shop sometimes only a couple of feet from one another!
Likewise, the usual type of Twitter virtue-signallers continue to tweet on silly hashtags demonizing (of all targets!) people doing completely harmless things, such as walking along largely-empty beaches, almost deserted national park moorlands and forest trails etc, driving or motorbiking on almost-empty roads and motorways to places (or simply around, just to get a change of view and some fresh air).
If I had to say what unites the majority of the "Twitterati", it would be their love of conformity, their obedience to authority, and their love of the largely-failed "multikulti" society. I suppose that is why Twitter was mainly pro-EU…
Here is a typical example, from someone calling himself "@sychodefender":
You see the mentality. Any dissent from the "aurhorized" version of the truth is to be suppressed, and anyone not going along with the official narrative is "murdering" those unfortunate enough to die from Coronavirus. Who then is "murdering" those who, by reason of the "lockdown" (house arrest of the British people), cannot access lifesaving operations or other medical help for many other life-threatening conditions which (unlike Coronavirus) can be treated? Coronavirus can only be managed, via ventilation, not "treated" or "cured". Who is "murdering" those people? No-one? The Government? Conformist tweeters such as "@sychodefender"/Simon Burgess? The first thing being murdered is the truth; after that, the English language.
and more news
Where do we go from here?
"There's a real question of whether we will have an economy to come back to at the end of this".
Quite…
Screwup, James Screwup…
Interesting legal case…
https://www.dailymail.co.uk/news/article-8189913/Ex-MI6-spy-dirty-dossier-Donald-Trump-sued-three-Russian-oligarchs.html
It seems to me that the thing SIS/MI6 is best at is bolstering its own reputation (not by its own successful product or analysis, but via self-serving propaganda or public relations). That, and providing fairly well-paid careers for often rather mediocre members of the Oxbridge-educated middle classes.
Let's think of a few of the less ancient SIS/MI6 failures:
the invasion of the Falklands; failure to warn HMG;
failure to warn HMG about the likely fall of the Shah of Iran;
failure to warn of the fall of the Berlin Wall and the collapse of socialism in the Soviet Union and Eastern Europe…to name but three very large-scale events.
What about SIS/MI6 successes in the past 50 years? The Gordievsky defection, I suppose, but that is or was "spy game" or "spy wars" stuff, rather than large-scale success in forecasting. The same might be said of the "Viktor Suvorov" defection from the GRU or that of Oleg Lyalin (KGB). Those were, in essence, "walk-ins", of course, though Gordievsky "walked in" having been cultivated for some time (in Copenhagen).
Of course, it can always be said that "the successes must be kept secret". Perhaps, but I have little doubt that many failures are also kept secret (aka "covered up").
At some point, SIS/MI6 must be reorganized to provide useful information to government, especially on the strategic level. That might mean using more open-source material as a percentage of the whole.
Naturally, anyone who —like me— is not a member or former member of such an organization is commenting somewhat in the dark, but it is surely clear that this is not a properly-functioning organization.
Now this…
Good grief!
"The Army is so desperate to fill its ranks that it is signing up recruits with a reading age as young as five. Normally, its rules bar hiring anyone with a reading age below 'entry level two' – equivalent to that of a child aged seven to nine." [Daily Mail]
"Last year, the Army was roundly mocked for recruitment advertisements stating 'Your country needs you' to 'snowflakes, phone zombies, binge gamers, selfie addicts, and me, me, millennials'. Now it appears that some potential recruits would not even have been able to under stand the adverts – even as warfare become increasingly computerised." [Daily Mail]
https://www.dailymail.co.uk/news/article-8190009/Army-signs-recruits-reading-age-young-FIVE-desperate-bid-boost-troop-numbers.html
Petty police
"A police officer uses a megaphone at Southwark Park, to announce sunbathing is not allowed, but exercise is" [Daily Mail].
How absolutely stupid! The Coronavirus is spread via water in air, so is far more likely to be spread via exercise than via sunbathing!
"...there are concerns that public confidence could be lost if those in power with gardens and ample living space tell those who live in crowded conditions they cannot go to the park or exercise outdoors." [Daily Mail]
This is becoming very silly (which is why 90% of "Twitterati" support the "lockdown" in an extreme way…).
If the Government and police don't stand down these restrictions pretty soon, there will be disobedience and perhaps actual disorder. At the very least, much of the public will "just say no", or perhaps more likely "yes repeat no", i.e, apparent compliance but followed by the opposite as soon as the police or other busybodies go away.
The rest of Europe is already starting to exit "lockdown"…
https://www.dailymail.co.uk/news/article-8191185/Austria-Denmark-plan-lift-lockdown-restrictions-week.html?ns_mchannel=rss&ico=taboola_feed_desktop_news
The British government is headed by a pack of idiots that have no real idea what they are doing. Look at little Matt Hancock! His only pre-political job was "making tea" (not quite, but he was very junior) for a year at the Bank of England. Now he is a Cabinet minister! It's mad. The present government is mad or stupid or both.
Has it peaked in the UK too?
"England, Scotland and Wales have declared 434 more deaths caused by the coronavirus today, taking the UK's total to 5,368. 
England accounted for 403 of the fatalities while Scotland and Wales independently declared 31 more deaths in the past 24 hours.
The statistics are a ray of hope as the daily death count has fallen for the second day in a row and was today the lowest it has been since March 31, when it was 381.
Today's number is a 30 per cent drop from the 621 fatalities recorded yesterday, and a 39 per cent fall from Saturday, which was the worst day so far with 708." [Daily Mail]
https://www.dailymail.co.uk/news/article-8191837/England-announces-403-coronavirus-deaths.html