Adolf Hitler [1889-1945]
Virgin Atlantic
Looks like the mad policies of the UK government, and the effect of Coronavirus on the air travel market, will see the end of Virgin Atlantic:
https://www.theguardian.com/business/2020/apr/20/richard-branson-renews-virgin-plea-for-coronavirus-support ; https://www.forbes.com/sites/daviddawkins/2020/04/20/billionaire-branson-asks-for-government-money-to-save-virgin-atlantic-claims-he-did-not-leave-britain-for-tax-reasons/#664cca91e218
When I lived in Little Venice, on and off until 24 years ago, there was a large houseboat, where Branson was said to have lived once. Beyond Blomfield Road.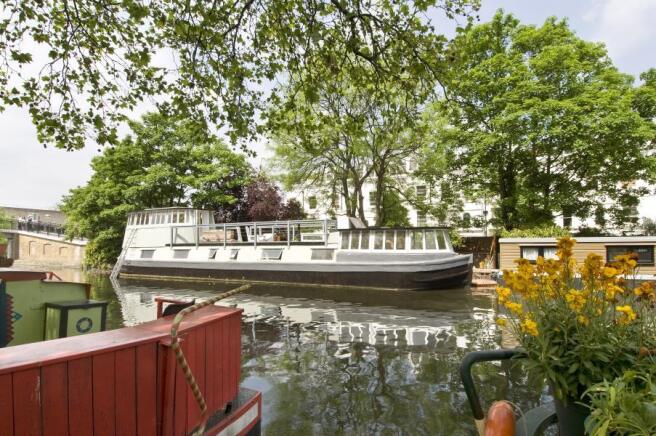 [above: Branson's former boat at Little Venice, or one very similar; I think the same]
I was told that that he owned a house right by where that houseboat was berthed.
[above: the Regent's Canal at Little Venice, not far from where I once lived; also not very far from where the previous photo was taken]
Virgin Australia, and other Branson-founded businesses, are also said to be teetering on the edge of insolvency.
I have no particular animus against Branson. He certainly seems no worse than other big businessmen, and in some ways seems better than others in the public eye. His courage cannot be questioned, after his ballooning exploits, and he is certainly willing to try new things in business. I do not particularly like some of his socio-political attitudes, and he is obviously mainly interested in making as much money as possible; that is, however, scarcely unusual in the business world.
At one time, 1989-1993, I was a fairly regular flyer on Virgin Atlantic, flying from the UK to Newark Airport in New Jersey. Not bad (for an Economy ticket), and more convenient for me than Kennedy Airport (which I also used, when other airlines had cheap tickets), because I then lived in Middlesex County, New Jersey, about half an hour by car from Newark Airport. https://en.wikipedia.org/wiki/Middlesex_County,_New_Jersey
I was rather surprised to see that Branson's enterprises employ as many as 70,000 people all over the world. I do not know how many of those are in the UK.
I do not see why the UK Government should give his airline £500M, even as a loan. Airlines are going to be a drug on the market (almost worthless) for some time into the future. Any loan to Virgin Atlantic would probably be money thrown away. Admittedly, that is true of most of the money now being pumped out by the present government of fools, but why add more? Also, it seems that Branson himself has not paid tax in the UK for 14 years. Not exactly an incentive for a government looking at public reaction.
Coronavirus: an interesting view from Israel
"A similar pattern – rapid increase in infections to a peak in the sixth week, and decline from the eighth week – is common everywhere, regardless of response policies"
[The Times of Israel]
https://www.timesofisrael.com/the-end-of-exponential-growth-the-decline-in-the-spread-of-coronavirus/?utm_source=dlvr.it&utm_medium=twitter
Tweets seen today
Hitchens has come to the same or a similar view to my own: this government of incompetents, advised by complete idiots, is starting to understand what it has done, i.e. pretty much killed, already, the UK's economy (not to mention civil rights and the proper rule of law) but cannot, politically, simply whine that it got it wrong.
So comes the idea that there has to be an "exit strategy", rather than the UK just resuming what is left of normal life overnight (by far the best idea). The Government (from its own standpoint) needs to pretend to be authoritative, in charge (and not, well, a bunch of idiotic mediocrities advised by similar ones).
I can think of one reason why a citizen (though perhaps not a very good citizen) might wear a surgical mask if required by the cretinous "authorities" of this poor country: it would be an excellent way in which those who commit crimes could stay undetected. I do not say that criminals, from shoplifters to bank robbers, will not still be detected and arrested (though, I hazard, in fewer numbers), but it will be harder for the prosecutors to get convictions in situations where not only have the accused allegedly been wearing masks but also where all other people at the alleged locus or loci were wearing similar masks! Eyewitness and cctv evidence will be almost worthless.
The above paragraph is, I suppose, me briefly wearing my former —but stolen from me— status as a barrister…see https://ianrmillard.wordpress.com/2017/07/09/the-slide-of-the-english-bar-and-uk-society-continues-and-accelerates/
Below, Peter Hitchens teaches a little logic and commonsense to a lady evidently devoid of both:
Not sure that I agree entirely with the last tweet, above. If Branson were to be allowed financial assistance for his companies in return for stumping up some sum in lieu of taxes previously avoided, it would be analogous to an individual not paying, say, car insurance and then, after an accident, being allowed to pay some money and then be treated as if he had paid previously.
End lockdown now!
Long live freedom! What freedom? Oh, no, wait…
Yes, if the speaker or interviewee is a dissident (I mean a real dissident, not a faux-"revolutionary" joke like Owen Jones or Ash Sarkar), a radio or TV station faces "sanctions" (i.e. punishment for not self-censoring), or may even be shut down.
Did you really believe that we live in a (mythical) "free country"?
More Coronavirus nonsense exploded…
"The UK has today announced 449 more coronavirus deaths – the fewest for a fortnight – taking Britain's total death toll to 16,509.
England declared 429 deaths and a further 20 were confirmed across Scotland, Wales and Northern Ireland. And 4,676 more people have tested positive for the virus, taking the total number of patients to 124,743.
The day's death toll is a fall on the 596 fatalities announced yesterday, Sunday, and half as many as the day before that (888). It is the lowest number for a fortnight, since April 6 when 439 victims were confirmed.
Although the statistics are known to drop after a weekend, the sharp fall adds to evidence that the peak of the UK's epidemic has blown over." [Daily Mail]
https://www.dailymail.co.uk/news/article-8235979/UKs-coronavirus-crisis-peaked-lockdown-Expert-argues-draconian-measures-unnecessary.html
"It comes as a leading expert at the University of Oxford has argued the peak was actually about a month ago, a week before lockdown started on March 23, and that the draconian measures people are now living with were unnecessary.
Professor Carl Heneghan claims data shows infection rates halved after the Government launched a public information campaign on March 16 urging people to wash their hands and keep two metres (6'6″) away from others." [Daily Mail]
Looks like I was right…all the way along, in fact…
The government of fools
As I blogged before, it is clear the pack of mediocrities and idiots now in government are afraid to take the decision to end the toytown police state called UK "lockdown". They are avoiding having to take responsibility. The same is true of Boris-idiot, who (surely obviously now?) is hiding out at Chequers until the "crisis" he himself has partly manufactured is over or seen to be almost over. He can then reappear as clown "conquering hero"…
Unexpected? Maybe not
Looks as if people are now unsure (at least more of them than previously) as to whether the EU was a "good thing" for the UK. Hard to say. Presumably, 13% are "Don't Knows" or similar. On the other hand, in the actual EU Referendum of 2016, while there was just the binary choice to Leave or Remain, 27.8% failed to vote. Were they "Don't Knows"?
Is anyone listening out there?
People may ask of me, "if you think that the government-mandated lockdown is a poorly-conceived and petty-tyrannical measure, and likely to half-wipe out the UK economy as well, why do you yourself obey it?"
My reply? "I am broadly going along with the lockdown nonsense because:
I find talking with (let alone being lectured by) the police (most of whom are poorly educated and as thick as two short planks) a bore, so I want to minimize the chance of being stopped on the local roads (mainly semi-rural or rural) around here, or on visits to the nearby small local town;
Almost nothing is open anyway, and I am not a partygoer, public (or private) sunbather, team sports enthusiast or general rambler on foot (these days).
On that basis, I may as well only make occasional shopping forays."