The Coronavirus madness continues
This (below) is worth reading:
https://www.telegraph.co.uk/politics/2020/07/23/viral-second-wave-fear-will-drive-us-another-lockdown/
https://www.telegraph.co.uk/news/2020/07/23/people-treatable-cancers-will-die-due-government-scaremongering/
Tweets seen
and the Boris-idiot government has decided that you will wear muzzles or facemasks in supermarkets. Not in pubs, though! Or restaurants. Or at work. Yet many rabbits are still going to be out tomorrow wearing their silly facemasks and denouncing anyone not doing the same!
and here [below] is Commissioner of Metropolitan Police, Cressida Dick, no less, again advocating lawless communitarian police-statism:
Peter Hitchen refers to Cressida Dick "exceeding her authority". That will not offend her. Au contraire. That is what Common Purpose teaches such drones to do: https://commonpurpose.org/knowledge-hub-archive/all-articles/leading-beyond-authority/
Wearing a facemask muzzle is not a "necessary" public health measure but an experiment in herding or corralling the populations of a number of countries, including the UK. Think of women in traditional hardline Islamic societies: hooded, veiled, without much personality, unable to do much or say much about society; compliant; submissive… That is exactly what ZOG/NWO wants for the British people, among others.
ZOG has obviously been emboldened by the "success" of the lockdown. Success, but not in stopping "Coronavirus". The virus had already peaked, just before the "lockdown" shutdown was even imposed. No, the "success" was in getting the population to be compliant, driven by fear of a plague that never was, and by the vague "laws", "rules" and "advice" sprayed out from government and the toytown police (state).
"The future you chose"?
Maybe the British people "chose" their future by not opposing it by a better vision, and thus condemning us to a future (present) where ultra-wealthy Jews have three mega-yachts in Monaco, and Gary Lineker etc get a million a year for gassing about football on TV, but most British people are caged in a multikulti zoo, in poverty or near-poverty.
So, yes, the British people bear some of the guilt and blame, but the weight of that must rest with NWO/ZOG conspirators, and with the traitors in Westminster, BBC, Sky News, the Press, publishing and academia.
"NHS is not for sale"…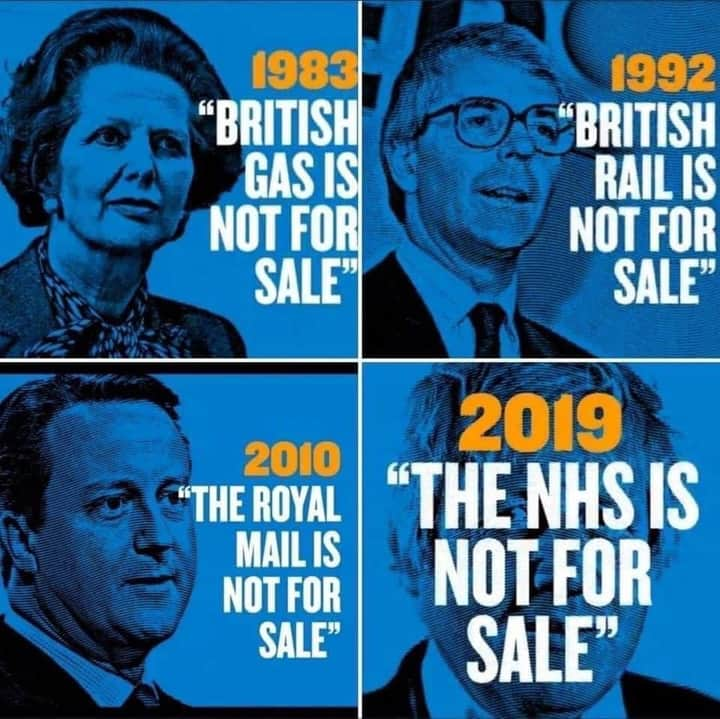 The dumbing down of society
This goes beyond poor cultural levels or levels of general (or any) knowledge. There is less and less understanding, even among (perhaps especially among) those who are supposedly educated, for concepts such as free speech, personal liberty, society under law, respect for others, decent behaviour generally.
You see it in the pronouncements around the "Black Lives Matter" nonsense. The Superintendent of police in Bristol who thought it best to allow the multikulti mob to tear down an old statue because (in his world?) it would look bad for his men to be seen protecting the statue of someone who once dealt in slaves (250 years ago). In which case, tear down anything to do with Elizabeth I, Charles II, James I, Queen Anne etc. Maybe that is or will be the next step of those behind these "protests".
The Superintendent in question took refuge in the idea that if his men protected the statue, not only would it look questionable (he thinks) but windows nearby might be broken by the mob and that would be terrible in the "Coronavirus" sitation, when Bristol retailers are already suffering.
Where does one start, in unpacking such nonsense? First, the retailers are suffering mainly because an incompetent government has scared the population out of its skin and shut down the economy. Second, it is simply not the job of a police superintendent to concern himself with the wider economic effects of his doing his duty. His job is just that: to do his duty, prevent any mob breaking the law, and to arrest those so breaking the law. Das ist's!
That is one example of the sheer lack of intelligent thought around. For others, look at, eg, Twitter. Examples abound.
There are many people who say that "you have free speech, but are not free from the consequences of your speech". A law lecturer called Paul Bernal, from East Anglia, is fond of tweeting that or similar formulae.
I feel sorry for the students of someone so unthinking. According to that formulation, Stalin's Soviet Union, Mao's China, Pol Pot's Khmer Republic (Cambodia) etc all had "free speech", because you could say whatever you liked in those societies, so long as you did not mind "the consequences" (being shot, sent to labour camps, or having your head beaten in by rifle butts).
Musical interlude
Memory Lane…
Someone found me this on the Internet: an article I wrote in 2004 about legal advice I gave in 2001 or early 2002. "Life's rich tapestry".
https://web.archive.org/web/20080511202108/http://commercialbarrister.co.uk/BrazilArticle.htm
Tweets seen this evening
Thoughts
O Mensch! Gib acht!
Was spricht die tiefe Mitternacht?»Ich schlief, ich schlief—,
Aus tiefem Traum bin ich erwacht:—
Die Welt ist tief,Und tiefer als der Tag gedacht.
Tief ist ihr Weh—,
Lust—tiefer noch als Herzeleid:
Weh spricht: Vergeh!Doch alle Lust will Ewigkeit—,
—will tiefe, tiefe Ewigkeit!«
["O man! Take heed!
What saith deep midnight, indeed?"
I lay asleep, asleep—I waked from my deep dream.
The world is deep,
And deeper than even day may dream.
Deep is its woe—Joy— deeper yet than woe is she:
Saith woe: 'Hence! Go!'
Yet joy would have eternity,—Profound, profound eternity!"]
[Nietzsche]