Muzzles and facemasks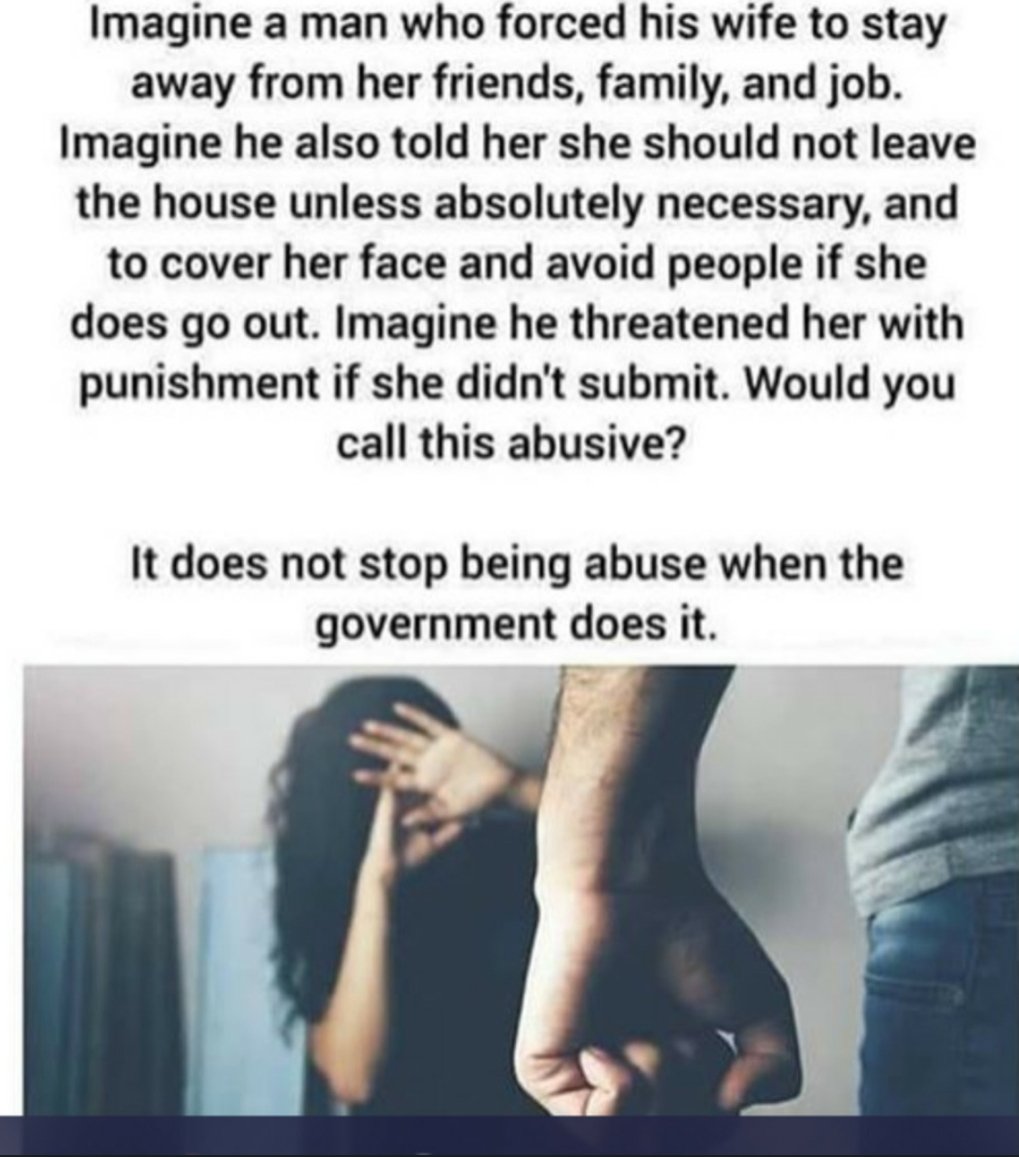 Peter Hitchens is right to keep "banging on" about all of the lies and mistakes around the "Coronavirus" situation in the UK. The virus itself is scarcely even an issue now, in reality, but the repressive measures taken to (supposedly) contain it are being strengthened even as the virus ceases to be present in much of the country; in fact, in many parts of the UK, "Coronavirus" has always been something happening to other people in other places, and read about in newspapers (if anyone still reads them), or seen on the —now terminally-boring— BBC News propaganda.
Thought about the UK and the whole "Western" world today…
"We shall soon be in a world in which a man may be howled down for saying that two and two make four, in which people will persecute the heresy of calling a triangle a three-sided figure, and hang a man for maddening a mob with the news that grass is green." [G.K. Chesterton]
I have so little confidence in the cultural level of most British people today (I take no direct interest in most of the other rabble tribes that live on these islands) that I suppose that I should link to Wikipedia in case some people have no idea who G.K. Chesterton even was…https://en.wikipedia.org/wiki/G._K._Chesterton
Some other tweets and news seen today
Now if only Stuchbery would stick to tweeting about this sort of thing, and drop the "antifa" nonsense…The tweet above is genuinely interesting.
"They" want their pound of flesh…
This is their solicitor, apparently:
A few blog posts about "Mark Lewis Lawyer":
https://ianrmillard.wordpress.com/2019/01/11/update-re-mark-lewis-lawyer-questions-are-raised/
https://ianrmillard.wordpress.com/2018/12/22/mark-lewis-lawyer-latest-update/
https://ianrmillard.wordpress.com/2018/12/20/self-publicizing-supposed-top-lawyer-mark-lewis-full-transcript-of-disciplinary-hearing-judgment-now-released-by-tribunal/
https://ianrmillard.wordpress.com/2018/12/19/the-latest-revelations-about-zionist-supposed-top-lawyer-mark-lewis/
https://ianrmillard.wordpress.com/2018/12/13/more-details-about-mark-lewis-lawyer-and-his-abusive-social-media-presence/
https://ianrmillard.wordpress.com/2018/12/11/mark-lewis-lawyer-disciplinary-case-now-updated-to-11-december-2018/
https://ianrmillard.wordpress.com/2018/11/23/mark-lewis-lawyer-tries-to-have-part-of-the-case-against-him-thrown-out/
It was obvious from the start that Keir Starmer is totally in the pocket of the Jew/Israel/Zionist lobby. His wife is a Jewish lawyer, and their children are being brought up as Jewish. I understand that they have "buy to let" properties.
Oh, this is Lewis on Twitter, by the way:
Please refer to the above-designated blog posts to learn more.
More about Labour
Under Keir Starmer, Labour has recovered from the Jew-orchestrated msm anti-Corbyn barrage of last year, which led to Labour's opinion poll ratings bumping along the bottom, hugely behind the misnamed "Conservatives". However that may be, Labour is still 5-10 points adrift.
I see little popular enthusiasm for Labour, even as this most incompetent government lurches from lie to stupid policy to muzzling the population to scandal to more lies. Indeed, Starmer has nothing to say except to say that the "Conservatives" should do what they are doing, but harder and better. Underwhelming.
Prospects in UK politics
It is clear that, despite a government so incompetent that even its own party members are disgusted by it, the Boris-idiot/Dominic Cummings regime is here to stay, at least for the next couple of years. The 80-seat Commons majority guarantees that, pretty much.
The Labour Party, like the Conservative Party, is now back under what amounts to Jewish lobby control or strong influence. Labour is now just a rubbish "alternative". That was in most respects true under Corbyn, but at least Labour was to some extent anti-Zionist.
I think that my assessment of Corbyn, 4 years ago, has been proven correct: yes, anti-Zionist, but still willing to play the Jews' tune when it comes to the "holocaust" farrago. Weak. Corbyn was also willing to see the UK swamped by the non-white "ethnics".
Corbyn was at root not sufficiently or properly ideological. His academic record was poor, his work record almost non-existent. Apart from a couple of years bumming around aged about 19, mainly in Jamaica, Cuba and South America, he knows little of the world, as far as can be seen.
Also, Corbyn's economic and social knowledge is very shallow. One of his ex-wives says that he rarely if ever reads a book. Any book.
Starmer? Well, as noted above, in effect a fully paid-up member of the Friends of Israel cabal, though he seems not to be on their official list: https://en.wikipedia.org/wiki/Labour_Friends_of_Israel#2016_onwards; probably a freemason too. He is an enemy of the British people from the start.
As it stands, Labour supports almost all the policies of the Boris-idiot government of fools. Hard to think what of substance Labour would change, were it in power, though Starmer is probably a better administrator than Boris-idiot. Well, that after all would scarcely be a difficult challenge!
Boris-idiot has no real ideas beyond schoolboy ones such as bridges across the sea etc. "Boris" has no idea how to administer anything at all, and has never done so. He is basically a part-Jew public entertainer whose jokes are rapidly falling very flat with the public.
The economic hit which is coming, largely because of the "lockdown" and facemask nonsense supported by both Government and Opposition, will strain the rivets of the society and state to the utmost over the next 2+ years. The NWO/ZOG System does not much care, controlling as it does the 2-3 "main parties". The ZOG idea is "where can they (the voters) go?"
In principle, the answer should be "we need a social-national party". The problems are that, first, the anti-democratic laws and institutions Blair laid down (Electoral Commission, Equalities Commission etc) make it almost impossible to have a functioning real social-national party.
Beyond that, one has to look at the British people. They are not at present the material from which a real party, such as the NSDAP of the 1920s, could be formed. They are mostly interested in those new opiates of the people, sports and msm "celebrity" nonsense. In some ways, we are in "Weimar", but in other ways not.
I have, in earlier blog posts, set out my view, that the social-national elements need to concentrate in one area of the country, creating a Schwerpunkt. That may include the creation of a party, whether registered as such or not. A political party, however, cannot be the sole focus.
Alison Chabloz on Bitchute internet radio
An interesting discussion, conducted with Alison Chabloz and others, on one of the few social-national internet platforms of any value:
https://www.bitchute.com/video/1aqSy1hh2KiF/