25 October 2020
MSM propaganda
Heard on Radio 4 News this morning: "…before the festive period". Before the what?! The..."festive period"?! No no no. Not "the festive period", not "Hanukkah", not "Kwanza", not "Happy Holidays". Christmas. That's what you meant to say. Christmas.
Jewish influence. I noticed the same when I lived in New Jersey, 30 years ago.
Tweets seen
[Note: the two tweets below showed Hitler speaking in brief clips. Now censored by some office bod at Twitter. A sign of the times. I have left the censored tweets there, to show the unfree world we are now in.]
[updated note: Twitter restored one tweet but has not restored the other, the one which had clips of Hitler speaking, comments still relevant today. (((Censorship))) by the (((YouKnowWho)))…]
https://twitter.com/Truthwhite88/status/1316960032047714305?s=20
I doubt that, but only because the System drones will soon be little more than fertilizer for the fields of tomorrow.
Remembrance of times past
Saw something that sparked memories. In 2002, having taken a lease of a large country house on the Cornwall-Devon border and, a month or so later having joined provincial barristers' chambers in Exeter, I was asked to sit as a "Lord Justice of Appeal" at a moot (a mock trial), held in the ancient Guildhall in the main street of Exeter.
My fellow "Lords Justices of Appeal" were a Professor Tettenborn from Exeter University (now at Swansea University and an influential legal academic), and the Mayor of Exeter, a humourless elderly fellow.
The three contenders were all final year law students. The one who stood out and was the unquestioned winner of the contest was a young man of Armenian or part-Armenian origins called Taghdissian. He was far ahead of the other two in both advocacy and law and was a worthy victor. However, before awarding him his laurels, the "Court" (privately, not aired in public) had to consider a technical matter, an ethical violation by him. He nearly lost his otherwise well-merited win.
I spoke to him at the reception afterward. My assessment: a sharp-witted, polite but somewhat arrogant young man who, if he mellowed, might be an asset to our chambers.
A year or two later, I heard that, in the chambers that that person had joined (not the same chambers to which I belonged, though I had in fact told both our senior Clerk and my Head of Chambers, who is now a circuit judge, that he was worth offering a place if he applied), there had been one or two suggestions of inappropriate personal behaviour from that young barrister. I do not think that anything more happened about that, though (and I know only what I was told, though told on good authority).
Now, I have just seen that that student of 2002 is still a member of those other chambers, and has political ambitions, being not only the head of the local Conservatives but having been a several-times candidate.
Taghdissian stood for the Conservatives at the 2017 General Election (for the Exeter seat), but came second. He was also one of six Conservative Party candidates on their party list for South West England in the 2019 European Elections; no Conservative Party candidates were elected. He had previously stood at the 2015 General Election, in the constituency of Cardiff West; placed second.
Taghdissian is evidently determined to get into major-league politics. I shall be interested to follow his progress.
26 October 2020
Selaine Saxby
One reason why the diary blog was delayed was that I wrote an assessment of Selaine Saxby MP [Con, North Devon]: https://ianrmillard.wordpress.com/2020/10/25/deadhead-mps-an-occasional-series-the-selaine-saxby-story/. I see that, within a relatively few hours of publication, a large number of readers have seen the article. Ms. Saxby is "enjoying" her 15 minutes of fame…
Tweets seen
That may be (and I myself did not get to Moscow until 1993) but my view is that, even under Sovietism, the family bonds in Russia were as strong as in the West, indeed more so.
As with "black lives matter" etc, if people cannot see that the "panicdemic" is a giant conspiracy (built on a real but limited public health problem) then they must be dim indeed.
"Million more on dole by Christmas" [Daily Mail]
https://www.dailymail.co.uk/news/article-8878243/Commuter-towns-bear-brunt-end-furlough-scheme-amid-middle-class-jobs-bloodbath.html
"Clap for the NHS" (?)
"Elderly Covid patients were denied intensive care during the height of the pandemic. It's been revealed a triage tool drawn up at the request of England's chief medical officer stopped over 80s from receiving potentially life-saving treatment in a bid to try and stop the NHS from being overrun" [Daily Mail]
Professor Ferguson (again)
"Professor Neil Ferguson, the controversial academic whose modelling heavily influenced the national lockdown in March, was accused of scaremongering after saying that people 'will catch Covid-19 and die' if families are allowed to mix on Christmas Day." [Daily Mail].
Why doesn't someone chuck that bastard off a cliff?
and… "Psychologists said Covid-19 may cause birth rates to fall, people to stay single for longer and for women to become more promiscuous." [Daily Mail]. Professor Ferguson and his married "ho" (and her cuckold husband) will no doubt be interested to read that…
Meanwhile…
"I work in a law firm and have been told that some of the function is being outsourced to India where qualified lawyers will be doing our jobs for a fraction of our salary. We have been told to expect redundancy announcements any minute. Its not just hospitality and travel industries that are affected."
"ChristinaV, Guildford, United Kingdom" [Daily Mail Comments]
https://www.dailymail.co.uk/reader-comments/p/comment/link/609490129
The latest censorship by Facebook
"Facebook will use internal tools to slow the spread of viral content and suppress potentially inflammatory posts." [Daily Mail] https://www.dailymail.co.uk/news/article-8879043/Facebook-prepares-emergency-measures-possible-election-unrest-including-slow-viral-content.html.
More tweets seen
Cartoon, for a cartoon "Prime Minister"…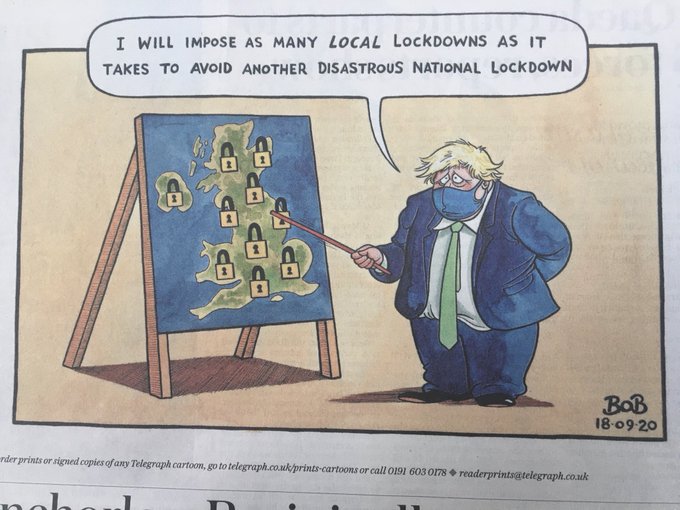 Afternoon music
Prince Harry
The "cuck" "prince" is now once again talking about "unconscious bias". What about "unconscious bias" in favour of people like him? After all, were he not a "royal prince", who would be interested in "his" views (the views driven into him by the Mulatta)? In fact, looking at him, I think that Harry would find it hard to get any ordinary job, certainly beyond the entry level.
More tweets
Exactly. An excellent training exercise for the SBS, but in the end the African migrant-invaders won. They are here, probably in some mothballed business hotel (not exactly the Ritz, but, hey! a lot of homeless Brits would take it!). Once their details (probably fake) are logged, the invaders will be given about £50 a week pocket money and eventually found housing that should go to British families and individuals. Disgrace.
Hitchens is right. As for me, I too hate mobs and disorder, but also hate a society where the people are slaves or near-robots. The right balance between conformity and liberty (and licence) must be struck. The UK has, in the past 20 years, and plainly so in the past year, gone too far towards not only a serf-state, but a stupidly-governed serf-state.
Again, I agree with Hitchens. I favour public service broadcasting, but the BBC is no longer that, or only incidentally. Lord Reith's dictum, Inform. Educate, Entertain, is either ignored now, or complied with only in parody form.
Late tweets seen
Late music