Emergent UK police state
Looks like the so-called "far right" got it right once again…https://www.dailymail.co.uk/news/article-9872649/Muslim-policewoman-hailed-hero-confronting-anti-lockdown-protesters-tweeted-racist-messages.html.
I recall blogging about that woman at the time, and saying that, to me, she looked "merciless". Was I wrong? No.
Australian police state
I have noted in recent blog posts how it has come as an unpleasant surprise to me to see how Australia, where I spent three years as a child of 10-13, in the late 1960s, has turned into a multikulti police state. Now I have seen a report from the country: https://www.dailymail.co.uk/news/article-9872753/We-felt-wed-won-lifes-lottery-moved-Australia-today-like-prison.html.
Tweets seen
Indeed. Even the mini "Ice Ages", as in the 17thC, tend to produce poverty and political turmoil.
…and drivers —and/or cars— will be tracked everywhere they go. Police state meets fake biosecurity and fake environmentalism.
Ha ha! Tweeter "@EternalEnglish" has it right. Exactly. No-one, or virtually no-one, has been bothering with the televised pleb-fest in Tokyo. I myself have only met one single person in the past month who has apparently been watching it at all, or interested in the thing. I only knew that it was about to end because I happened to hear the BBC radio news while in the car.
"Red Guards" in the USA. Incredible.
What I do not understand is this: one sees constantly, online etc, Americans screaming about their right to bear arms and so on, but we have seen time and again "antifa" (and official) repression, yet few if any such repressions have been met with armed response from the American people. Not even from those Americans who are politically-active and who also have whole armouries of weapons.
My conclusion is that firearms make very little difference in a basically political struggle. Indeed, even if, say in the USA, a real civil war were to erupt, privately-held weapons would still not be determinative, because what would matter would be the more sophisticated armouries held by the Federal and State governments, FBI, police, National Guard etc. Their loyalties would be key, and socio-political loyalty is a basically political matter.
Rory Stewart [https://en.wikipedia.org/wiki/Rory_Stewart] emerges from his chosen obscurity. An intelligent person who, however, for all his intelligence, expensive education, and background, proved himself more or less useless in politics and in high office. See my detailed assessment from 2019: https://ianrobertmillard.org/2019/05/03/will-rory-stewart-mp-be-prime-minister/.
I started off willing to be impressed by Stewart, only to gradually uncover rafts of unimpressiveness under the impressive upper crust, so to speak.
Migrant-invaders put up by the State in hotels (maybe not the Savoy…so be it), fed, and given £40 pw spending money (!) while British homeless people beg on the streets outside. Meanwhile, the "refugees welcome" cretins, "antifa" dupes and other idiots cry crocodile tears for the "refugees" (invaders) and don't even bother to do that for the British homeless.
The State operation of and subsidy to "nationalized" industry was wrong. The rice bowls had to be taken away, but alternative employment via new initiatives should have been worked out and taken by Government. Such initiatives never were taken.
Also, the farmers and landowners continue to this day to be subsidized! Equally wrong. A political choice, and an incorrect one.
While I have been able to agree with some opinions expressed in print by Rod Liddle [https://en.wikipedia.org/wiki/Rod_Liddle] over the years, I have also detected that he lacks both compassion and real intelligence (and education). A careerist msm shit, in short.
Late afternoon music
Productivity vis-a-vis pay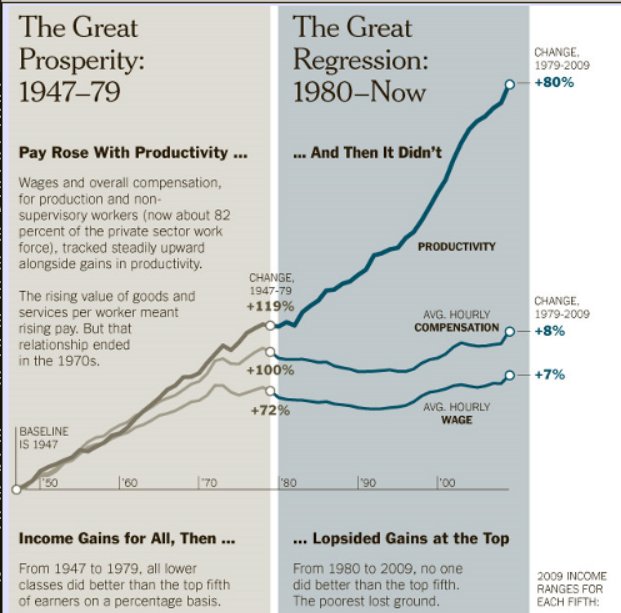 A graphic the basis of which every politically-active person should be familiar.
Late tweets
We are only at the start of understanding what the mind really is, and of what it may be capable.
Simplistic, and could be labelled "economically-illiterate", but not completely untrue either…
Once again, the so-called "far right" and/or "conspiracy theorists" turn out to have been correct in their predictions…
Late music