Afternoon music
On this day a year ago
Tweets seen

America's first "black" president (in fact, only half-African, and half-European), showing his true nature, the nature that allowed him to kill so many people (almost all non-European).
The unmasked (so to speak) ex-President gives his directions to the (masked or muzzled) plebs building his latest house.
My Australian (though sometimes resident in London) niece, about 25-y-o, contracted "Covid-19" in 2020, and lost her senses of taste and smell for a week or so. She was advised to stay home, drink water, and take a paracetamol. No medical intervention necessary. She recovered completely after 2-3 weeks.
A pack of idiots posing as the UK Government closed down the country for this…Now look. National Insurance rising, taxes for most rising, cost of living rising, pay inadequate for most, State pension age rising. Still think that the unnecessary "lockdowns" and "furlough" payments were great? Think again.
As for Boris-idiot, it took the bulk of the British people about 15 years to catch up with my opinion of him, and it took the msm almost as long, if not longer, but now almost everyone wants him to get kicked out. The only problem with replacing him is that there are so few MPs who are both actually English and also not total deadheads…
A thought out of season…
Two young boys aged 10. One of the two becomes, for a few short years, the master of Europe; the other, an "ordinary citizen", at least so far.
What weight do we give to genetics, environment, Nature, nurture, education, personal destiny, reincarnation etc? Rudolf Steiner was, I think, right to say that, in terms of society, education of the child carries huge weight. On the other hand, so do the other factors. I suppose that education of children is something that can be decided upon rationally in policy terms; it is within the power of humanity to change policy, purpose, and content.
More tweets
The last bit is the killer: "with family help". Quite.
Every now and then, you read some silly comment on Twitter or in the newspaper readers' comments sections to the effect that young or not so young people could buy houses, even in the UK's ludicrously-inflated property market, if only the people concerned would cease patronizing Starbucks or Pizza Express. I suppose that some idiots even believe that.
It is true that many waste money; few of us never do that. How much, though? When the deposit alone for even a very modest house, on sale for, say, £200,000 (and that is far below the national average), is something like £20,000 to £40,000, it is going to take the hypothetical young twenty-something couple rather a lot of saving-up, when many people are living hand to mouth to start with. They might manage it by the time they are 40-50 years old. Maybe.
Not everyone has a father who was the Chairman of Christies…
Actually this type of unwanted and silly "advice" broadcast to the poorer part of society is not very English, despite making appearances in Dickens and elsewhere (eg the works of Samuel Smiles: https://en.wikipedia.org/wiki/Samuel_Smiles). It is rather American: the poor are poor because feckless and useless, the rich are rich because clever, virtuous and well-organized.
As with all propaganda, there is a kernel of truth there, but as Churchill noted, the truth often has to have a bodyguard of lies. In this case, the amount of truth is very small, the false large though persuasive to many.
At least the pre-revolutionary Russian aristocracy was honest enough not to claim that most Russians were poor because of character flaws, despite their often having some.
The David Cameron-Levita government specialized in nonsense of the Kirsty Allsopp sort, and that rhetoric underpinned the "welfare" "reforms" of the part-Jap sadist Iain Duncan Smith, a charlatan whose very name is fake! As were his "degrees", and work history. He has never been punished for the misery he has inflicted.
More tweets
The above tweeter fondly believes that "#ToryScumOut" will not result in what might be termed "#LabourScumIn"…It was Labour who trashed lower-level pay by importing cheap labour from all over the world, Labour who, from 1997 and especially 2005 started to screw down on the unemployed and disabled, Labour who introduced the fraudulent ATOS carpetbaggers. Rachel Reeves, Yvette Cooper, and others around the present Jewish-lobby puppet Keir Starmer have all made statements similar to those of Conservative MPs on these topics.
Labour-label is no answer (to anything).
Quite. When I was 19, in 1976, I was doing various kinds of low-paid work, and living in the attic of a friend's house in Little Venice, London. The work paid less than £100 a week, and the house was valued (a few years later) at £100,000. In 2022, that same house is valued at around £4 million, and the kind of work I was doing in 1976 would pay today maybe £400 a week, quite possibly less than that.
So in those 45 years, the price of that house has risen by 40 times its original value, but the work in question now pays no more than 4 times what it did in 1976.
Outside the better parts of London, the ratio might be lower, but not very much so. I recall idly gazing into the window of an estate agency in Seaton, Devon, in 1998. I just happened to be there for a few hours.
I noticed three small bungalows for sale for between £25,000 and £28,000 each! They were very small, 1-2 bedroom places no doubt once used as weekend (near) beach places (pre-WW2). Out of curiosity, I looked online a few years ago. There was a very similar one for sale in the same town: £200,000. Probably far more now. An inflation of ten times the valuation in about ~20 years. Pay in 2022 is generally not ten times what it was in the late 1990s.
This Anglo-American "pull yourself up by your own bootstraps" idea is quite ingrained. Homeless and without capital or income? Well, just start a roadside lemonade stall, and soon you too will be a millionaire or more…
That nonsense, fed to children and adults in the USA (especially) in various ways, has been socio-politically very influential. Retailed via such as the old and now-defunct Reader's Digest (which I am sure had some kind of CIA connection): https://en.wikipedia.org/wiki/Reader%27s_Digest.
When I was having a cappuccino in my old haunt of the 1980s and early 1990s, Raoul's Cafe, Little Venice, I happened to share a table with someone, an American, who turned out to have been the former head of the Reader's Digest. I suppose that politeness prevented me from asking him who laid down the overall ideological line (and he would not have said anything about that anyway).
Exactly.
One of the total cancers in our society is the huge money available to approved TV monkeys-on-sticks. A few random examples? The "celebrity chefs", some of whom do not actually even have restaurants (and some that do have them are not apparently very good anyway). Some are genuine chefs, others are not, but almost all seem to make much of their large incomes from TV shows.
When I read that some of those chefs have £50 million or £100 million capital, I cannot believe it. I concede that I am no businessman…
Other examples? The general "celebrity" TV (etc) world. Admittedly, I usually have never heard of said "celebrities" when I see them on charity quiz shows (almost invariably they are extremely ignorant). It sometimes feels like the whole world and his dog are "celebrities".
The BBC, with its enormous budget, enormous because people have to pay the "licence fee" (tax), is responsible in part. Imagine paying an unpleasant idiot like Gary Lineker a million a year just to shoot the breeze about football games!
Television, in practice, by which I mean the kind of (((occupied))) television that exists in the West, especially, is very corrosive. South Africa started to lose its strength after TV was introduced in the mid-1970s. Import American (((American))) TV, and you import the mores of the you-know-whos…
Those who make huge money from TV are desperate to stay, to use a dated expression, "in with the in crowd". Any remark designated "racist" and/or "anti-Semitic", will kill the maker's career stone-dead, of course. The Jews, exercizing great influence in the TV world, will blackball anyone not thought to be on board with their agenda.
Television, along with its accomplice, advertising, is a malign influence, very often. See https://ianrobertmillard.org/2018/12/10/tv-ads-and-soaps-are-the-propaganda-preferred-by-the-system-in-the-uk/.
Ukraine
I have little to add to what I have said in earlier blog posts. The present regime in Kiev is a corrupt and shambolic Jewish-Zionist set-up that must go. Russia must take Kiev, Eastern Ukraine, and the Black Sea littoral. It must do it swiftly and overwhelmingly, to minimize civilian casualties and general damage. By this time next year, it will be impossible, so do it now, for the right reasons and in the right way.
Vandalism by the Environment Agency
https://www.theguardian.com/environment/2022/feb/06/anglers-heartbroken-as-stretch-of-river-tone-stripped-of-trees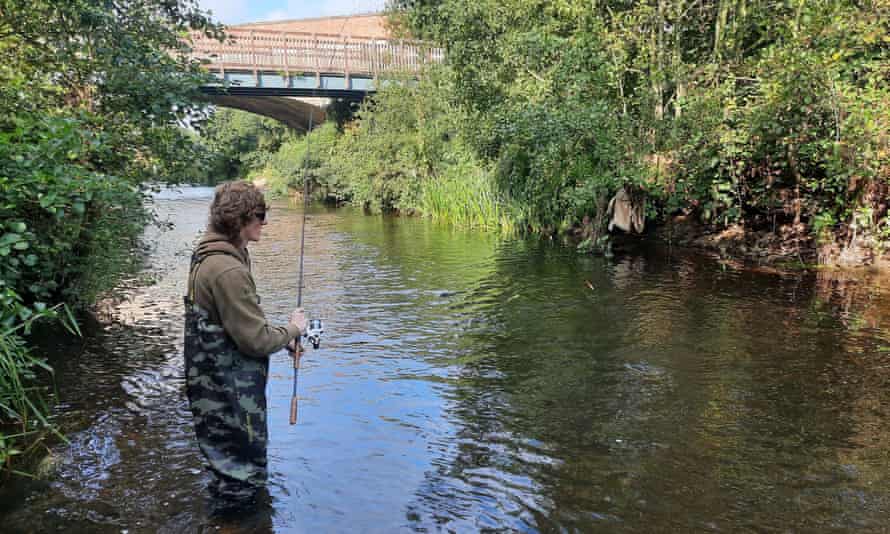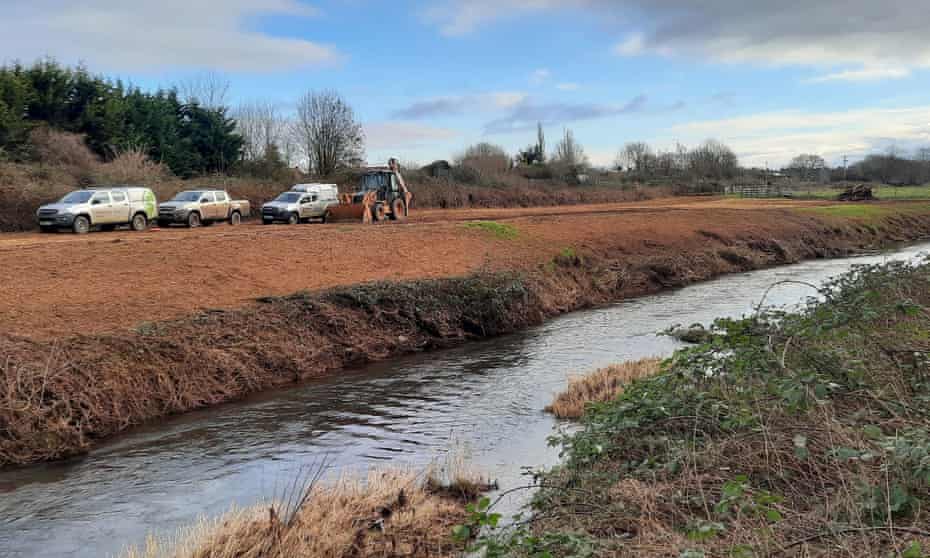 Just absolutely disgusting.
Late tweets
I can think of a few things in the past few years that really wiped the smirks off the faces of the System conspirators.
Seems that, suddenly, a host of previously harmless habits are now (supposedly) causing serious heart problems (and no need to mention the "vaccines"…).
It's probably starting to happen here as well. Many teachers are infected, not with "Covid" but with multikulti mentality.
Every single day they flood in. Most despise us for "our" weakness, many hate us. None are of the slightest use to us.
The Ukrainians probably had a good laugh at Lammy's expense after he had scuttled back to the UK.
The word "Government" could just as well be replaced by "Jewish lobby" or "Campaign Against Antisemitism"…
Late music