Good grief. When I was about 8 years old, around 1964-65, my family would occasionally drive down from the Berkshire/South Oxfordshire border area where we lived to spend a day at Bournemouth (usually at nearby Boscombe). Maybe not on the most crowded days, but I do not recall anything like these crowds. Why now? Is it because more people have cars now? Population increase? I have no idea.
In fact, though I am against the ludicrous "lockdown", to crowd onto a beach with thousands of others like that must be an excellent way to get infected by Coronavirus. Strange to think that only a few weeks ago, the toytown police were patrolling and bullying even lone sunbathers on deserted beaches to "move along"! Mad world.
Brixton
The blacks are revolting!
This is not surprising, firstly because it is the sort of "chimp-out", to use the American phrase, that happens when there are large black populations; secondly because the blacks have been encouraged and emboldened by the craven police response to the "Black Lives Matter" nonsense and faux-insurrection (including policemen literally bending the knee to the blacks, in sign of fealty or surrender); thirdly because Sadiq Khan is hopeless; fourthly, also significant, the heat and humidity of yesterday is the climate that acts as a catalyst for such disorder.
Britain has still to make the decision as to whether it wants to be an advanced, European-race, high-IQ, high-tech, environmentally-aware country, or a multikulti black-brown and mixed-race mess, a "Congo-North" if you like, with ever-declining standards, pay, "welfare", environment and culture.
Churchill College, Cambridge
"Cambridge condemns abuse against academics, after petition to fire Dr Gopal launched." [Varsity]
"Gopal shared examples of the racist and hateful attacks she has received to her university email since the petition was launched, including from an anonymous person who said she was "disgusting inside and out", and, "[i]f you don't like white people, pack up your sh*t and go home. Problem solved."" [Varsity]
"There is no religion higher than truth": সত্যের চেয়ে উচ্চতর কোন ধর্ম নেই]
https://www.varsity.co.uk/news/19539
https://www.change.org/p/cambridge-university-fire-cambridge-professor-for-racism
She is not in fact a "professor": https://www.english.cam.ac.uk/people/Priyamvada.Gopal/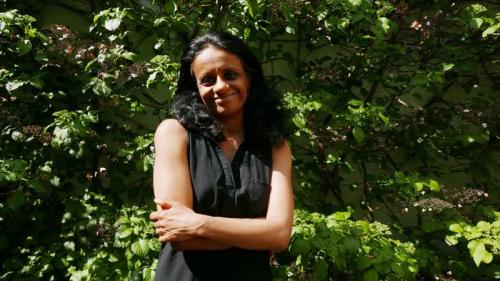 Gopal is supported by other disgusting blots on this country, living here and, so far, tolerated. Here are a few more of them:
These —and many like them— will not be required in the new Britain.
How long before it really "kicks off"?
The ludicrous UK "lockdown" is being eased, but only with absurd restrictions in place. Who will want to go to a pub when there are plastic screens everywhere? Who will want to fly (certainly for touristic purposes) when forced to wear facemasks, muzzles or whatever?
Already, we see the wave of redundancies rising. Royal Mail is to (in effect) sack 2,000 people, all in managerial or other senior roles. The knock-on effects from such decisions are many and affect many outside the ranks of those sacked.
We have a non-Government and a non-Opposition, a collapsing economy, and black or multikulti mobs rampaging in the cities. It is time for the British people to step up.
and see this:
This is sometimes referred to as "White Genocide", sometimes as "The Great Replacement".
More about Cambridge University and Churchill College
It now seems that Cambridge University has, since yesterday, elevated the anti-British, anti-European academic terrorist Priyamvada Gopal to the rank of professor. What a scandal. It's a disgrace. We need a cultural purge in this country, starting with the msm but not sparing the universities.
I noticed decades ago that Cambridge University was a cesspit of treachery.
Here's another swine who wants White Genocide:
These "people" have declared war on us.
Rebecca Long-Bailey
Keir Starmer, a Jewish lobby doormat with a Jewish wife etc, has sacked Rebecca Long-Bailey. https://www.theguardian.com/politics/2020/jun/25/keir-starmer-sacks-rebecca-long-bailey-from-shadow-cabinet
The chances are that he was just waiting for a chance to do that, if he could find a plausible reason. Well, now he has found a reason.
This news, combined on the same day, or within a day or so, with Starmer's refusal to call for the resignation of corrupt little pissant Robert Jenrick (another one with a Jewish lawyer wife and half-Jewish children), surely shows what types are now pulling Starmer's puppet-strings.
Not that I have much time for Rebecca Long-Bailey. She seems rather dim, for one thing, and could never be considered to be "prime ministerial material". For example, she said that she "...would support workers in all strike actions and industrial disputes, "no questions asked".[47]." [Wikipedia]. Well, that is just asinine.
Rebecca Long-Bailey has also said, in the recent past, that "she was unhappy with Labour's response to allegations of antisemitism within the party during Corbyn's leadership, commenting that "I don't think we were dealing with complaints quickly enough". She said that if she was Labour leader then she would follow the recommendations of the Board of Deputies of British Jews and the Equality and Human Rights Commission.[42][43][44]"[Wikipedia]
In other words, Rebecca Long-Bailey, while not as much of a doormat for Jewish Zionism as is Keir Starmer, is or was all the same willing to kow-tow a bit to "them".
Some tweets seen
The above tweeter is evidently a decent but naive fellow who is seemingly unaware of the (((infestation)) in both Labour and the UK generally.
https://twitter.com/IanHarrold/status/1276181490175479808?s=20
Labour has been doing better in the opinion polls of late purely because of the incredible incompetence of the "Conservative" government. However, looking at its position structurally or strategically, it is even less connected with most British people now than it was when led by Corbyn.
I am talking about white British/English people, but I am not so sure that Labour is very strong now, or so strong, in the black/brown "communities". The "ethnic" demographic(s) were Labour's strongest suit. If they give up on Labour, all it will have left will be the public service people, the unemployed/disabled (in broad-brush terms) and the metro-London types that live in gentrified former slum areas. I am not so sure that even the Jews will drift back much to Labour, for all Starmer's doormatting. They are anyway few in number, relatively.
More tweets
Not just a doormat, but proud to be a doormat…
Here (below) is an interesting tweet, though it is disappointing (even these days) to discover that the Editor of CityAM cannot spell "Damascus"…(and on a standard keyboard, "a" is far from "u"):
Jesus H. Christ! Why on Earth do people do it? They cannot lie down or even sit down in comfort. Yet there are other places along that coast in both directions where the beaches (albeit that some are pebble beaches) are not very crowded at all even on days such as this. I can only assume that people are just not willing to research alternatives, despite the Internet.
Silly, but it made me smile:
Tweets seen this evening
I prefer my profile of Jenrick: an entitled little pissant, who is a complete tool of the Jewish/Israel lobby, has several houses, a Jewish wife who is a lawyer, and children being brought up as Jewish. In other words, not unlike Keir Starmer.
Update, 28 June 2020
The petition to sack Priyamvada Gopal from Cambridge University, which already, within a couple of days, had tens of thousands of online signatures, has been pulled by the platform (change.org).
So now in the UK you cannot tweet, post on Facebook, petition, put up stickers (a man got 2 and a half years for that recently), march or demonstrate, or have a banner flown over an empty football stadium, unless you are in favour of multiracialism, multiculturalism, Jewish influence and power, "Black Lives Matter" nonsense, or other "approved" (by the System) beliefs.
President Kennedy put it best: