"Nigger" permanently removed
https://www.dailymail.co.uk/news/article-8488865/Memorial-dog-racist-died-1902-removed-graveyard.html
The sickness in the UK and across the Western world has reached a point where white people are colluding in the destruction of their own history and culture, slavishly (ironically). Where history and culture are removed, people usually follow.
Even the Daily Mail which reports the story will not use the poor deceased companion animal's name, but only the horrible Americanism, "a racial slur". I try to avoid swearing on my blog, but GO FUCK YOURSELVES!
Tweets seen
The fear propaganda spread by Government and the msm has really taken root in the fragile mass psychology of the British and others resident in Britain. They are scared of their own shadows.
I think that we can say goodbye to much of that part of the economy centred on pubs, bars, cafes, restaurants.
Cafe Rouge, etc
I see that Cafe Rouge has closed or (much the same under current conditions) has gone into administration. I used to use their Little Venice (London) cafe occasionally, about 25-30 years ago. How time flies…
I preferred Raoul's (just across the street), which I patronized for years; I went there almost daily (on weekdays only; weekends, the yuppies and other loudly braying riff-raff tended to crowd out Raoul's). I used to breakfast at Raoul's on weekdays, c.1993-95, before going (quite often) to appear in the High Court. If not in a hurry, one could get a no.6 red bus from opposite the cafe and direct to Aldwych, where it terminated.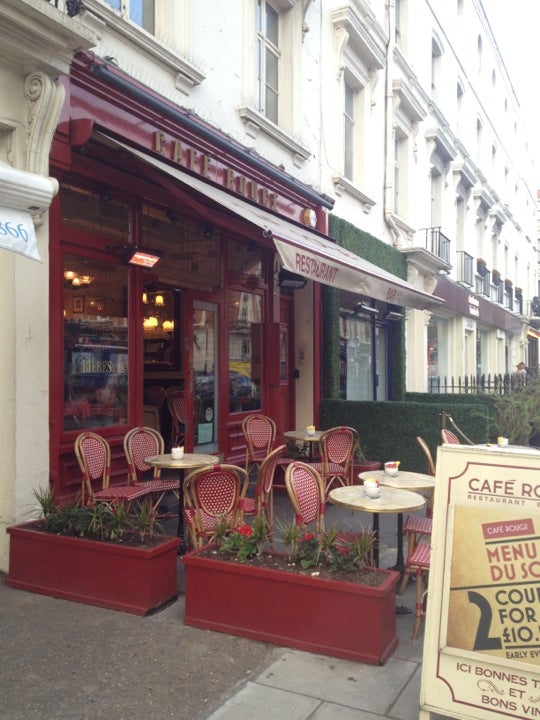 Reading about Raoul's now, or as it was until "lockdown", I see that the interior looks horrible now. The old large round tables have been replaced by little square ones against both walls, presumably in order to squeeze in more customers. Not very nice. Very unaesthetic. It must have destroyed the atmosphere. Also, back in the 1980s and 1990s, the chairs were rather more stylish.
I see from a newspaper story that the owner is still the same, a lady called Geraldine, an attractive blonde from the North-East (if I recall), who was a bit of a social climber (it seemed to me) and had lost, if she ever had one, any semblance of a Northern accent. She was married to an anglicized Greek fellow with blond (bleached? I never know such things) hair, who occasionally sat over a coffee in the cafe. We chatted a few times. He was said by others to be related to the Onassis family, and was a pretty good painter (as far as I can judge). I once went to an exhibition he held at a gallery in Cork Street, off Piccadilly.
I have to say that, though she could be a bit tough in manner at times (she complained to me once or twice about my reading documents for hours there!), Geraldine was usually quite charming. I rather liked her. Another charming person was the one-time manageress, a young woman called Laura, who was the daughter of the entertainer, Bruce Forsyth. Once, a large chauffeur-driven limousine drew up and out came Bruce Forsyth, on his arm a most beautiful lady much younger than him. He came in as his daughter was chatting to me; she rushed off to greet her father. Quite an entrance. No TV silliness; in fact, more like a royal entrance than one from The Generation Game.
The wonder of the Internet! http://www.michaelleventis.com/michael-leventis/
That little piece (which misspells "Fresno", apropos of nothing) says that, at one point (presumably in the 1970s), Michael and Geraldine Leventis had to leave London because "unable to support themselves"! Incredible. In the years when I used the cafe, 25-40 years ago, they were loaded! They had a house that backed onto where I lived (a stone's throw from the cafe), another in the Lot area of France, and seemed to live in some luxury (so I was told by someone who had visited their home).
Amazing to me that that lady is still running the cafe, 30-40 years later. She also ran, briefly (I think that it only lasted a year, if that, around 1987), a Raoul's Restaurant across the street, which was a really good Italian, with excellent wine, served in beautiful glasses, but charging very high prices. The decor was very aesthetic.
Reverting to Cafe Rouge, there was an old Jew with a stout walking stick, who looked like something out of Montmartre circa 1880. He used to sit over coffee in Raoul's with a small circle of other old Jews at one particular round table. Around 1990 or so. His son was said to have been the owner and founder of Cafe Rouge and to have sold it (about that time or a few years later) to a large company for £46 million.
Little Venice, and Maida Vale generally, had quite a few Jews. Another who used to come into Raoul's occasionally, like a wraith, was said to be the mother of the Guinness Trial defendant, Parnes. https://en.wikipedia.org/wiki/Anthony_Parnes. She lived in nearby Hamilton Terrace, St. John's Wood, which starts the other side of the main Maida Vale avenue (the extension of Edgware Road).
It all seems a long time ago now. As it was.
I cannot see the cafe/restaurant/pub sector doing well as long as all these new restrictions continue. Why would people pay rather much, quite often, to sit in a restaurant, served by someone dressed as for a laboratory and possibly surrounded by perspex screens?
The madness continues and grows yet madder
English words matter, and these clowns are killing language. Kill Twitter.
Tweets seen
Last week, I did much better than John Rentoul (for what it is worth). This week, I still beat him, just, getting 5 out of 10 to his 4/10. Narrowly missed one other correct answer.
This sort of black or multikulti urban militia should be shot down on sight. If the USA tolerates this, then it will evetually have "Beirut" situations developing.
In many parts of the country, the police are surrendering to the forces of destruction.