Tweets seen
Significant. In England, there is no credible choice to set against a bad joke government totally lacking in credibility, because Labour is even less credible than the Conservative Party, especially now that the Jewish lobby has retaken control.
Keir Starmer, whom I thought could at least put on a brave face of credibility or at least steadiness, has been photographed on his knees or knee, along with his deputy, the absurd Angela Rayner, making a show of their surrender to the "Black Lives Matter" nonsense (System-controlled nonsense, though…). Starmer looks like a weak accomplice of all Government policy, so far. There's nothing beyond the "I was the DPP" facade. Nothing.
In Scotland, it is slightly different. For me, Sturgeon and the SNP are faux-"nationalists", but from the point of the Scottish voters, or at least about half of them, the SNP looks like a real alternative (even if it is not). The same applies to "Independence". Don't like Boris-idiot, or fake "Labour"? Well, vote SNP and vote for "Independence"…
Exactly. The police are still around, and are actually quite good at tracking down murderers etc. However, the police fall down when it comes to "small" robberies, burglaries, car crime, anti-social behaviour, and other mattersof more concern to most inhabitants of these islands. Also, of course, any crime likely to result in black riots "has to be" handled with velvet gloves .
At the same time, the police are really energetic, given their head, in acting like a toytown militia, preventing ordinary citizens from doing harmless and normal things. That all came out during the ridiculous Government/msm-inspired Coronavirus panic and accompanying "lockdown" regime. The police were behaving like manic clockwork toys: the Government wound them up and off they went…
The police are also now a "poundland KGB" when it comes to so-called "hate crime", which can mean almost anything, including general comment on society. Look at Alison Chabloz and the persecution she has suffered and is still suffering from the police, who are doing the bidding of —again— the Jewish Zionist lobby. One has to ask, "why is it always (((them)))"?
"Hate crime"…in terms of expressing comments about society, this is a non-crime. The police love it. No need to have an identified "victim" (beyond a malicious "complainant", such as the two Jewish Zionist organizations, the "Campaign Against Antisemitism" and the "Community Security Trust"), no need to do much if any detective work; and the "criminals" (unlike real criminals) are very unlikely to behave in a violent manner if questioned or arrested.
What about this?
"Great Reset"? Would that be the same as the "Great Replacement"? Or maybe the latter is just part of the former? What about "White Genocide"?
Something more positive from the World Economic Forum:
Midnight music
6 July 2020:
Heard a story about a weekend medical emergency. The usual NHS story, perhaps: efficient and pleasant paramedics, mostly caring but run-off-their-feet nurses (one exception apparently being a nurse sitting doing nothing but watching a frail old patient unable to eat his breakfast porridge by reason of Parkinsons or similar), and excellent doctors one of whom eventually bent the rules so that the patient (the one I know, not the old one with the shaking hands) could get what turned out to be an excellent surgical result immediately, rather than having to wait days or weeks. Food in hospital apparently not bad, and including such as cod Mornay (the food much better than same patient's experience at same hospital a few years ago, so the NHS can improve, incidentally).
What let down the patient's experience was, as always with the NHS, the administrative side: transport, and general organization in the hospital and ward, part of which might be ascribed simply to how very busy the nurses were. The poor administration was ameliorated by the willingness of a few staff to bend the rules slightly and not to be jobsworths (which a couple were). That however should not be necessary.
Hearing the story, and having visited a number of hospitals (not as a patient) over the past decade, it seems to me that what is required, in part, is for each hospital ward to have someone as a kind of receptionist and "fixer".
In offices situated in places like the Arabian/Persian Gulf, there is usually a person (I forget the Arab title) whose job it is, working with a receptionist, to arrange transport, make sure that telephone or other messages are delivered, and so on.
Looking at the often-shambolic NHS organization, it is clear that that is the weakest link. There is no need for all the stress on both staff and patients caused by problems around transport, parking, scheduling of operations, availability of wheelchairs (something so basic!) and other hospital activity. A ward "fixer" might not solve all the problems of the NHS, but it would solve many of the everyday ones. It would also, immediately, free nurses and junior doctors to do their primary work.
It is a great shame that the —mostly very good— work of paramedics, nurses, doctors, surgeons etc should be let down by shambolic administration and systems. What makes it worse is that the administrators, who are so often simply negligent, are among the better paid (at top, hugely well-paid) people in the NHS.
Incidentally, in France there are no hospital wards and have not been since, I believe I read, 1978. Maybe it was 1988. At any rate, since at least 30 years ago, French hospital patients all have either a single room or one shared with one other patient. Another point: in France, certainly in Brittany, patients with serious conditions, and who are being treated as outpatients, have taxis booked at State expense to transport them to and from hospital. Also, as far as I am aware, there is no such thing in French hospitals as having to pay to park a car when visiting patients.
Why is the above (re. French hospitals) all regarded as somehow impossible or unworkable in the UK?
Cartoon politics
Tweets seen so far today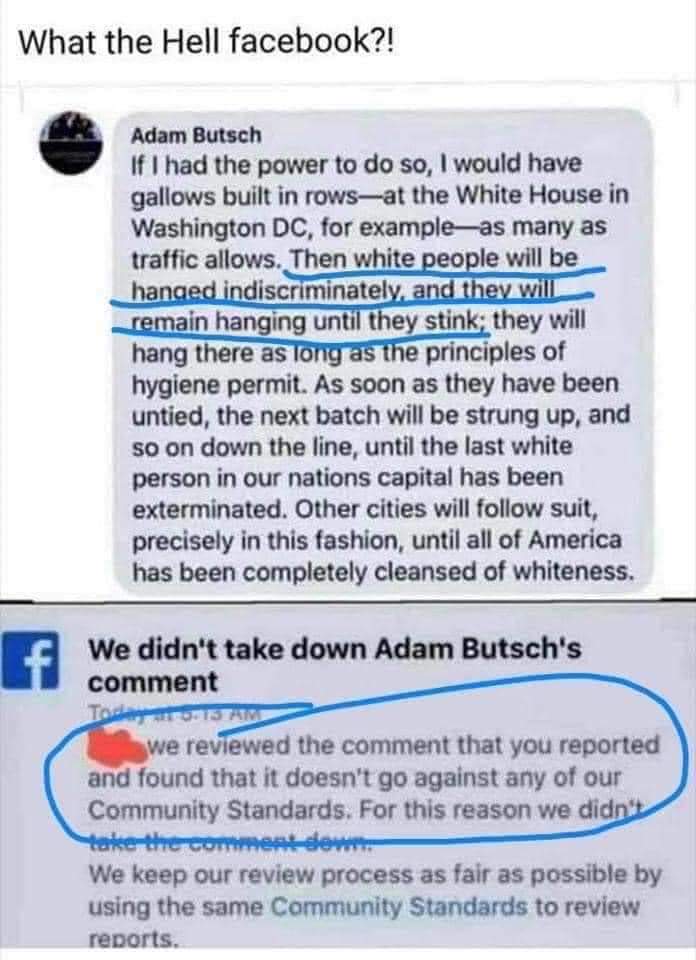 I had assumed that the Coronavirus panic had abated, and so it has…in the general population; not in the NHS though, the GPs of which are still available only on the telephone, and that is only if people can somehow get to talk to them. The NHS has certainly protected itself, but what about the rest of the population?
Jesus H. Christ! They used to call it (or them) "the White Man's Burden", but I think that, as far as 95% of them are concerned, "a millstone round our collective neck" is an equally just verdict.
Of course, little Greta Nut, the Swedish autistic and mental case, who (in our decadent age) is listened to with faked reverence by many of "the great and the good" (but mostly the stupid), makes much of what she always calls "The Science", despite the fact that she has no scientific qualification (she is still only 17) and obviously has no real understanding either.
The same can be said of the leader (?) of Extinction Rebellion, a former smallholder or farmer called Hallam. He too reverences "The Science", which he plainly does not understand in any detail. See: https://ianrmillard.wordpress.com/2019/08/16/the-extinction-rebellion-levellers/ and https://ianrmillard.wordpress.com/2019/10/09/extinction-rebellion-greta-thunberg-cressida-dick-and-the-madness-of-protesting-crowds/
Faima Bakar
Remember Faima Bakar, the Metro "journalist" who had a good laugh when a Metropolitan Police mounted policewoman hit her head on traffic lights and was hospitalized, after her horse bolted, having been frightened by "Black Lives Matter" untermenschen? Well, she's doubling down on it…
Let's stop being appalled and angry, and let's start deporting.
A Tale of Two Cities
I hope that I shall not be considered too much of a philistine if I say that I rather liked this cartoon: