A few Twitter accounts seemingly worth following
Reminiscent of the Serbsky Institute in the old Soviet Union: dissidence classified as mental illness. See https://en.wikipedia.org/wiki/Serbsky_Center
Interesting. I think that we all know that, in the end, these evils will not be fought and exterminated by debate, tweets, whatever. The enemy have taken away the right of the true European people to tweet, post on YouTube, publish books offline, sell books online via Amazon and elsewhere, post opinions online even on dedicated websites, let alone make public speeches or stand for election anywhere.
The whole "democratic" and "free speech" world is being closed off to social nationalism and even to ordinary conservative nationalism. That leaves only a few alternatives in the emerging culture war.
Tweets seen this morning
A pretty good short film.
Regular readers of my blog will know that I am sceptical of the value of privately-held firearms as a guarantor of liberty. Not that I am "anti" weapon or anti-gun, as such.
I was once a member of a gun club, the now more or less defunct Kensington Rifle and Pistol Club, founded in the Victorian era (I believe). I was a member from 1976 to about 1985. I used only pistols there, usually the Browning Hi-Power: https://en.wikipedia.org/wiki/Browning_Hi-Power
I have also, though again long ago (1970s, 1980s), handled and/or used other weapons, but mainly overseas, and including some automatic weapons such as, in Africa, the R-1 automatic/semi-automatic rifle (there was a switch on the side— Safe, Semi-Automatic fire, Full Automatic fire).
I have also some (limited) experience of shotgun use, mainly in Wales and Ireland in the 1980s and 1990s (incidentally, not shooting birds or animals; I disapprove fairly strongly of that kind of "sport").
I mention all the above in case some, perhaps American, readers of this blog imagine that I am —what they may think of as— a typical European anti-gun person. No. However, the idea that weapons of that sort preserve liberty or one's political freedom is just not so.
David ben Gurion said, in the 1940s, to one of the Jewish terrorist leaders (I think Shamir, a member of the Stern Gang —aka Lehi— and later a Prime Minister of Israel), "do you imagine that you can create a state with pistols?".
I presume that ben Gurion meant "with pistols only"…Still, the point is valid.
The NSDAP was not primarily an armed body in the Germany of the 1920s and early 1930s. That despite the fact that most NSDAP activists had fought in the First World War and/or in the postwar Freikorps.
In the UK, the question scarcely arises. Tony Blair effectively disarmed the —almost entirely peaceful— recreational pistol and rifle sportsmen in 1997.
Incidentally, we may as well note that in the whole history of the UK, there have been only three gun massacres: Hungerford 1987, Dunblane 1996, and Cumbria 2010. I suppose that some would add to that the Raoul Moat affair of 2010, though Moat actually killed "only" one person (and nearly killed two others).
So the UK has suffered only three or four massacres or rampages in hundreds of years, of which two happened after the gun clubs and their members were disarmed in the late 1990s! Of those latter two incidents, one (the 2010 Cumbria massacre) was committed using legally-held long weapons (a small-calibre rifle, and shotguns); the other (the Raoul Moat matter, also in 2010) involved the use of weapons not lawfully held.
Reverting to the USA, many Americans (probably the majority) hold some form of firearm; many have several, some have dozens or even hundreds. Hundreds of millions of firearms, yet not so many incidents when the numbers are taken into account.
In relation to "preservation of liberty", the American obsession with "the right to bear arms" is more theoretical than real. One has to ask, under what circumstances would Americans take up arms (meaning actually use arms) against the Federal Government or even, say, against the "antifa" mobs or those behind them? There have been few signs of either so far.
For me, the "gun-owning patriots" (or whatever) of the USA are people who are, so to speak, "all dressed up with nowhere to go". At least so far…
Cartoon about the facemask nonsense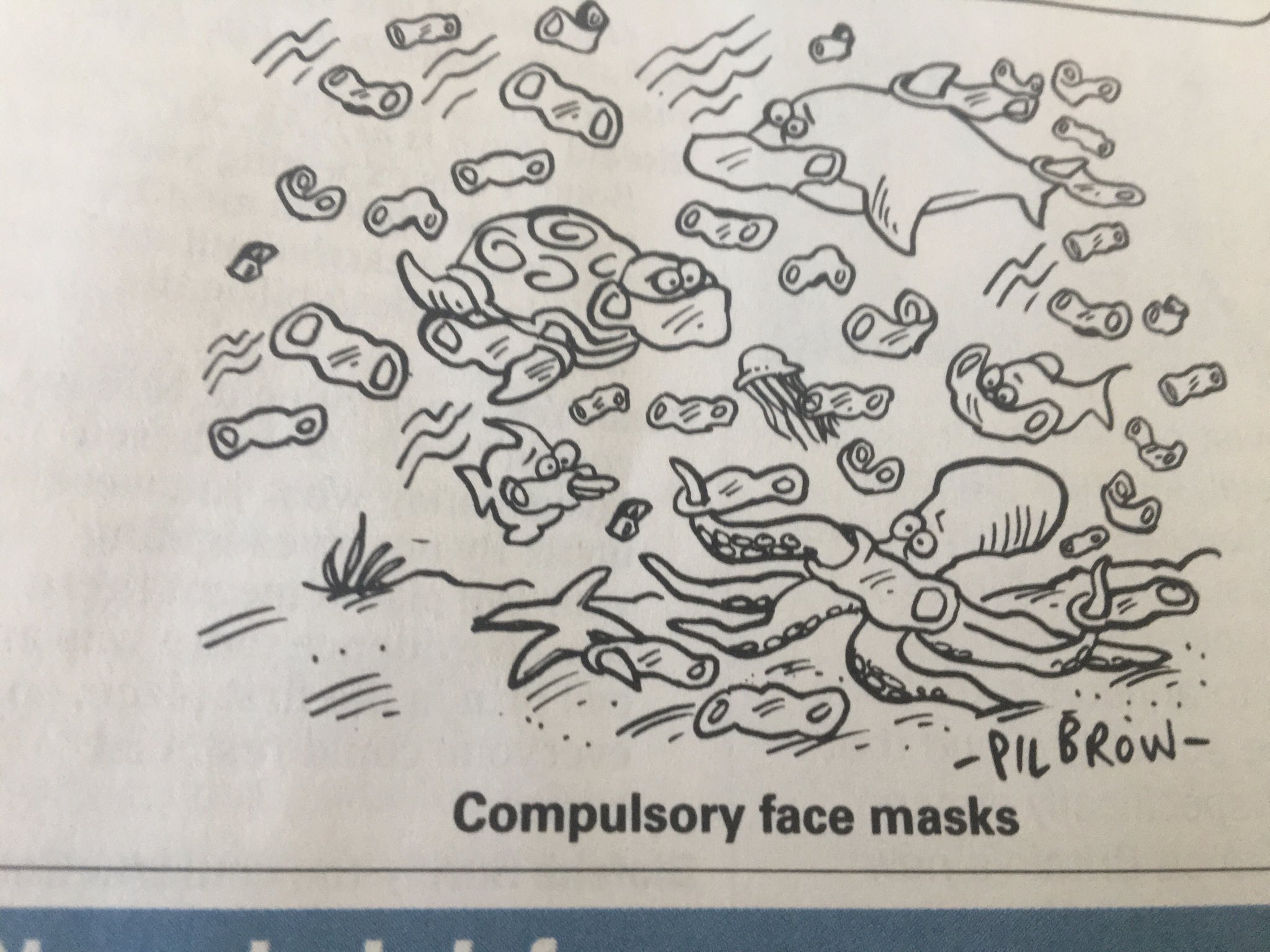 Tweets seen
Very true. When I last saw (and read) a copy of Private Eye, some years ago, its former, long ago, bite was absent. It is now, appropriately enough in view of its 1960s origins, akin to the "Norwegian Blue Parrot…nailed to its perch"… (come to think of it, that description might apply to many aspects of life in the UK of 2020, among which the Monarchy, Parliamentary "democracy", the Press, the Bar, the Church of England, to name but a few).
As Peter Hitchens says, Private Eye is now lame, because it has to pull its punches so as not to offend Jews, Muslims, "woke" "celebrities" etc. The old Soviet "humour" magazine, Krokodil, no doubt known to Peter Hitchens (a former correspondent in Moscow), suffered from the same or anyway a similar problem. https://en.wikipedia.org/wiki/Krokodil
Untermenschen of that sort, raping German girls, would have been guillotined during the time of the Reich…
More tweets
and in case you thought that you had seen peak idiocy…look below!
"Wear a facemask at home", says this idiot woman medic! I have to admit that, though my opinion of the sagacity of the people of the UK was never high, it has never previously fallen as low as it has during the present "crisis" (scare). I bet that now there will be at least a few rabbits who will be sitting at home wearing facemasks, like actors in some dystopian black comedy…
Corbyn libel case
I notice that Jeremy Corbyn's legal defence fund is now standing around £318,000 at time and date of writing. The rate of increase has slowed. At one time, a couple of daysago, about £40 a minute was being donated; now, perhaps £2 a minute. https://uk.gofundme.com/f/47gyy-jeremy039s-legal-fund
It seems that the main, perhaps only, solicitor involved on the other side is the unpleasant Jew-Zionist fanatic Mark Lewis, now a resident of Eilat, Israel, and about whom I have blogged quite extensively in the past, mostly in 2018 and 2019. My exposures of this fake can be found readily enough by searching these pages, or via Google.
Tweets seen
Anyone wanting more information on what a self-publicizing fraud is Mark Lewis, of Eilat, Israel, the self-described great defamation specialist, should take a look at my several blog posts about him.
Mark Lewis's "explanation" for his failure is in this Daily Mail report: https://www.dailymail.co.uk/news/article-8572095/Rachel-Riley-Tracy-Ann-Oberman-drop-lawsuit-against-barrister-tweeted-bloggers-article.html
So much for Mark Lewis…
A few other people have been talking about Lewis today…
https://en.wikipedia.org/wiki/Champerty_and_maintenance
https://en.wikipedia.org/wiki/Champerty_and_maintenance#England_and_Wales
Music in late evening
It seems that the Devil did have at least some of the best tunes…
Arguably too fast a tempo; still, it works with the film.