Early music
Repression of freedom of expression intensifies in the UK
https://www.dailymail.co.uk/debate/article-9112627/DOMINIC-SANDBROOK-new-witch-hunters-policing-airwaves-chill-core.html
"DOMINIC SANDBROOK: Why the new witch-hunters policing our airwaves chill me to the core…
OFCOM…these are the people who, with their new regulations about so-called hate speech on television, pose a deadly threat to freedom of expression.
Since its foundation in 2003, Ofcom has clamped down on material likely to incite hatred and violence. It has a statutory duty to protect viewers from harm — which seems fair enough, on the face of it.
But its new regulations go far beyond that.
Ofcom's definition of 'hate speech' — a formula used at first almost exclusively for racism or anti-Semitism — runs as follows: 'All forms of expression which spread, incite, promote or justify hatred based on intolerance on the grounds of disability, ethnicity, social origin, sex, gender, gender reassignment, nationality, race, religion or belief, sexual orientation, colour, genetic features, language, political or any other opinion, membership of a national minority, property, birth or age.'
I make no apology for quoting at such length, because it's worth appreciating how mind-bogglingly broad the definition has now become — so broad that it includes almost any vaguely contentious opinion.
To censors and puritans, such as the 'woke' witch-hunters who police social media, all this is a gift. Indeed, the new wording might have been deliberately crafted as a Christmas present for professional victims and offence-takers.
"…And here's the most egregious example of all. According to Ofcom's definition, anything that spreads or justifies hatred based on 'political or any other opinion' now counts as hate speech.
Robust arguments and strong words are a necessary part of any healthy political discourse. Giving offence is part of being human. So is learning to take it.
…And what about Ofcom's chillingly broad — and potentially very dangerous — phrase 'any other opinion'? In effect, this implies that any criticism of any opinion, no matter how obscure or trivial, could be construed as hate speech.
Of course, Ofcom insists that it has no such intention. Freedom of speech, it says piously, is terribly important and will always be taken 'into account'.
But what does that mean in practice? It's just an empty phrase, with no guarantee." [Dominic Sandbrook in the Daily Mail].
Quite a lot of what Sandbrook complains is driven (and has been for decades) by the Jewish element. I notice that Sandbrook, himself Jewish, seems to imply that censorship of "antisemitism" or "racism" is OK. No, no, no.
Still, we see now that even msm drones are getting worried about what has been set in train (mostly during the Tony Blair elected dictatorship).
A few of my own experiences of repression in recent years: https://ianrobertmillard.org/2017/07/09/the-slide-of-the-english-bar-and-uk-society-continues-and-accelerates/; https://ianrobertmillard.org/2017/07/13/when-i-was-a-victim-of-a-malicious-zionist-complaint/
Meanwhile…
Corona secret state…
So much for "liberal" Canada!
"Authorities in Quebec City, Canada have announced they will isolate "uncooperative" citizens in a coronavirus facility, the location of which remains a secret.
During a press conference, Dr. Jacques Girard, who heads the Quebec City public health authority, drew attention to a case where patrons at a bar were ordered to wait until their COVID-19 tests came back, but disregarded the command and left the premises before the results came back positive.
This led to them being deemed "uncooperative" and forcibly interned in a quarantine facility.
"[W]e may isolate someone for 14 days," Girard said during the press conference. "And it is what we did this morning…forced a person to cooperate with the investigation…and police cooperation was exceptional."
The health official then outlined how the state is also tracking down people for violating their home quarantine and forcibly removing them to the secret facility.
"Because we have had people isolated at home. And then, we saw the person was not at home. So, we went to their home, and then told them, we are isolating you where we want you to be," said Girard.
As we previously highlighted, the government of New Zealand announced similar measures, saying that they will put all new coronavirus infectees and their close family members in "quarantine facilities." [Summit News]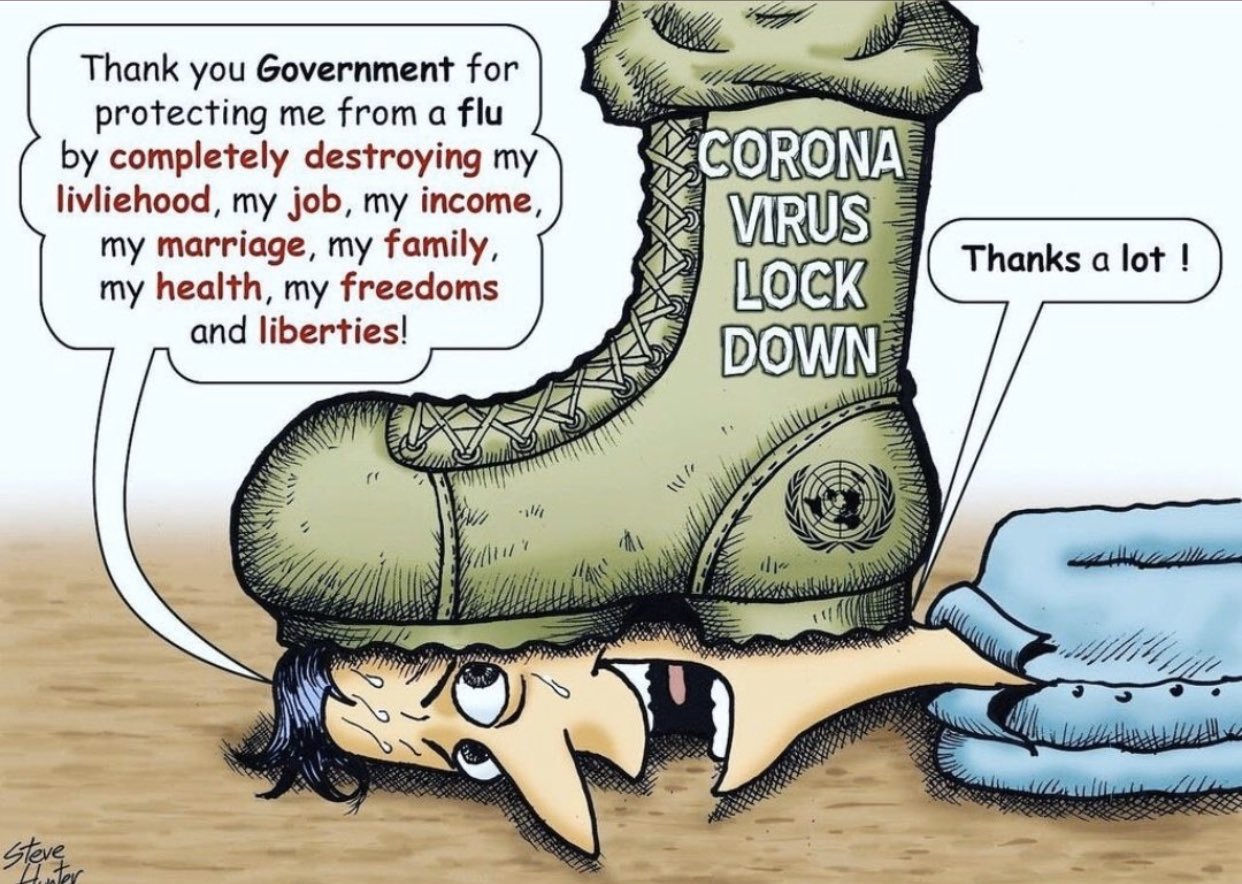 Sign of the times
https://www.dailymail.co.uk/news/article-9112749/Sisters-heartbreaking-pledge-13-year-old-brother-stabbed-death-park.html
The death reported in the above link took place in a place which I know, or did know about 50 years ago.
As a child in the 1960s and as a teenager in the 1970s, I lived (with a 3-year break in Australia) on the outer fringe of Reading, on the border of South Oxfordshire, an area called Caversham Heights [https://en.wikipedia.org/wiki/Caversham_Heights], which is only a mile, if that, from the crime scene reported upon. As a 15-year-old, I was a junior member of the Reading Golf Club [https://www.readinggolfclub.com/], which is in or by the nearby suburb of Emmer Green [https://en.wikipedia.org/wiki/Emmer_Green], and the golf club land abuts that where the crime seems to have taken place.
At the time when I played there, around 1972, there were no other golf clubs in the area. I believe that two others now exist not far away, developed from what were cornfields in 1963, 1970, and even 1977.
I notice from the Daily Mail photos that, since the 1970s, the immediate crime scene area has changed from being rural to being basically suburban. Around the crime scene there now seem to be streets, houses (1980s or 1990s housing, from the look of them), where before there was no housing at all, as I remember.
As to the alleged crime itself, I am loath to comment without knowing more, particularly now that charges have been laid, but what does strike me is the general slide of the UK into criminal violence, spreading out from the urban zoos to areas previously largely unaffected.
I should add that I am not now a golfer. My enthusiasm did not last very long.
Tweets seen
Suggested name for a Turner Prize entry: "The Scape-Virus"…
What happened? Could snivelling Gove not get his usual cocaine delivery?
Some people call YouTube, "JewTube". No doubt just ill-informed "prejudice"…
Late-morning music
More tweets
Worth clicking on that to read the whole thread.
What about this?!
God, what ghastly rodents! The whole lot of them would fall to the ground gibbering and begging for mercy were a single SS man to face them down.
Police-state Britain, 2021…
A pleasant scene, though I am no dancer (neither is Lukashenko, judging from the clip!).
An unusual tweet. As for the weapon in the righthand photo, if I am not mistaken, that is a Roman short sword [https://en.wikipedia.org/wiki/Gladius#Pompeii_gladius].
The implication and in fact purport of the above tweet is that "lockdown is the popular choice", whereas to me the subtext is "the British people have become a bunch of scared rabbits, compliant to authority, and unwilling (perhaps unable) to think for themselves"…
According to cocaine-abuser Gove, the latest national house arrest may be in place in England until March. What then? Another stint? Will the people of this country ever wake up? Maybe when it is too late. Maybe when what is left of the NHS has been entirely ground down (leaving "Covid" aside, that is already happening). Maybe when those who still have a job find that their pay buys almost nothing.
Once again I —somewhat to my surprise— find myself in agreement with Maajid Nawaz. Must be the second or third time recently.
Freedom, what freedom?
https://www.mirror.co.uk/news/uk-news/anti-lockdown-activist-arrested-dressing-23248926
Historical talk
Sounds interesting.
Gardens
"A garden is a lovesome thing, God wot!
Rose plot,
Fringed pool,
Fern'd grot…"
[Thomas Edward Brown, My Garden; https://www.bartleby.com/101/793.html]
Was just re-watching this (below). Incredible.