Sunday late start
Today, I have decided to copy the arguably bizarre habit of the Andrew Marr Show on Sunday TV, by having cabaret in the daytime. So here is the latest song by satirical singer-songwriter Alison Chabloz:
Tweets seen today
There are probably thousands of similar cases, never investigated.
America, "land of freedom"…
The "lockdown" zealots and facemask fanatics, who usually like to present themselves as terribly compassionate etc (and who are usually economically unaffected by the shutdown, being either fairly affluent and/or "working from home" and/or working for the State and so unlikely to be made redundant or sacked, or who are unemployed/retired and so not likely to be made homeless) seem to regard people like the lady mentioned in that tweet as collateral damage of a "necessary" policy.
I agree, as a one-time Devon resident (2004 and 2005, a few miles east of the Upper Tamar).
https://www.woodlandtrust.org.uk/visiting-woods/woods/simonsbath-woods/
Exactly. Some people are so black and white-minded that they say "Covid-19 is real, not a scam, so the conspiracy theory about the Great Reset is rubbish…", when of course it is perfectly possible for "the virus" to be both real and a serious public health problem, and also being used as a convenient way of pushing through huge socio-political change via fear propaganda, financial manipulation etc. Oh, and as for the "Great Reset" being a "conspiracy theory", it's no theory. Indeed, the World Economic Forum [WEF; https://en.wikipedia.org/wiki/World_Economic_Forum] actually both tweeted, and published elsewhere, the view that the virus situation was a perfect opportunity to push the Great Reset. They even used the words, "Great Reset".
System-approved journalist is somehow surprised that official photos may lie, or tell a completely or largely untrue narrative [cf. "holocaust"]…
Late tweets seen
Conflation of beauty and truth. Scruton (above) was more accurate: a trio of values, being the Good, the Beautiful and the True.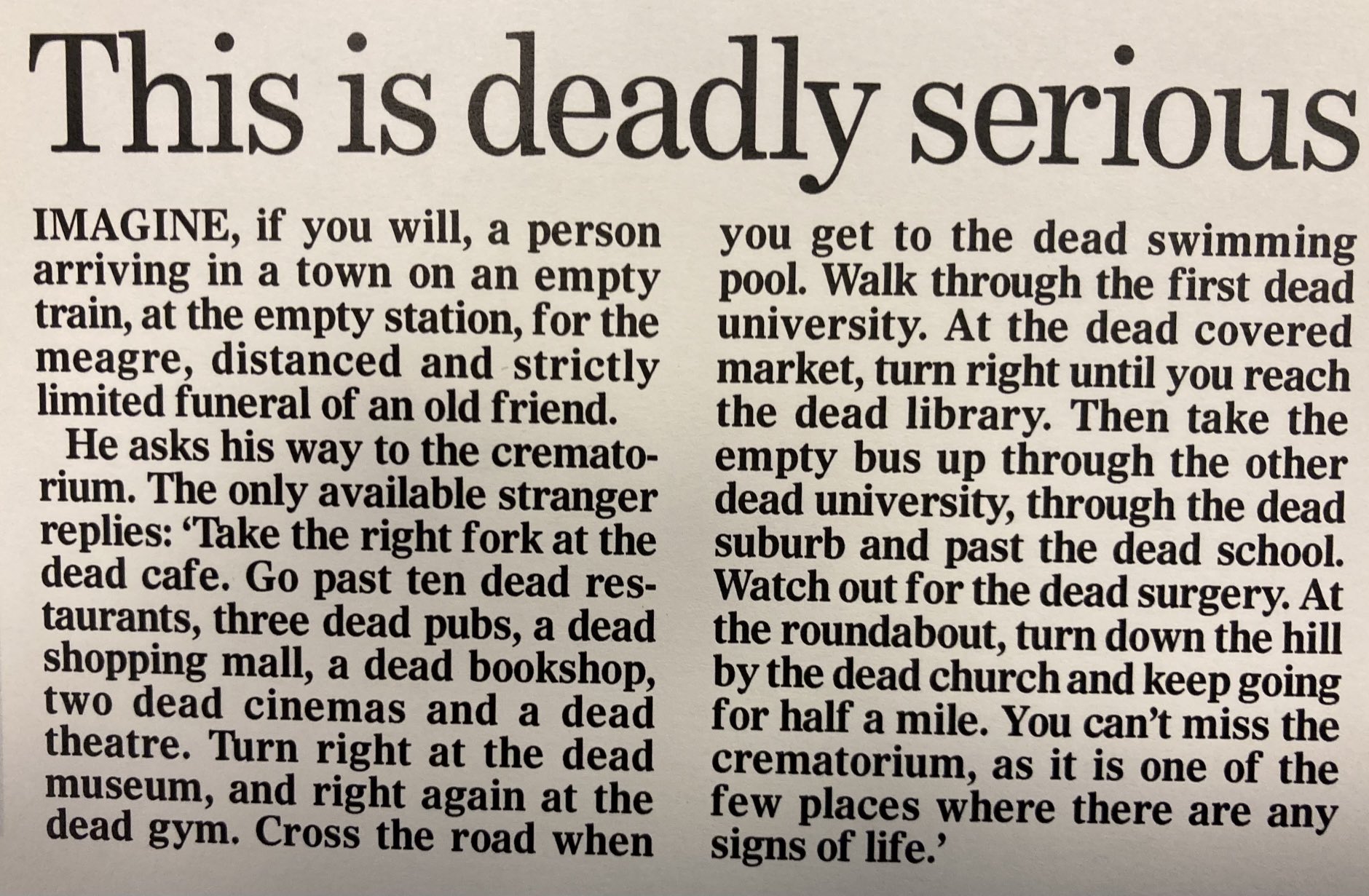 Late music