Background
Finally the boil has burst:
The Jew paedophile, sex predator, rapist etc Jeffrey Epstein has committed suicide, it is claimed. The circumstances seem mysterious, as when that other Jew disgrace, "Robert Maxwell", supposedly fell off or jumped off or was pushed off his motor yacht in the region of the Canary Islands.
The Jew Epstein has been in the firing line (not literally, as he should have been) for years:
https://en.wikipedia.org/wiki/Jeffrey_Epstein
The Press is now having a field day:
https://www.mirror.co.uk/news/uk-news/prince-andrew-dragged-deeper-jeffrey-18901992
https://www.mirror.co.uk/news/us-news/inside-sordid-life-jeffrey-epstein-18888881
https://www.thesun.co.uk/news/9699204/prince-andrew-jeffrey-epstein-paedophile-spotted-death/
https://www.theguardian.com/uk-news/2019/aug/09/prince-andrew-court-documents-ghislaine-maxwell-jeffrey-epstein
https://www.express.co.uk/news/royal/1153272/prince-andrew-jeffrey-epstein-files-virginia-roberts-royal-news
https://www.theguardian.com/uk-news/2019/aug/09/prince-andrew-court-documents-ghislaine-maxwell-jeffrey-epstein
https://www.theguardian.com/us-news/2019/aug/11/jeffrey-epstein-conspiracy-theories-run-riot-with-trumps-help
When "Robert Maxwell" died, his daughter, Ghislaine, who was completely mixed up with Epstein for decades (from age 29 or 30; she is now 57), said that she believed her father to have been murdered. Now Epstein's death also raises questions. He too was mixed up with some of the most famous and/or powerful figures in the US and UK: Trump, Clinton, Prince Andrew…
Robert Maxwell was thought to be a (perhaps the) major MOSSAD operative in Europe. Now we see that his daughter was intimate or at least friendly with many of the world's powerful and uber-wealthy. That does not mean that she was operating or partly operating on behalf of the Israeli state or the world Zionist conspiracy, but it does raise questions.
One has to ask why Ghislaine Maxwell has not (at least not yet) been arrested either in the UK or USA. Apparently, some of the young girls abused by the Jew Epstein used to refer to the Jewess "Maxwell" as "the Madam". Say no more…
So why no action against her? Is this the Jew-Zionist lobby working behind the scenes of our "democracy" again?
Prince Andrew
As far as I am concerned, Prince Andrew is a useless fellow, a complete waste of space. People always say "but he fought in the Falklands!", as if a few weeks in action (in fact merely observing; he was never under direct fire) gave the prince a free ride for life (his birth already gave him that, I suppose). Admittedly, Andrew did serve for a number of years as Lieutenant, but his service is said to have been generally underwhelming. On retirement from the Royal Navy, he was given the rank of Honorary Captain, rather than promoted as substantive Captain. In 2015, Andrew was made Honorary Vice-Admiral (I have no idea whether he gets a toy battleship to go with that).
Typical British cap-doffing, always bending over backwards to show deference to "royalty", is still endemic in the UK. People less enamoured of the royals have commented that the Press and royal PR people have also rather (in the vulgar phrase of today) "bigged-up" the WW2 service of Andrew's father, Philip [see Notes, below]. He has lived off the public weal and his wife's money for 70 years!
Prince Philip and that clan may not be actual lizards (as David Icke is said to have once claimed), but looking at Philip, I can see from where the idea might have originated…
This morning, I saw an account by Sky News about the Epstein scandal that somehow contrived to avoid the use of the words "Prince Andrew"! Incredible. Needless to say, the facts that Epstein was a Jew and Ghislaine Maxwell is a half-Jewess are also absent from all TV and Press reports. (and yes, many British people, in particular, are so naive that they might not realize).
Andrew, of course, married "Fergie", with all the consequent scandal that entailed. Now, he is or was involved with a very wealthy woman called Goga Ashkenazi, born in Kazakhstan, and who is part-Jew, part-Muslim.
Andrew finished his official time with the Royal Navy in 2001 at the age of 40, since when he has played golf, flown around the world on rather easy "missions" for charity or government (more or less freeloading, hence his nickname of "air miles Andy") and enjoyed himself.
"The Duke of York receives a £249,000 annuity from the Queen.[68] The Sunday Times reported in July 2008 that for "the Duke of York's public role,… he last year received £436,000 to cover his expenses."[69] On 8 March 2011, The Daily Telegraph reported: "In 2010, the Prince spent £620,000 as a trade envoy, including £154,000 on hotels, food and hospitality and £465,000 on travel." [Wikipedia]. "Not a bad little earner"…
"Earlier in 2010, it was revealed that the Kazakhstan President's billionaire son-in-law Timur Kulibayev paid the Duke of York's representatives £15 million – £3 million over the asking price – via offshore companies, for the Duke's Surrey mansion, Sunninghill Park. Kulibayev frequently appears in US dispatches as one of the men who have accumulated millions in gas-rich Kazakhstan.[100]
In May 2012, it was reported that Swiss and Italian police investigating "a network of personal and business relationships" allegedly used for "international corruption" were looking at the activities of Enviro Pacific Investments which charges "multi-million pound fees" to energy companies wishing to deal with Kazakhstan.[101] The trust is believed to have paid £6 million towards the purchase of Sunninghill which now appears derelict.[101] In response, a Palace spokesman said "This was a private sale between two trusts. There was never any impropriety on the part of The Duke of York".[101]
Libby Purves wrote in The Times in January 2015: "Prince Andrew dazzles easily when confronted with immense wealth and apparent power. He has fallen for 'friendships' with bad, corrupt and clever men, not only in the US but in Libya, Kazakhstan, Uzbekistan, Tunisia, wherever."
In May 2016, a fresh controversy broke out when the Daily Mail alleged that the Duke had brokered a deal to assist a Greek and Swiss consortium secure a £385 million contract to build water and sewerage networks in two of Kazakhstan's largest cities, while working as British trade envoy, and had stood to gain a £4 million payment in commission.[102] The newspaper published an email from the Duke to Kazakh oligarch Kenges Rakishev, (who had allegedly brokered sale of the Prince's Berkshire mansion Sunninghill Park), and claimed that Rakishev had arranged meetings for the consortium. After initially claiming the email was a forgery, Buckingham Palace sought to block its publication as a privacy breach.[103] The Palace strongly denied the allegation that the Duke had acted as a "fixer" calling the article "untrue, defamatory and a breach of the editor's code of conduct." [Wikipedia]
This is, however, not meant to be an attack on Prince Andrew, however well-merited. Let's look at a few others in the useless rabble that now constitutes the "royals".
Prince Charles
I once met the Prince of Wales, at the official Residence of H.M. Ambassador in the capital city of a foreign country "East of Suez". There were about 30 people at the reception, though I myself knew only a couple of the guests and a few of the diplomats (including the ambassador). HRH moved through the groups of informally arranged guests, saying hello to almost everyone and speaking with a few favoured people, of which I was one (my time with him probably lasted all of three minutes, though having drunk about a bottle of red wine, I cannot be sure!).
My impressions? Shorter than I expected from having seen photographs and TV news footage for much of my life. I was somewhat taller than him. I was also surprised to see that he was almost bald in places, especially the top of his head (which I could look down on as he turned away). As to personality, I should say pleasant, slightly mocking or humorous (he made a joke about the city and country, which was unexpected). Not someone difficult or rude.
I can support some of what Charles does for animal welfare and the environment, though some of the lustre rubs off when one thinks of his "sporting" slaughter of birds, foxes and other creatures (I let him off as regards salmon and trout!).
Charles has made (with expert help of course) a big success of the Duchy Originals brand, and has in general advanced the cause of organic agriculture. I do think that he in general means well, but his self-pity and preciousness (retailed in various newspaper anecdotes) does make him hard to much like as far as the public is concerned (and that is leaving aside the whole Diana and Camilla saga).
Prince Edward
What can one say? I suppose that the, er, fag-end of a royal house always has a few "princes" of this sort. After dropping out of the Royal Marines fairly quickly, Edward decided, as Wikipedia puts it "on a career in entertainment". A royal prince playing the theatre manager? Unglaublich… He married a public relations woman and they, apparently, have had two children together.
Princess Anne
Someone who seems to have all the charm of her father. Nuff said. In fact, I have over the years heard some inside track, but I prefer to leave that out of this article (not least because some sources, though thought reliable, may not be).
The lesser royals
Up for hire. What more need one say?
https://www.thetimes.co.uk/article/hong-kong-tycoon-puts-zara-tindall-peter-phillips-and-sarah-ferguson-on-his-payroll-srvhtfpm2
https://www.express.co.uk/news/royal/1164130/sarah-ferguson-news-zara-tindall-tycoon-payment-johnny-hon-royal-news
https://www.mirror.co.uk/news/uk-news/zara-tindall-sarah-fergusons-lucrative-18880566
Does the Royal Family have Jewish admixture?
It has been asserted that Prince Albert was half-Jewish, his real or natural father having been a Jew banker. I do not know whether there is any truth in that, but certainly some members of the Royal Family have looked quite Semitic. Princess Margaret looked very Semitic indeed. Lord Snowdon, her husband, used to make bitter remarks to her face, and about how she looked like an old Jewess, in the years when their marriage was disintegrating.
If reports can be believed, until the 21st Century dawned, all male children of the first rank of the Royal Family were actually circumcised and not even merely by a surgeon, but by a Jewish religious expert. It's all very strange.
Freemasonry
The links between the Royal Family and freemasonry are well-known and documented.
Overall view
One can see that the British monarchy, qua monarchy (i.e. not qua a function of the "celebrity" culture), is running into the sand. The oldest generation, meaning the Queen and Prince Philip, are now not far from 100 years of age. Prince Charles is now 70 and will soon be 71.
As for Princes William and Harry, "tame thick princelings" pretty much covers it, though they are now perhaps a little old to be called "princelings"— William is now 37.
William's marriage to Kate, though outside normal royal tradition, could be presented as sort-of within it. Kate is said to be part-Jewish, and so through the matrilineal side, i.e. which the Jews themselves accept as conferring "Jewishness". However, that sort of thing goes over the head of the public and so, if you like, "caviar to the general". Not so Harry's marriage to Meghan, aka the Royal Mulatta (previously married to a Jew in California). That has the possibility (especially when combined with the couple's absurd recent antics), to sever any bond of affection or respect still binding monarchy to "the people".
My view
What strikes me increasingly about the Royal Family is its sheer irrelevance both to the UK as a whole and to the people of the UK. When most subjects (as they were; now citizens) had gone through the Second World War, good and bad times economically, had only 2 or 3 TV stations, and everyone wore poppies in November, there was some kind of bond or at least link. Now, the only thing linking the "royals" with the people is that of prurient interest (of the latter in the former), a link no more strong than the people have with pop stars, Katie Price or the cast of the latest braindead "reality" show. As for the proliferating population of "blacks and browns", very few these days have any interest in the "royals" (now that few have come directly from former colonies).
I have no great animus against monarchy as a system. It is sometimes the best system, whether absolute monarchy or constitutional monarchy. However, Britain now is outgrowing this long-established institution. There is, perhaps, still a place for a constitutional figurehead, but beyond that I think that the time has come to say goodbye.
Notes
https://en.wikipedia.org/wiki/Robert_Maxwell
https://en.wikipedia.org/wiki/Ghislaine_Maxwell
https://www.theguardian.com/media/2003/nov/24/mondaymediasection6
https://en.wikipedia.org/wiki/Prince_Philip,_Duke_of_Edinburgh#Naval_and_wartime_service
https://en.wikipedia.org/wiki/Goga_Ashkenazi
https://www.standard.co.uk/lifestyle/high-flyer-goga-ashkenazi-takes-over-the-world-6476649.html
https://web.archive.org/web/20080904234122/http://www.timesonline.co.uk/tol/news/uk/article4407240.ece
https://www.express.co.uk/news/royal/1164488/princess-anne-news-princess-royal-news-royal-family-latest-update-spt
https://en.wikipedia.org/wiki/Princess_Margaret,_Countess_of_Snowdon#Private_life
https://en.wikipedia.org/wiki/Brit_milah
https://en.wikipedia.org/wiki/List_of_monarchs_who_were_Freemasons#United_Kingdom
Update, 14 August 2019
A few tweets…the role of the BBC in covering up for Prince Andrew and for the likely-MOSSAD-linked Jewish-Zionist web comes in for much criticism.
In fact, this former BBC/ITV journalist (Anna Brees) knows from experience that the msm are lying about all manner of important topics.
Update, 14 August 2019
There it is: The Jews Epstein and "Maxwell" both admitted that they were gathering blackmail materials on the rich and famous. This must be connected with Israeli Intelligence.
https://www.telegraph.co.uk/news/2019/08/13/jeffrey-epstein-ghislaine-maxwell-boasted-collecting-compromising/
and the father of one of the trafficked girls says that Ghislaine "Maxwell" must be "hunted down". Tally-ho!
https://www.dailymail.co.uk/news/article-7353923/Rage-Jeffrey-Epstein-girls-father.html
Better make it quick, before the bitch flees to Israel…
Ah…: "Her current whereabouts are unknown and sources close to her claim she planned to 'totally disappear'." [Daily Mail]. Right…to bloody Israel! I guessed right. Give that man a cee-gar! I wonder how long it will be before the (half)-Jewess starts screaming about "anti-Semitism"?
Update, 15 August 2019
https://www.dailymail.co.uk/news/article-7359111/Autopsy-finds-Jeffrey-Epstein-broken-bones-neck-raising-questions-suicide.html
Bloomberg: 'where is Epstein's "ho" of the house?'
https://www.bloomberg.com/news/articles/2019-08-15/where-is-epstein-s-lady-of-the-house-maxwell-mystery-deepens
Update, 17 August 2019
The fugitive…
Update, 18 August 2019
The Daily Mail today has an exclusive on the scandal. Beyond even the details, the photograph of "royal prince" Andrew, peering round the front door of the Jew's mansion, is a stunning indictment in itself. Andrew, Jew's flunkey (or should that be "Jews'"? They seem to be numerous around him)…
…it is all rather reminiscent of the 1940 German film, Jud Suss [The Jew Suss]!
https://www.dailymail.co.uk/news/article-7367511/Prince-Andrew-pictured-inside-paedophile-Jeffrey-Epsteins-63million-mansion-depravity.html
https://en.wikipedia.org/wiki/Jud_S%C3%BC%C3%9F_(1940_film)
note: The full version of the 1940 film Jud Suss is now censored, completely removed from YouTube (as indeed I predicted, a few years ago, would happen…). Only a few short clips (such as the one above) and the —far less hardhitting— 1934 film version of the (true) story, are still up.
However, Jud Suss is still on the Internet, though it must be sought out in quiet corners. It is well worth seeing (why else would "they" try to "disappear" it?). Here is one good copy:
https://mk.christogenea.org/video/jud-suss
note: It now appears that other Jews, some of whom use several aliases, are involved:
https://www.thedailybeast.com/jeffrey-epsteins-alleged-accomplices-where-are-sarah-kellen-nadia-marcinkova-adriana-ross-and-lesley-groff
Update, 19 August 2019
Buckingham Palace PR people have released a truly pathetic exculpa on behalf of Prince Andrew, saying how "appalled" he is at the "revelation" that his friend, the billionaire Jew Epstein, was a sex criminal etc. Really, how strange. So in 2011 and 2012, when Andrew was visiting and perhaps staying in the Jew's Manhattan mansion (and acting as the Jew's flunkey at the door), he, Andrew, was unaware that Epstein had been convicted and imprisoned in 2008 over such matters? Hardy ha ha…It was the subject of publicity at the time and thereafter…
In fact, Epstein's money and connections had greatly helped the Jew himself in 2008: a light sentence, mostly spent on "day release" (so prison was just somewhere less comfortable than, say, the Pierre, or the Waldorf-Astoria, in which to doss down in overnight); then early parole. The fix was in, somewhere, that much is obvious.
In other, connected, news, the Queen seems to have required the "royal prince" to fly home early from the traditional Summer break at Balmoral.
Andrew is now exposed as, at best, a complete fool and grifter; at worst (and the worst is more likely than the best), a user of procured young girls, procured for him by both the Jew rapist Epstein and Epstein's one-time "ho", the half-Jewess Ghislaine "Maxwell", daughter of MOSSAD operative and fraudster "Robert Maxwell" (and herself quite likely "connected"). Israeli Intelligence and the Jew-Zionist web worldwide must have learned a lot and suborned many, taking the operation as a whole. The Royal Family has probably lost most of its own secrets via Andrew.
In other news, thick princeling Harry and the Royal Mulatta have just vacated the UK on their third private-jet jaunt in less than a month (the first was, laughably, to go to Sicily to a "climate-change" event!).
https://www.dailymail.co.uk/news/article-7371321/Meghan-Markle-Prince-Harry-board-private-jet-baby-Archie.html
It occurs to me that, at one time, the "royals" of the various European states were the acme of European society, but now absurd end-of-line "royals" want to ape the Hollywood film-star lifestyle.
Worse, Harry has become a figure out of American sitcom-land, the henpecked husband whose petulant young wife runs him ragged with her absurd demands. "Royal Married With Children"…(though in fact, in this case, she is about 4 years older than her husband, 38 compared to his 34).
The royals are now squandering their life's gold heedlessly.
https://www.dailymail.co.uk/femail/article-7370779/Prince-William-fears-Harry-Meghans-recent-behaviour-detrimental-royal-family.html
and now, reverting to Andrew's very strange behaviour and lifestyle, it turns out that Andrew hosted Epstein at Balmoral, while the Monarch was in residence, at that!
https://www.dailymail.co.uk/news/article-7369849/Duke-York-appalled-Epstein-sex-scandal-claims.html
Thick Andrew (all the royals are both painfully thick and cringingly uncultured) is of course "appalled" at the behaviour of his Jew billionaire "friend", so appalled that he stayed at the Jew's mansion, used the young girls there (almost certainly) and had nice chats with the Jew while walking in Central Park…2 years after the Jew had been convicted of sex crimes.
Update, 20 August 2019
Yet another "ho", this time Australian.
Update, 22 August 2019
https://www.theguardian.com/uk-news/2019/aug/22/prince-andrew-epstein-foot-massage
As for "the Madam" (Ghislaine Maxwell), I suggest that the US authorities stop looking around L.A. and start looking around Tel Aviv…
Update, 23 August 2019
…and still the stories roll on…
https://www.theguardian.com/uk-news/2019/aug/23/boorish-and-self-centred-little-love-for-prince-andrew-over-epstein-links
"Time and again, Andrew, who a courtier once reportedly described as having "a pompous level of self-importance", has demonstrated an eye-watering lack of judgment. Palace staff have rated him the rudest of royals, according to reports. A secret cable, published on WikiLeaks in 2010, revealed a US ambassador describing Andrew speaking "cockily" during one official lunch,leading to a discussion that "verged on the rude"." [The Guardian]
"Rightly, or wrongly, there is a perceived air of arrogance about Andrew, and he is described by various people as boorish and very self-centred," said Joe Little, managing editor of Majesty Magazine. "Perhaps we shouldn't be judging the book by its cover. But, certainly, that's the impression he has given for a very long time." [The Guardian]
The Guardian's piece ends with an almost "sympathetic" paragraph:
"His fate is that of the typical second son, struggling to find a role. "I think despite knowing he was always going to go down the line of succession, the fact that in his youth he was second in line to the throne, and now he is wherever he is, that must be quite a blow to your confidence and feeling of importance," said Little."
On the other hand, the stupid arrogant bastard might actually show a little humility (I mean to the British people who have been subsidizing him all his rotten life, not to the wealthy Jews for whom he seems to behave like a doormat), not to mention gratitude to the British people (and to Fate or God, or the gods, without whose largesse "Prince" Andrew would just be a very very mediocre naval officer who would struggle to rise beyond the rank of lieutenant).
Update, 24 August 2019
https://www.dailymail.co.uk/news/article-7389311/Vanity-Fairs-Graydon-Carter-severed-cat-head-outside-home-amid-Jeffrey-Epstein-reporting.html
Update, 25 August 2019
…and still it continues, with painfully thick Andrew still trying to say that he had no idea that the Jew Epstein had been convicted a couple of years previously for sex crimes (as if the police would not have known!)
https://www.dailymail.co.uk/news/article-7390393/Prince-Andrew-says-NEVER-witnessed-behaviour-led-Jeffrey-Epsteins-conviction.html
Daily Mail: "A source said that when working as Special Representative for International Trade and Investment between 2001 and 2011, Andrew was asked to travel regularly to the US. Since relinquishing this role in 2011, they maintained Andrew had continued to travel to the US, but claimed that his focus, particularly with Pitch@Palaces, had been on 'other markets'."
A "royal prince" trying to play the Internet "entrepreneur"? Ha ha! It would be tacky even if successful. As it is, it just looks pathetic, like thicko Andrew himself and the whole "right royal" circus!
https://twitter.com/CityBureaucrat/status/1161795950677020672?s=20
Update, 27 August 2019
The half-Jewess Ghislaine "Maxwell" again in the news…
https://www.dailymail.co.uk/news/article-7397265/Jeffrey-Epsteins-madam-Ghislaine-Maxwell-accused-sexually-abusing-two-sisters-1996.html
Update, 10 September 2019
https://www.dailymail.co.uk/news/article-7443039/Prince-Andrew-flew-Jeffrey-Epsteins-jet-six-weeks-arrest.html
Update, 20 September 2019
https://www.dailymail.co.uk/news/article-7485821/Virginia-Roberts-describes-having-sex-Prince-Andrew-aged-17.html
Update, 24 September 2019
https://www.dailymail.co.uk/news/article-7499171/Ex-cop-MI6-fears-leaked-secrets-Prince-Andrews-friendship-Jeffrey-Epstein-breaks-silence.html
Update, 1 October 2019
Update, 17 October 2019
As the Irish say, "Jay-sus!"— There's even more! "Prince" Andrew looks more and more guilty every day.
…and it looks as if I was right about the connection with Israeli Intelligence!
"In light of what is now known about Epstein's sexual blackmail operation and sex trafficking activities, several reports from the late 1990s and early 2000s contain details long since forgotten regarding Epstein's relationship with Prince Andrew.
"One particularly censored article that appeared in London's Evening Standard in January 2001, for instance, gives several indications regarding the apparent entrapment of Prince Andrew as part of Epstein's sexual blackmail operation, which is now known to have been connected to intelligence — specifically Israeli military intelligence, according to recent revelations in the case." [Mint Press News]
Just goes to show— you can never be too "anti-Semitic"!
Update, 20 October 2019
https://www.dailymail.co.uk/debate/article-7591869/Former-MP-NORMAN-BAKER-asks-Duke-York-buy-13million-ski-chalet.html
https://www.dailymail.co.uk/reader-comments/p/comment/link/474782795
Update, 21 October 2019
https://www.dailymail.co.uk/news/article-7595709/Prince-Andrew-joined-orgy-Jeffrey-Epstein-nine-girls-accuser-claimed.html
Update, 30 October 2019
https://www.dailymail.co.uk/news/article-7630343/Epsteins-body-bore-marks-strangulation-claims-medical-examiner-50-years-experience.html
Update, 6 November 2019
Prince Andrew caught "bang to rights" (again). A useless, charmless, pretentious idiot who thinks that he is terribly important. Had he not been born where and "who" he was, Andrew would be —at most— a small businessman, and an unsuccessful one at that.
https://www.dailymail.co.uk/news/article-7651987/Amy-Robach-reveals-ABC-killed-Jeffrey-Epstein-expose-fears-Prince-William-Kate.html
Update, 16 November 2019
Prince Andrew thought that "it was the right and honourable thing to do", to stay with the convicted Jew sex predator Epstein. In the immortal word of "Manuel", "Que?".
https://www.theguardian.com/uk-news/2019/nov/16/prince-andrew-believed-staying-with-jeffrey-epstein-right-thing-to-do
Is Andrew more stupid or more guilty? Either way, the idiot is a waste of space. Take away his rice bowl.
https://www.bbc.co.uk/news/uk-50450207
Update, 17 November 2019
https://www.theguardian.com/uk-news/2019/nov/17/wokings-pizza-express-customers-struggle-to-remember-first-visit
Prince Andrew was not only able to remember his visit to the Woking branch of Pizza Express, but was able to say with certainty that he went there on the very day on which he is alleged to have screwed the American 17 y o trafficked by the Jew Epstein and the half-Jewess Ghislaine "Maxwell"!
Remarkable memory, to be able to recall the exact date, 18 years in the past…
Call Detective Columbo…
Apart from that, it made me laugh that Andrew went to Pizza Express. I mean, I do not expect a "royal prince" to eat drumsticks at a banquet every evening, casting the half-eaten ones over his shoulder in the manner of Henry VIII as played by Charles Laughton, or to eat only slices of cucumber washed down by champagne, like one of the cavalry officers in Anna Karenina, but…Pizza Express?…at…Woking?!
Update, 18 November 2019
Looks like thick and dishonest Andrew has dug himself deeper into a hole…
https://www.dailymail.co.uk/news/article-7695233/Videos-Prince-Andrew-partying-nightclubs-beautiful-young-women-French-Riviera.html
https://www.dailymail.co.uk/news/article-7695777/RICHARD-KAY-hes-achieved-fuel-controversy.html
https://www.dailymail.co.uk/news/article-7697803/PIERS-MORGAN-didnt-believe-word-Prince-Andrew-said-Jeffrey-Epstein.html
Update, 21 November 2019
Seems that Andrew met the "ho" "madam" Ghislaine "Maxwell" as recently as June 2019! Looks as though they were discussing legal strategems, aka "how are we going to get out of this?"
Well, they could always take a cruise off the Canary Isles together…
https://www.telegraph.co.uk/royal-family/2019/11/20/prince-andrew-met-ghislaine-maxwell-two-weeks-prosecutors-announced/
…and the popular prints are just not giving up; here (see below), a TV doctor rubbishes Andrew's claim that he, Andrew, cannot or could not sweat by reason of having "been shot at" in the Falklands (and that's even leaving aside the —apparent— fact that Andrew never was shot at during the few weeks that he spent in the Falklands, and that the nearest that he came to being in peril that way was when he observed from a helicopter a ship being shot at):
https://en.wikipedia.org/wiki/Prince_Andrew,_Duke_of_York#Falklands_War
…and what about that remarkable memory that Andrew seems to have (when it suits him)?
https://www.dailymail.co.uk/news/article-7708371/Britains-ex-consul-general-New-York-casts-doubt-dukes-alibi.html
Update, 26 November 2019
According to the New York Post, the "ho" "madam", Ghislaine "Maxwell", wanted to become la Contessa Cicogna, but failed in that. I presume that the Italian's family were appalled at the prospect of a Jewess (actually, half-Jewess) polluting the family escutcheon…
https://nypost.com/2000/03/23/how-ghislaine-rose-from-the-ashes-maxwells-heirs-building-a-new-business-empire/
Update, 30 November 2019
Now it turns out that the arrogant stupid bastard has been pocketing bungs worth millions. I suppose that he wanted to try to keep up financially with his billionaire half-Jew, half-Muslim girlfriend from Kazakhstan. He must be binned (the rest of his family too). Time for some kind of republic.
https://www.dailymail.co.uk/news/article-7740505/What-DID-Prince-Andrew-pocket-Pitch-Palace.html
Update, 19 December 2019
[censored]
https://twitter.com/OncleAlphonse/status/1207455696964538374?s=20
Update, 27 December 2019
https://www.dailymail.co.uk/news/article-7830167/FBI-investigates-Jeffrey-Epsteins-madam-Ghislaine-Maxwell.html
Update, 31 December 2019
The "ho" madam, the Jewess Ghislaine "Maxwell", has "serious dirt on someone", says a "friend"…
On "someone in a high position". I wonder who that might be? Maybe "royal prince" Andrew knows…
https://www.mirror.co.uk/news/us-news/ghislaine-maxwell-has-serious-dirt-21188809
Update, 2 January 2020
Well, give that man a cee-gar! Turns out that I guessed right (I usually do, if I myself say so):
"Jeffrey Epstein's socialite 'madam' Ghislaine Maxwell 'is being hidden from the FBI in a series of safe houses because of the information she has on powerful people'"
Maxwell has remained incognito since Epstein's arrest and death behind bars
New report claims both she and Epstein were 'assets' for a foreign government
Source says they funneled dirt on the rich and powerful to foreign spies
Now Maxwell may be hiding in a safehouse in Israel, the new report claims
She is a British and US citizen, and daughter of an alleged Mossad operative."
"An explosive new report has asserted that deceased sex criminal Jeffery Epstein and his alleged 'madame' Ghislaine Maxwell were foreign intelligence 'assets', and that she is currently hiding in a safehouse in Israel."
"She is not in the US, she moves around. She is sometimes in the UK, but most often in other countries, such as Israel, where her powerful contacts have provided her with safe houses and protection,' the source said."
"Born in France, Maxwell is both a U.S. citizen and British subject. Her family's alleged ties to Israel's national intelligence service, Mossad, have been well documented.
Maxwell's father, Robert Maxwell, was a Czech-born British media mogul whose financial fraud in raiding the Mirror Group pension fund was discovered after his death in 1991.
Also a British member of parliament, Robert Maxwell reportedly had ties to British intelligence, the Soviet KGB, and Mossad — and was suspected of being a double or even triple agent by British Foreign Office officials."
[Daily Mail]
https://www.dailymail.co.uk/news/article-7843659/Ghislaine-Maxwell-reportedly-foreign-spy-hiding-Israel.html
Western world, wake up to the Jew/Zionist/Israel conspiracy. It's everywhere…
Update, 7 January 2020
Seems that the "ho" "madam", Ghislaine Maxwell, "is reportedly in hiding and being guarded round the clock by former US Navy SEALs amid fears her life is in danger." [Daily Mirror]. In Israel? Some US Navy Seals are Jews, perhaps surprisingly. I met one myself once.
https://www.mirror.co.uk/news/us-news/jeffrey-epstein-death-evidence-points-21227499
Update, 18 January 2020
Now it seems that the Jew "ho" Ghislaine Maxwell is also an animal abuser.
https://www.dailymail.co.uk/tvshowbiz/article-7901275/Ghislaine-Maxwell-hosted-tea-party-underwear-threw-puppy-room.html
Update, 24 January 2020
Latest about the half-Jew "ho" madam, Ghislaine "Maxwell":
The story is interesting, though. I wonder whether this alleged telephone hacking had a connection to the Saudi Crown Prince, like other hacking exposed in recent weeks? I speculated some months ago that the "ho" Maxwell was hiding out in Israel, presumably under MOSSAD or Aman control.
Update, 26 January 2020
https://www.mirror.co.uk/news/uk-news/prince-andrew-had-visits-ghislaine-21360358
Update, 20 February 2020
https://www.dailymail.co.uk/news/article-8022283/GUY-ADAMS-new-photos-Prince-Andrews-friend-cavorting-bikini-clad-women.html
Update, 22 February 2020
More news of the activities of the Jew Epstein and his "ho", Ghislaine "Maxwell":
https://www.telegraph.co.uk/news/2020/02/21/epstein-have-everyone-videotape-ghislaine-maxwell-alleged-have/
Update, 23 February 2020
Jews' lackey, "Prince" Andrew, lied about his whereabouts, it seems…
https://www.dailymail.co.uk/news/article-8033111/Former-Royal-protection-officer-raises-questions-Prince-Andrews-alibi.html
Update, 2 March 2020
https://www.thesun.co.uk/fabulous/9808477/prince-andrew-naughty-kid-footmen-throw-manure-black-eye-queen-agreed-deserved/
Maybe it is time that the "royal prince" and Jews' lackey got another beating from the royal servants, this time more severe…
Update, 7 March 2020
"Royal prince" Andrew now retains solicitors and Counsel specifically for the Epstein/"Maxwell" matter:
He must be getting seriously worried…
Update, 11 March 2020
Seriously worried!
https://www.telegraph.co.uk/royal-family/2020/03/10/prince-andrew-hires-pr-man-advised-vips-falsely-accused-child/
Update, 18 April 2020
Update, 25 May 2020
Update, 1 June 2020
Jews using blacks and ensnaring white girls? That sounds just like "Nazi" propaganda! Oh no…wait...
Update, 7 June 2020
So here's a deal: we hand over Andrew for the third degree, and you Americans hand over to us that Sacoolas CIA bitch…
Update, 9 June 2020
More corruption (or embezzlement) from the"royal prince":
https://www.theguardian.com/uk-news/2020/jun/09/prince-andrew-charity-broke-law-paying-trustee-350000
Update, 2 July 2020
A murky story. I wonder whether the Israelis will kill her (too)?
Update, 11 July 2020
"A reformed jewel thief has reportedly claimed that Jeffrey Epstein and Ghislaine Maxwell filmed powerful people having sex with underage girls.
The man, using a pseudonym, claims the one-time power couple made him watch some to prove how they "owned" people.
William Steel, an ex criminal turned writer, says he was shown footage of two high-profile US politicians having sex with minors." [Daily Mirror]
https://www.mirror.co.uk/news/uk-news/ghislaine-maxwell-showed-video-powerful-22338574
Yet more Jew-Zionist corruption of the society.
Update, 15 July 2020
"Ghislaine Maxwell cried as she was denied bail on Tuesday, with a judge ruling she must stay locked up until her trial in July of 2021" [Daily Mail]
https://www.dailymail.co.uk/news/article-8518795/Ghislaine-Maxwell-pleads-not-guilty-fights-5M-bail.html
Note: https://nationalvanguard.org/2018/02/eminent-sheeny/
News report, 15 July 2020:
"Maxwell" may be secretly married! To someone "with a British accent"! https://www.dailymail.co.uk/news/article-8525541/Ghislaine-Maxwell-secretly-MARRIED-refuses-reveal-identity-mystery-spouse.html…ANDREW! ("just teasin'", as they say in the Caribbean…)
Update, 23 July 2020
Update, 29 July 2020
https://www.thesun.co.uk/news/12253032/ghislaine-maxwell-pictures-topless-young-girls-hobby/
Update, 1 August 2020
"It is claimed in the unsealed papers that an island orgy was one of three occasions when Jane Doe #3 was forced to have sex with Andrew. The other locations were Maxwell's London flat and and in New York." [The Guardian]
https://www.theguardian.com/uk-news/2020/jul/31/underage-girl-forced-to-have-sex-with-prince-andrew-us-court-document-jeffrey-epstein
I am interested to see that both "prince" Andrew and the Jew lawyer and legal academic (Harvard) Alan Dershowitz, perhaps best known for the Claus von Bulow case (https://en.wikipedia.org/wiki/Alan_Dershowitz https://en.wikipedia.org/wiki/Claus_von_B%C3%BClow#Murder_trials), are mentioned as having been involved in defending the Jew Epstein.
Andrew's motive is obvious: to try to exculpate himself; what, though, of Dershowitz? He is said to have visited the Epstein island and travelled on Epstein's jet. He may have abused young girls himself. Whether that was so or not, was that and is that the whole story?
We know that the Jew who was mainly known as "Robert Maxwell" https://en.wikipedia.org/wiki/Robert_Maxwell was a major MOSSAD operative. His daughter, Ghislaine, is now the prime focus of the post-Epstein inquiry, and is on trial in Federal court in New York. She, it is said, was also an Israeli agent, either MOSSAD or Aman, or both. Epstein (who has now "gone up the chimney") the same.
We know that Israeli Intelligence co-opts Israeli and other Jew "civilians" as operatives when necessary. Look at the Dikko case (https://en.wikipedia.org/wiki/Dikko_affair): "Though Israel, at the time, did not have formal diplomatic relations with Nigeria, there were less visible ties between the two nations. In particular, Nigeria was an important source of oil for Israel, and Israel was a significant supplier of arms to Nigeria. The Israeli intelligence agency Mossad was tasked with locating Dikko and bringing him back to Nigeria to stand trial." [Wikipedia]
" Mossad recruited Levi-Arie Shapiro, an Israeli doctor who was a consultant anesthetist and director of the intensive care unit at HaSharon Hospital. He was to fly to London and participate in the operation. Shapiro's job would be to drug Dikko, and insert an endotracheal tube to keep him from choking on his own vomit while being transported in a crate." [Wikipedia]
A Jew (whether Israeli or any other nominal nationality) may be a doctor, a lawyer, or whatever, but is first and foremost a Jew and likely to do whatever Israel and its "services" want…
It may well be that the successful Epstein blackmail and suborning operation, likely to have been very productive for Israeli Intelligence, was in part facilitated by the Jew Dershowitz. I imagine that his role was, precisely, to shield Epstein (and so Maxwell and/or others) from legal inquiry from both USA and UK.
https://www.foxnews.com/media/alan-dershowitz-denies-sex-abuse-jeffrey-epstein
Update, 4 August 2020
https://www.thesun.co.uk/news/12303489/prince-andrew-was-with-epstein-girl-claims-witness/
and
Update, 7 August 2020
https://www.dailymail.co.uk/news/article-8603427/Prince-Andrew-burst-ecstasy-sex-foot-licking-Virginia-Roberts-claims.html
It sounds plausible, insofar as Andrew's former wife, "Fergie", apparently liked to have her toes sucked…https://metro.co.uk/2018/10/12/remember-the-sarah-ferguson-toe-sucking-scandal-that-cemented-her-exit-from-the-royal-family-8030879/ https://www.dailymail.co.uk/news/article-2203474/Just-like-Kate-Middleton-Fergie-toe-sucking-Texan-naked-Charles-target-French-magazines.html
Update, 14 September 2020
All of this is a massive Jew conspiracy run from Israel, and "prince" (idiot, waste of space, useless) Andrew is up to his thick neck in it.
Update, 12 December 2020
It seems that Andrew's ludicrous alibi has been shot down: https://www.dailymail.co.uk/news/article-9044879/Prince-Andrews-sex-slave-alibi-falls-apart-Explosive-dossier-blows-hole-Pizza-Express-excuse.html
Meanwhile, Ghislaine "Maxwell", the half-Jew (Mischling) "ho" "madam", is pulling out all the stops to get released on bail in he USA. Seems that she is married to a Jew "tech millionaire". The bail suggested by her legal team may be USD $30 million. Where do the Jews get such money? Is the "husband" stumping up? Is any of it from monies stolen from UK Mirror Group pensioners by the "ho's" repulsive father, Robert Maxwell?
Also, is that alleged husband also connected with Israeli Intelligence in some way? We do not know. The "tech" and social media" area is infested. https://nypost.com/2020/12/11/ghislaine-maxwell-to-offer-30m-bail-admit-shes-married-reports/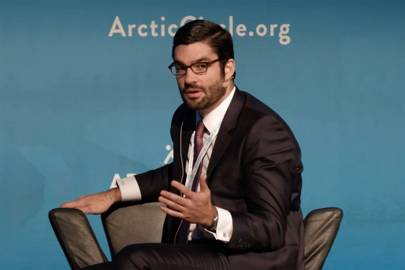 https://www.tatler.com/article/ghislaine-maxwell-secret-husband-scott-borgerson-level-4-use-of-force-home-intruders
"Borgerson was involved with the Council on Foreign Relations." Well, well, was he really? A slightly unusual connection for someone who spent 4 years as a US Coastguard officer, though others have said that he was a US Navy SEAL. A Jew as Navy SEAL may sound odd, but there are some; I myself met one such, about 18 years ago, at Charleston, South Carolina.
The CFR is a core Western "think tank". NWO etc…Many of the leading members are Jews. https://en.wikipedia.org/wiki/Council_on_Foreign_Relations; https://en.wikipedia.org/wiki/Members_of_the_Council_on_Foreign_Relations
This whole "Prince" Andrew-connected case is exposing some significant aspects of the real world power matrix.
Update, 14 December 2020
Update, 26 March 2021
https://nypost.com/2021/03/24/ghislaine-maxwell-appeals-third-bail-denial/
I thought that Ghislaine "Maxwell" would have played the "antisemitism" card by now, but admittedly that would be hard to justify in New York City, especially when the judge is herself Jewish! Indeed, the judge is more Jewish than Ghislaine Maxwell, who is genetically only half-Jew: her mother was a French Protestant, who "converted" to Judaism (and became fanatically pro-Jew and pro-Israel) after meeting the MOSSAD asset "Robert Maxwell".
Update, 25 April 2021
Ghislaine Maxwell now charged with further and even more serious offences:
https://www.bbc.co.uk/news/world-us-canada-56865986;
Also: https://www.dailymail.co.uk/news/article-9509147/Bill-Clinton-grins-Jeffrey-Epstein-Ghislaine-Maxwell-VIP-White-House-tour-1993.html
Update, 10 July 2021
https://www.dailymail.co.uk/news/article-9774291/VICKY-WARD-recorded-Jeffrey-Epstein-tapes-reveal-Ghislaine-Maxwell-shocking.html
Update, 19 September 2021
A rather sympathetic American documentary, by ABC:
The trial of Ghislaine Maxwell is apparently scheduled for November 2021, so it is interesting that quite sympathetic documentaries are now appearing…
I notice that that ABC doc features Robert Maxwell's son, Ian [https://en.wikipedia.org/wiki/Ian_Maxwell], as well as journalists who are either Jewish or at least perceived by many as generally pro-Jewish.
Having said that, the film does contain material not entirely exculpatory of Ghislaine Maxwell. On the other hand, turning it around again, it might be argued that, bearing in mind what has already been exposed, the only thing for Ghislaine Maxwell to do is to limit the damage— to accept a hit, but a limited hit.
Update, 1 December 2021
https://www.theguardian.com/us-news/2021/dec/01/ghislaine-maxwell-accuser-cross-examination
Update, 6 December 2021
https://www.dailymail.co.uk/news/article-10275713/Prince-Andrew-took-FOUR-flights-Jeffrey-Epsteins-plane-flight-logs.html
Update, 9 December 2021
Below, a photograph admitted into evidence in the Ghislaine Maxwell trial, showing her giving the Jew exploiter Epstein a foot massage on one of his private jets:
Note her dishevelled state…
Update, 11 December 2021
https://www.dailymail.co.uk/news/article-10297769/RICHARD-KAY-does-outcast-Prince-Andrew-day.html
Update, 12 December 2021
https://www.dailymail.co.uk/news/article-10299879/Epstein-victim-Sarah-Ransome-says-tried-escape-Paedo-island-repeatedly-raped.html
Update, 20 December 2021
https://www.abc.net.au/news/2021-12-20/whats-going-on-with-ghislaine-maxwell-s-sex-abuse-trial/100714256
Update, 30 December 2021
https://www.thesun.co.uk/news/17096917/ghislaine-maxwell-guilty-of-grooming-girls/.
Guilty on 5 out of 6 charges. Forecast to be sentenced to (up to) 65 years. These being Federal offences, parole chances are minimal. An appeal has been or is in process of being lodged.
Update, 15 January 2022
Ghislaine Maxwell may get a retrial, based on apparent procedural and other problems to do with some of the jurors. Meanwhile, sentencing has been set down for 28 June 2022.
https://www.dailymail.co.uk/news/article-10404695/Ghislaine-Maxwell-set-sentenced-sex-trafficking-crimes-June-28.html
In other news, Andrew Windsor, the thick bully and freeloader (etc) formerly known as "Prince", has lost a number of military and other titles and ranks (including effectively, though not officially, "HRH"), and may even lose his title "Duke of York".
If and when Andrew is completely reduced to the ranks, it may send a shiver down the spines of other "Royal Family" members on the right royal gravytrain, especially but not exclusively the minor ones.
https://www.dailymail.co.uk/news/article-10400375/Prince-Charles-William-demanded-Andrews-exile-Duke-Yorks-crisis-summit-Queen.html.
Update, 28 January 2022
From my daily Diary Blog:
"Seems that the person formerly known as Prince (Andrew) is probably going to request a civil jury in the case brought against him by one of the victims of the Jew Epstein. To my mind, this is a strategy unlikely to succeed. I am still nominally an attorney at the New York Bar, though I have never practised law in that state (I passed the exam 32 years ago), but my view about this matter comes more from my knowledge of Americans themselves.
Andrew Windsor is on the wrong side tactically: British, as against his accuser, an American. A man as against a woman, in a generally feministic part of the world. An older man as against a younger woman. An hereditary foreign "royal" as against a US-born-and-bred US citizen. Very wealthy, as against someone without inherited wealth, and brought up in either a "trailer" or a very modest house.
Does Andrew Windsor really think that a civil jury in New York City will be on his side? Maybe this is a tactic to gain time while his lawyers find out how much the lady's price might be. A great deal more than the rent of a Manhattan apartment and a free seat on a private jet, anyway."
Update, 17 February 2022
https://www.independent.co.uk/news/world/americas/prince-andrew-virginia-giuffre-settlement-latest-b2016976.html
So Andrew Windsor, "formerly known as Prince", has settled the civil suit brought in New York by Virginia Giuffre (as was). Rumours abound that the settlement is around £12M in British money.
https://www.dailymail.co.uk/news/article-10521161/Tell-Andrew-12m-Calls-grow-no-public-money-used-settlement.html.
Update, 12 May 2022
"EXCLUSIVE: Bill Clinton's special advisor who let Jeffrey Epstein into the White House seven times and flew on the Lolita Express dies at 59 – the latest associate of the former President to suffer an early demise"
https://www.dailymail.co.uk/news/article-10805997/Bill-Clintons-special-advisor-let-Jeffrey-Epstein-White-House-dies-59.html
Update, 27 June 2022
https://www.thesun.co.uk/news/19019471/ghislaine-maxwell-jailed-abuse-jeffrey-epstein/
20 years. Federal time, so no parole. She will be 80 by the time she gets out.
Update, 17 July 2022
https://www.dailymail.co.uk/news/article-11020905/Newsnight-photographer-claims-picture-Prince-Andrew-rock-Monarchy.html
Update, 25 July 2022
https://www.dailymail.co.uk/news/article-11044677/Ghislaine-Maxwell-moved-prison-Florida-life-luxury-Epsteins-Palm-Beach-mansion.html
The report has all the accuracy we have come to expect from the Daily Mail:
"Notable inmates at FCI Tallahassee include the terrorist Colleen LaRose and Earth Liberation Front member Chelsea Gerlach." [Daily Mail].
In fact, Colleen LaRose was released from FCI Tallahassee in 2018, nearly four years ago! [https://en.wikipedia.org/wiki/Colleen_LaRose].
Further update, 25 July 2022
Ehud Barak…[https://en.wikipedia.org/wiki/Ehud_Barak]. Now there's a name not quite in sync with the others. I wonder what he was up to, bearing in mind the Israeli Intelligence connection with both the Jew Epstein and the half-Jew Ghislaine "Maxwell".
"Barak…served as head of Aman, the Military Intelligence Directorate (1983–85), head of Central Command (1986–87) and Deputy Chief of the General Staff (1987–91)." [Wikipedia].
Update, 6 October 2022
https://www.dailymail.co.uk/news/article-11283941/Andrew-horrible-bully-revolving-door-women-ex-officer-tells-new-documentary.html
Update, 16 October 2022
https://www.dailymail.co.uk/news/article-11319119/Ghislaine-Maxwell-pays-tribute-dear-friend-Prince-Andrew-Florida-prison-walls.html
A time when the Jews of the ghettoes of Eastern Europe invaded the royal palaces of Britain…
Update, 29 November 2022
https://www.dailymail.co.uk/femail/article-11478971/Ghislaine-Maxwell-sexually-propositioned-teenage-Petronella-Wyatt.html
Update, 24 January 2023
Unless either an appeal happens (and is successful), or a pardon is granted by the U.S. President, Ghislaine Maxwell will be incarcerated until she is 80 years old (2041). There is no parole, as such, in the U.S. Federal system, only in individual states' systems. However, an inmate can get nearly 2 months "credit" for every year served, dependent on behaviour, so on a 20-year sentence, a couple of years might get shaved off.