Shopping report
I went out shopping for the first time in 2 days yesterday evening. Waitrose not crowded, in fact almost empty, but a few things caught my attention. The first was an odd-looking thin woman hovering around, inter alia, the (empty) dry pasta shelves, a scarf round her mouth (well, if she keeps it that way at home, I'm sure that her husband is grateful!). On approaching other shoppers, even 20 feet away, she held the scarf up to her mouth, tightly, as if in a plague zone (in a dystopian sci-fi film). Funny people. It's hard not to hold silly people of her sort in contempt.
As for shortages, only —as before— dry pasta, flour and, to a lesser extent, rice. They are good for years, so I suppose that people are stockpiling in case civil war or complete disorder reigns. It could happen, so I find it hard to condemn the "selfishness" out of hand, even though I myself am not stockpiling (in any case, I now live in a humble little place and would scarcely have the storage space). All the other goods which were the object of the panic-buyers recently are in good supply: loo paper, kitchen roll, bottled water, pasta sauce, tinned fish. I bought a couple of cans of tinned red salmon, together with ready-made poppadums, Madras curry paste, fruit, vegetables (mainly carrots for juicing, on sale for only 25p a large bag— cheap), kefir etc. Only thing apart from flour and dry pasta completely unavailable seems to be bleach.
Strange…or is it?
The tweeter, one Millard (unrelated to me, incidentally), is perplexed. Well-meaning no doubt, volunteered for "Coronavirus" duty, to help NHS etc. Ignored. Why?
That tweeter has been the dupe of a propaganda campaign.
We have seen how the new "instant hospitals" set up to receive huge numbers of "Coronavirus" victims (patients) are not even necessary (though setting them up may have been the right decision, and the speed with which they were set up was impressive).
The largest such "Nightingale" hospital, in London, has only handled about 20 or 30 patients out of its maximum capacity of 4,000. Others, in other parts of the UK, have handled few —or no— patients. The one planned for Tyne and Wear is not even going to be opened now.
As I have blogged before, the Government took the Coronavirus crisis as an existential threat to the whole society, as not only a "national emergency" (as its panic-stricken TV ads aver), but also as a national emergency which might kill a quarter of a million or even a half-million people in the UK. In that, they were misled by their "experts" from Imperial College and elsewhere. Those "experts" more recently changed tack and projected a UK death toll of 5,700, but now seem to be unable to think of a suitably-credible new figure. In short, they are like racing tipsters who have lost all credibility and are simply tipping the favourite for the remaining races on the card.
The Government (perhaps with the right intentions, though many think not) took a "maximalist" approach to the virus situation. They closed down our society, closed down our economy, instituted police state rules and regulations. In short, they thought that a tsunami was coming, but when it came, it turned out to be only a larger than usual but not devastating wave.
Now the Goverment, as I wrote yesterday and the day before, has painted itself into a corner, unable to say to the people "well, thank God the expected disaster never happened, so lockdown is over and see you all at work and play tomorrow…"
That cannot happen, not for medical or public health reasons, but for political ones.
The peak has almost certainly passed in the UK, as it has in most if not all of Europe. Even in the USA, we see how deaths have levelled-off and then dropped in terms of daily totals in New York City.
Other parts of Europe have mostly decided to finish this "lockdown" stuff, but Britain is stubbornly refusing, no doubt because of the fear that the Government will look stupid. In reality, this regime is a headless chicken without Boris-idiot in place.
"Conservative" Party
By the way, this Jew is the Treasurer of the misnamed Conservative Party: https://en.wikipedia.org/wiki/Ehud_Sheleg
The previous one was also a Jew: https://en.wikipedia.org/wiki/Mick_Davis
Musical interlude
Contrasts
I saw this tweet and many similar to it:
While I resist the System propaganda around "Coronavirus", the fact is that there is now a generation or two of pretty useless people, for whom all that matters is what people say about them on pathetic "social media" platforms. Many have so much, but they see only their own "suffering", most of which is in their own empty heads. You only have to look at the TV they have spawned, such as "reality" TV (fake "real life" in Essex etc) and game shows involving such emptyheads screwing each other on islands etc.
I do not want to be too sweeping, but we are mainly talking about the under-40s and often the under-30s.
Sometimes I think that only a real chistka will get rid of them.
Some cheerful music for hard times
History moves on. The German Reich was the superior force, but not in terms of outward force, sadly. Thesis-antithesis-synthesis. We propose, oppose, but later move forward in a way neither of the opposed forces could have predicted. Slava!
The same is true of the oft-mentioned dichotomy, National Socialism v. Anthroposophy. Synthesis is coming even there. National Socialism was not 100% "correct" or "right" in all things and for all time; the same is certainly the case with Anthroposophy. The future waves of History will select what is worthy of survival from both.
Interesting
An interesting tweet by Andrew Neil:
I suppose that Israel is the safest place because…well, some would say because Israel has a strong medical and pharmaceutical sector (which is no surprise, with all the Jewish doctors in the world); others might respond that, if someone rolls a boulder from the top of a hill where 100 people are standing at various heights, and, as it gathers speed, various people are injured or killed by the boulder on its downhill course, then who is in the safest position of all? Surely the one who set the boulder moving from his place at the top of the hill…
The truth is that I do not know what really started this worldwide pandemic; few people do. It is, however, obviously being used for political and possibly geopolitical purposes.
Returning to Neil's tweet, Britain is not even in the top-40 of "safest countries". We really are down in the hole these days. Terrible.
Breakdown of Coronavirus ICU admissions in the USA (to mid-March):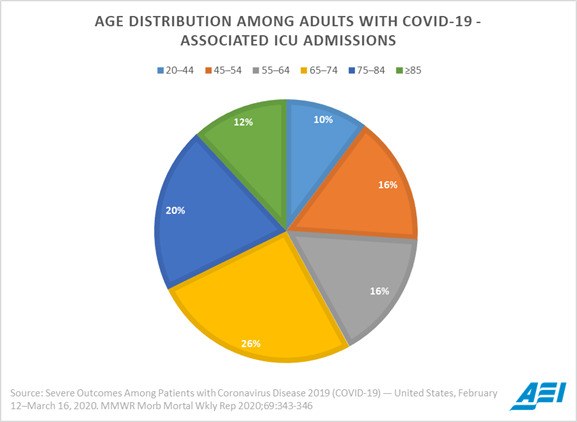 Only 10% were under 45 years of age. It would be interesting to see what proportion of the under-45s then went on to survive. Probably almost all.
America, "land of freedom"…
Tweets seen
Here's one [below], from a plainly stupid woman who just wants to be told what to do and think.
Here's another similar one (there are hundreds like her on Twitter), who does not want to be a free citizen, but just an obedient and compliant serf:
A couple more like those?
Most of the "willing slaves" seem to be women, but not all. At least Laura Kuenssberg and other journalists are starting to question the stupid "lockdown" policy which may well give the coup de grace to Britain's faltering economy and society (and to what is left of civil rights in this country).
As for listening to the ludicrously-named "SAGE" "experts", these are the same people who initially said that 250,000 (or even 500,000) would die from Coronavirus in the UK. At present about 12,000 people have died from "Coronavirus-related" conditions. In the same period, about 100,000 other people have died in the UK, and from all sorts of other conditions, diseases and events.
Many of the tweets seen today (and on every day) make one wonder whether it is even worth pretending to be a "democracy", when so many people incapable of thinking, or whose attempts to think are crippled by their own neuroses, have the vote, the same vote that you and I have. Many are so easily manipulated. Worse, they want to be told "do this, don't do that". Societal masochism.
I might not always agree with Peter Hitchens, but most of his tweets are a blessed relief from the "me too", "clap for victory" serfs on Twitter.
Here is Hitchens laughing at Nadine Dorries, the expenses cheat MP and total deadhead:
Nadine Dorries seems to imagine that a vaccine can be developed and rolled out in weeks! Or maybe she thinks that "lockdown" can just continue ad infinitum. What an idiot that stupid woman really is!
https://www.spectator.co.uk/article/six-questions-that-neil-ferguson-should-be-asked
"In 2005, Ferguson said that up to 200 million people could be killed from bird flu. He told the Guardian that 'around 40 million people died in 1918 Spanish flu outbreak… There are six times more people on the planet now so you could scale it up to around 200 million people probably.' In the end, only 282 people died worldwide from the disease between 2003 and 2009." [The Spectator]
"In 2009, Ferguson and his Imperial team predicted that swine flu had a case fatality rate 0.3 per cent to 1.5 per cent. His most likely estimate was that the mortality rate was 0.4 per cent. A government estimate, based on Ferguson's advice, said a 'reasonable worst-case scenario' was that the disease would lead to 65,000 UK deaths. In the end swine flu killed 457 people in the UK and had a death rate of just 0.026 per cent in those infected. Why did the Imperial team overestimate the fatality of the disease? Or to borrow Robinson's words to Hancock this morning: 'that prediction wasn't just nonsense was it? It was dangerous nonsense.'" [The Spectator]
Well, what about that? This is the man (see above) who is, with others, advising little Matt Hancock and the other Government clowns. This is the man whose opinions those (mostly women) tweeters want to go unquestioned by Laura Kuenssberg et al.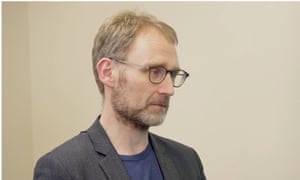 https://www.leadersleague.com/en/news/heroes-and-zeros-neil-ferguson
At least he is now saying that the Government needs an "exit strategy".  He looks like a drug addict or something (I do not suppose that he actually is a drug addict but he does look rather odd). This country is very sick, and the sickness is worst at the centre of power and influence.
As a matter of fact, I (not a scientist, not a medic, but not devoid of sense either) disagree with Ferguson re. "exit strategy". No, what the government needs to do is to end the "lockdown", right now but keep advising people strongly via the msm re. washing hands (the only really effective way to prevent getting the virus) and reasonable social distancing (i.e. avoiding crowded places, places where there are hot and excited people etc).
Ha ha! I agree with Hitchens about this [below]!
Peter Hitchens seems to be agreeing with my view, expressed in the past day or two:
The Government knows that it has done a Sorcerer's Apprentice over Coronavirus, and wants to stop it before the entire economy is wasted, but it cannot, politically, say it like that. There "has" to be, therefore, some fake "exit strategy" in unnecessary stages…
What worries me is that the public, or at least much of it, has now been brainwashed into thinking that the plague is abroad…only the Coronavirus church (NHS and Government) and Coronavirus saints, whether NHS staff, large donors, 100-year-old retired officers raising charitable funds for NHS, or elderly survivors, can redeem the people…
The public will now be unable to accept any simple honest statement from Downing Street which says "It's over. We went too far. Coronavirus is a risk but a manageable one. You may now walk, drive, shop, go to work etc as you please, to extent that you did until we started this mass panic."
I should think that what is gripping the present government of clowns is the fear that the public will see through them…
Clap clap…
This evening, for the first time, I actually saw people engaging in the Daily Hate…oh, no, wait, that was in Nineteen Eighty-Four, not in our wonderful caring society. I mean the regular "clap for [whoever]". Two women (one dressed in what, on a cursory look, seemed to be pyjamas and a housecoat) and a small child, the latter banging on something like a frying pan. If you see the Government's TV ads (propaganda) you think that millions are doing this, but these are the only people I have seen join in (if that is the bon mot when they were the only ones doing it), in several weeks.
Britain's experiment in becoming a police state continues
I doubt that I am the only person disturbed by this: 2000 hrs, Westminster Bridge. The police lead the "Weekly Clap":
Beyond the State's Westminster propaganda display, a dark and fearful city where the inhabitants are under house arrest.
Not everyone is impressed:
An example of the dissonant idiocy into which this brainless government of fools has led us.
Willing slaves?
The people of Britain have been turned into scared rabbits.
"Britain is not ready for the coronavirus lockdown to be lifted even if the government wanted to, a poll revealed today.
Research for MailOnline found 80 per cent would not feel safe going back to everyday life at the moment, with nearly 60 per cent saying they are not comfortable leaving the house. 
Around half are now resigned to the draconian 'social distancing' curbs being in place into June – and 37 per cent say they will keep obeying the rules indefinitely if the government believes it is necessary."
[Daily Mail]
"Government advisers have admitted to being surprised by the extent to which Britons have been obeying the regime, with politicians increasingly alarmed at the huge consequences for the economy and Treasury finances." [Daily Mail]
https://www.dailymail.co.uk/news/article-8225891/Four-fifths-say-not-feel-safe-lockdown-lifted-now.html
Maybe this pathetic collapse of the national psychology is a logical consequence of 30 years of pervasive political correctness, "control" of thoughts and expression, scurrying semi-human (((creatures))) "reporting" and denouncing to police, employers, Twitter etc anyone expressing dissident thoughts or feelings.
Who would have thought it? Homo Sovieticus has been reincarnated in the UK…
End the "lockdown" now!
End the police state now!