Self-help
When the State fails to protect the people, the people start to protect themselves…https://www.dailymail.co.uk/news/article-8641517/Migrant-20s-attacked-moments-coming-ashore-dinghy-Kent-beach.html
Britain's moral collapse
https://www.mirror.co.uk/news/uk-news/family-slam-ghouls-who-filmed-22542104
The blacks emboldened by "Black Lives Matter" nonsense
https://www.mirror.co.uk/news/us-news/elderly-man-sweeping-path-sucker-22538815
An egregious example, but I believe that there is a general emboldenment of the non-Europeans and especially the blacks, triggered by the "BLM" nonsense. Not only in the USA; Britain too.
From the horse's mouth
"Professor Nathan Abrams sheds light on how Jews transformed the British entertainment industries, creating some of the most iconic characters and images of the 20th Century, including James Bond, Doctor Who, Carry On, and many others. In so doing, British Jews infused their creations with hidden Jewish themes."
I always wondered why some TV and film series are pushed more, in the msm, than others…
Of course the absurd "James Bond" fantasy meshes with the whole WW2 and post-WW2 SOE/OSS narrative. SOE [Special Operations Executive] was in reality a shambolic mess that (even from the Allied perspective) accomplished little (and got a very high percentage of its agents and its own officers killed), but you would not believe that from the huge msm industry of books and films that has grown up around it, especially in recent years.
SOE mentored the OSS, as did SIS/MI6. SOE was disbanded with almost indecent haste once Germany was defeated, but that fatal seed of amateur SOE bungling, once planted in the OSS, carried on germinating and then thriving in the successor to OSS, the CIA.
That seed of gung-ho paramilitarism, sown in the Second World War, has in fact been responsible for most of the CIA's debacles, from the Bay of Pigs, through Iran-Contra, to the support for and then betrayal of the Kurds; other situations too, such as arming Osama bin Laden and other fanatics in Afghanistan during the time of Soviet or pro-Soviet rule in the 1980s.
You see it in Hollywood films too, the idea that secret intelligence is largely about blazing machineguns, firefights featuring operatives capable of using martial arts and (maybe even at the same time!) flying a plane and making safe the mechanism of a nuclear bomb (etc). Not that such films are always unentertaining, but "Jason Bourne" is not so much a "secret agent" as a superhuman ninja warrior gone West.
Tweets seen
The whole thread is well worth reading. To read it, click on the tweet.
A caution to the Jew-Zionists trying to censor Twitter and other online media platforms: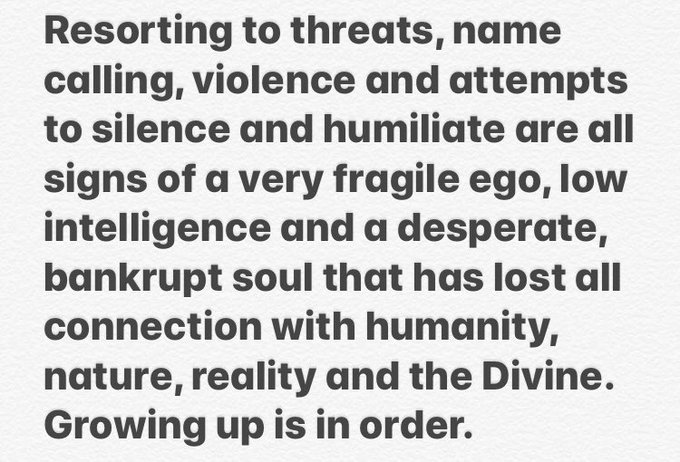 More tweets
Not all of the inferior races (or, within those races, individuals) treat animals cruelly (and our own record is far from perfect), but it is a matter of degree: the Northern European peoples, though they are at only the start of their evolutionary journey (in big-picture terms), are at least on it, whereas most of the other racial and ethnic groups in the world are either static or are regressing, so falling into decadence and evil.
Slava!
A "chimp-out" in San Francisco. Think the UK, say London, Birmingham or wherever, is any different? Think again. Once the restraints are off, this is the result. You cannot have a civilized society without a civilized population. Fact.
What many find hard to accept, or understand, is that quite a high proportion of those at or near the top of this society are actually and even wittingly servants of evil, sometimes members of evil secret groups planning to reduce the civilized people of the world (and all the peoples of the world) to decadence and destruction.
If the mob in Portland and elsewhere are not soon mown down by police, National Guard or Army, then the white people of Oregon are going to have to prove that the "Constitution" they talk about so much actually means at least something, and that their much-vaunted "right to keep and bear arms" means something more than showing off weapons to their friends and shooting empty beer bottles off fence-posts in the boonies…
So where are the "alt-Right" wastes of space in Portland and elsewhere?
In fact, where is Trump? Where is the huge machinery of U.S. government repression? Unaware? No. Complicit? Maybe…
Where are the non-antifa white people in Portland, where are all the "guns" they value so highly? A mere few would be able to clear away those untermenschen. As Dietrich Eckart said, "the rabble need to hear the rattle of machineguns…to get fear into their pants!"
As I have always said, most of the "nationalist" elements, in the US and UK too, are a waste of time and space. That particularly applies to the "alt-Right" and other wastes of space.
In fact, the multikulti or cultureless items of detritus on the streets are merely an unpleasant symptom. The disease is seated elsewhere, behind the camera, behind the reporters' notebooks. The "journalists", editors, owners of TV stations, radio stations, newspapers, Hollywood studios. These are the ones harbouring the disease.
Note that a female "Black Lives Matter" bully shouts continually at the old lady, "PUT YOUR MASK ON, BITCH!, PUT YOUR MASK ON!". Could the reasoning (the real reasoning) behind the facemask-wearing nonsense be made any more clear? It is a bullying of the individual, to intimidate the individual, forcing that person to conform, to do what the mob demands.
For myself, I just wish that someone had protected that old lady, and the best way of doing that would have been to shoot the mob down, starting with the black shouting in her face, then next prioritizing those cowards filming and photographing the horrible scene, followed by the shouting woman in the background. Then the rest of that mob. Then moving to those who are triggering all this by buying TV ads to support it, by reporting on it favourably, and also those bending the knee in sign of fealty or surrender to it all…
What starts on the West Coast of the USA often arrives next in the UK, after a year or two. Be warned. Be ready.
The BBC?! Ha ha! I support public service broadcasting, but the BBC trashed that years ago. The BBC now is almost akin to Soviet TV and radio. The BBC news broadcasts on TV have become unwatchable, just government propaganda lies, especially about "the virus" etc. Endless boring "interviews" on Skype with people droning on from their homes. I often wonder how many people now watch BBC News at all. Few, I think. It has become hugely boring. Not that that matters much to BBC staff who, like their 1980s Soviet counterparts are hugely overpaid for not rocking the boat…Meanwhile, the public is forced to pay for it all.
It will end in tears, with BBC staff forced to clean the pavements with their toothbrushes.
When things really (to use the contemporary phrase) "kick off" in the USA, UK, across mainland Europe, those who think that they can control the agenda and events because they —now— gang up on and denounce people to Twitter, Facebook, YouTube, the police etc, will find no hiding place themselves. Their Lilliputian binding ties will no longer protect them.
"Protect the NHS"? How about "Protect the patients of the NHS"?
Beaver re-introduction
https://www.independent.co.uk/news/uk/home-news/beaver-trust-mammal-river-wild-otter-devon-law-native-species-a9674246.html
Britain and inventors
Saw this:
Britain in the 20th and 21st centuries has not much honoured its inventors. Sir Christopher Cockerell belatedly got a knighthood (surely the most devalued honour?) and a prize of £5,000 (worth ?£500,000 today) in the late 1960s for inventing the hovercraft.
How sad that hovercraft are now built in places like China, but not, as far as I know, the UK, where they were invented and also first built and first used as passenger transport.
Hovercraft are still being updated and built in China and elsewhere. A story repeated a hundred times in the past. Is there any need to repeat a long list? The man (British) who invented the wind-up radio, not the most stunning invention but extremely useful all the same [https://en.wikipedia.org/wiki/Trevor_Baylis] made lists of all the inventions invented by British people in Britain, but which had then been exploited mostly by others, whether in the USA, Germany, or latterly in China.
British people are often poor at blowing their own trumpet. From the World Wide Web to DNA and DNA fingerprinting, the hovercraft, the jet engine, radar. Just hundreds of things.
People will say, "well, what about Dyson?" and it is true that, if anyone has had the benefit of his own ingenuity, it is Dyson [https://en.wikipedia.org/wiki/James_Dyson] but he is one inventor out of many; also, it is sad that he prioritized profit over continuing to manufacture his products in the UK, though I should not want to be too churlish: Dyson has ploughed back some profits into research and education.
Tweets seen this evening
Pity about the decommissioning of those cross-Channel hovercraft. They would have been useful in dumping the migrant-invaders back on the beaches of the Pas de Calais. The invaders could be kept in the hold for the 40 min crossing, and hovercraft need no port facilities, just a suitable beach. Out you get!
Hitchens is right. For one thing, the number of deaths from or even "with" Coronavirus has been massively inflated. Even the government of clowns' own advisers have admitted that (though still claim 40,000+). Secondly, direct civilian casualties in the UK from bombing and other enemy action during WW2 numbered around 67,000, so Piers Morgan is mistaken even in that respect, even taking the official, very inflated, "Covid-19" statistics as correct.
Piers Morgan is just a System mouthpiece.
As I have blogged earlier, both today and on other days, the BBC News on TV is pretty much unwatchable now. Bias and boredom. The "bias and boredom corporation"?
I think that that article would be well worth reading, but it is behind a paywall.
My little evening excursion
I went out to get fish and chips, something I do only once every couple of months. There is a shop on the rural/suburban A-road not far from me, about half a mile away, in a strip, or what an older generation called a "parade", of small shops. While waiting for the fish to be fried, I bought a few Thunderball tickets at the nearby convenience store (there are about 6 or 7 small shops there, 3 of which sell takeaway food).
I noticed that the florist shop was closed up, with what I took to be (did not go to read it) a legal notice pasted on the window. The little video rental shop was also closed and dark (though it was always open at 7 in the evening), so it looks as though that has, in the old phrase, also probably "gone West", as has, I suspect, a shop which sells, or sold, curtains and other soft furnishings. So out of about 7 shops (I think that another one closed a while ago), only 4 are still operating: fish and chips, a Chinese/Malay takeaway, an Indian takeaway, and the convenience store (part of a nationwide chain).
The economic depression (using the term in a lay sense) caused, not by "Coronavirus", but by government action and stupidity has not yet fully hit. The effects are beginning to be seen, however. Dire. The headlines scream about Marks & Spencer or Debenhams sacking thousands of workers, but the real story (or another real story) is the above, but multiplied countless times across Britain. Small shops and other businesses closing down, probably forever.
What is the betting that, when unemployment soars into the many millions, it will be the mask-wearing fanatics, and the "lockdown" enthusiasts, and the typical Twitterati mob, that will be screaming about how the masses are suffering from low pay, no pay, low benefits, lack of decent housing (as the migrant-invaders flood in) and an NHS which is allowing untold thousands to die because undiagnosed and untreated?
Midnight music