Alison Chabloz
Latest news about persecuted satirical singer-songwriter Alison Chabloz is that she is no longer on police bail in respect of a (((complaint))) of harassment made against her by (((someone))) in North London, a complaint made months ago.
It will be recalled that, nearly four months ago, a number (at least half a dozen) police burst into her home (in a shared house) in South-East London. That was apparently quite early in the morning, and Alison Chabloz was not fully dressed.
After the police raiding party had ransacked her home and taken her computers and telephones (and those of completely uninvolved persons also resident in the same building), Alison was taken to Charing Cross Police Station in Central London, interrogated, then released on police bail.
It is a source of concern that the police these days often seem ignorant of the most basic law relevant to their work. Or maybe that is yet another example of the termite-like influence of Common Purpose (following their motto of "Leading beyond Authority"…). In this case, however, they seem to have been belatedly put straight.
The law on police bail was changed a while ago, and is again under review: see https://commonslibrary.parliament.uk/insights/why-is-police-bail-being-reviewed-again/.
Police bail, at present, should only be used at all when its use is "necessary and proportionate", and should (in almost all cases) be used for a maximum of 4 months, and all but the first 28 days to be authorized by a court.
Also: "The police should now release most suspects they need more time to investigate with a new status: released 'under investigation' or RUI for short. The police have no powers to require RUI suspects to report to them, no powers to place conditions on them and no time limits within which to complete their investigation against them." [House of Commons Library]
This is what happened when Alison was police-bailed in her other outstanding matter, in Derby. The police should probably never have placed Alison on police bail anyway, as in this London matter. Certainly, no court authorized its continuance. Now, the Metropolitan Police have changed her status to "released under investigation", meaning that she is under no restrictive conditions (re. that matter, but see further below).
It can be seen from the citation here above that the police had in any event come to the end of the (nearly) 4 month maximum police bail period.
Alison Chabloz was due to return to Charing Cross Police Station today, presumably to be told whether any charges were going to be laid. She has, however, been informed via her solicitor that her presence is now not required and (as already noted) is simply "Released Under Investigation", though the police claim that their "investigation" still continues.
I doubt it. If the police had insufficient evidence against Alison Chabloz (nearly) four months ago, and now still have insufficient evidence with which to charge her, the "investigation still continues" assertion seems to be merely a figleaf to save face. I very much doubt that the police investigation will go any further or anywhere. How many does that make?
The only remaining question about the above, for me, is why the police still allow themselves to be used as "useful idiots" for (((malicious persons))) making all sorts of contrived complaints.
If I had to guess, I should say that the odds are that Alison Chabloz will not face any charge.
As for Alison's other outstanding matter, in Derby (see earlier blog posts), more news at a later date.
Tweets seen
You cannot oppose Jewish-Zionist behaviour in the Middle East but excuse it in the UK, USA, France, Germany etc. Same types, same problems.
Also, whatever people may say about various events in modern history, it is clear that the Israelis are running what amounts to a sort of "ethnostate", and moreover, one which is both cruel and harsh in its operation, and which attracts sociopathic Jew adventurers from the USA, Australia, UK, and France as immigrant colonizers.
I am not necessarily against colonies or colonizers, in general, but the devil is in the detail.
Talking of "malicious complaints"…
In the end, the best of the white Northern Europeans must separate from the general society. That germinal ethnostate, probably not in only one location but throughout the world, will then survive as the larger or general society collapses into decadence, destruction, war and evil.
Not sure that I accept this. I [b.1956] can recall cartoon ads on TV in the early-to-mid 1960s saying "Keep Britain Tidy", all about "litter louts" etc chucking stuff out of cars, while the good citizens took their litter home with them. It is probably worse now, because many of the less cultured people now have cars, which most did not (in the 1960s). Also, the "traveller" (Irish tinker "gypsy") element was under greater control by the police back then.
At last, some people formerly in the mask-wearing and "lockdown"/shutdown-supporting camp are starting to awake…
I wonder how long before the majority of the population realize that, for almost all people, there never was any real danger from "Coronavirus"? Maybe a long time, maybe never. The propaganda has embedded itself and people generally are still behaving like scared rabbits, for no reason at all.
Meanwhile, for the 1,999 out of 2,000 people in the UK unaffected or only slightly affected by "the virus" itself, life continues, with the UK economy almost paralyzed thanks to government decisions, with millions now facing unemployment and penury, and homelessness (all the more now that the Boris-idiot "government" is allowing migrant-invaders to flood in).
The NHS is also damaged, and is scarcely dealing with the real threats to the life and health of the population, but its senior staff have been bought off by 4% pay increases while they work far less than ever before.
Tweets seen
What a ghastly and unconvincing ((("simulacrum of the human")))! Like something from a horror film!
In the msm, on Zionist Twitter accounts etc, the work The Protocols of Zion is invariably described as "a forgery" or "a Tsarist forgery". In reality, it should be taken to be literary fantasy, but at the same time a literary fantasy based on real events, and groups, and on a real conspiratorial agenda.
In essence it is true, but is presented in a certain literary or "fantastic" way, in the sense of the French genre called "la fantastique" [https://en.wikipedia.org/wiki/Fantastique], and as, to take another example, with the famous Renaissance work The Chymical Wedding of Christian Rosenkreutz.
More tweets seen
I blogged about that particular blot yesterday: Edward Sutherland, of (or formerly of) Belmont Academy, Ayr, Scotland. Not a Jew, but one of the (often very "dodgy") non-Jews who act as doormats for Israel. The House of Commons is full of them.
Quite right. David Lange is a Jew-Zionist propagandist who moved from Australia to Israel, and who runs a website where he tries to pillory anti-Zionists (I myself was featured about 7 or 8 years ago, I believe it was). He is typical of the type…
The Zionists only understand one thing…
A sign of the times? Of future times?
As is the "Yuri Bezmenov" Twitter account. [@Yuriwasright] https://twitter.com/Yuriwasright
Ecce the "liberal" multikulti Netherlands, where the old are euthanized and every kind of degeneracy is applauded and "celebrated". I have been to the Netherlands a number of times, in the 1970s and 1980s especially, and my family had (and has) friends there. However, as I have heard, the country has changed for the worse, like much of Europe. I fear that the country I liked so much has probably largely gone.
In fact, Hitchens is wrong here. Like a lot of fairly clever people, he thinks that he is rather more clever than he is. Abstention is in fact no "step towards reform", as Hitchens should surely be able to see. Already, no less than a third of the UK electorate fails to vote in Westminster elections, overall (in some constituencies only a fifth or even sixth of the eligible do vote, at least in by-elections!); in local elections, a turnout of a few percent is common in some wards.
In other words, a third of people (or more, as many are not even registered) do not vote at all now. They are already voting with the feet, abstaining, if you like. Has that led to any "reform"? Au contraire.It simply reinforces the System.
The first steps to reform of this broken system would be quite other, but the repressive legislation now in force in the UK means that I cannot spell out what those steps would be…
I do agree with Hitchens about the "false choices", though. Two words: "Conservative; "Labour".
Britain's latest educational fiasco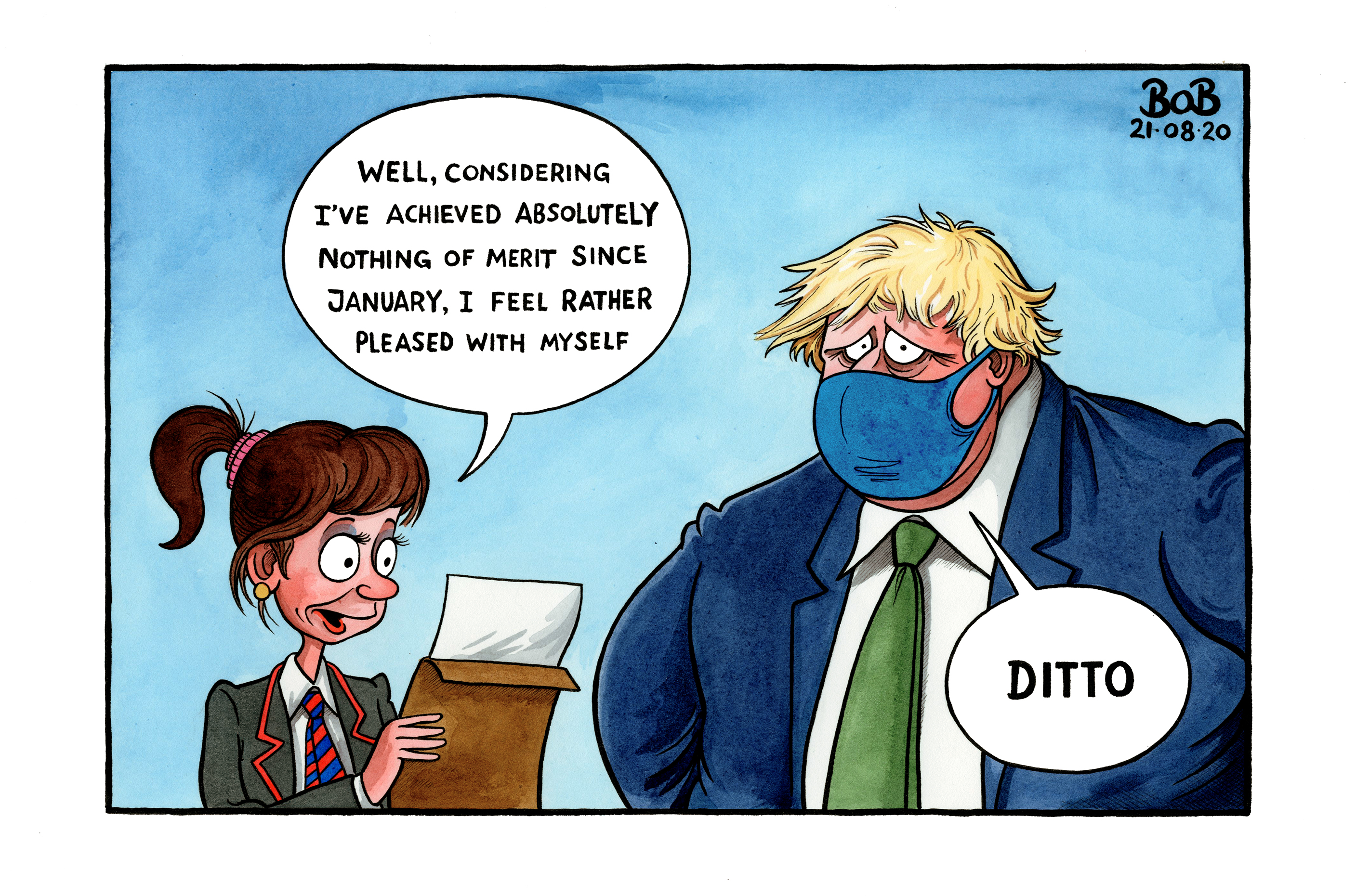 I have not blogged much about the exams nonsense, mainly because it is clear that a. exams have been getting so easy over decades that one feels "just give them all 'top' grades and a big bag of sweets and let the rest of us drink our rum in peace"…; and b. what matters is whether school or university students have family money (both income and capital) behind them. Their own efforts and grades are frankly secondary. Society is extremely unjust and getting worse.
I saw this: https://www.dailymail.co.uk/debate/article-8643069/JANET-STREET-PORTER-Shouldnt-asking-Mickey-Mouse-degrees-worth-money.html and, disturbingly, found that, not for the first time recently, I was able to largely agree with Janet Street-Porter. Mirabile dictu!
Midnight music
https://www.dailymail.co.uk/news/article-2417335/Paris-Nazi-lens-Propaganda-images-occupied-French-capital-citizens-thriving-German-rule.html