Coronavirus. Is the country waking up?
At last the country seems to be starting to wake up from the nightmare of, not "the virus", but the crazy over-reaction to it.
I happened to hear Sir Graham Brady, the MP for Altrincham and Sale West [https://en.wikipedia.org/wiki/Graham_Brady] on the BBC Radio 4 Today Programme. I was struck by his apparent determined opposition to the behaviour of the Government. He made the point that, had another MP not laid down an amendment to the Coronavirus Act 2020 [https://en.wikipedia.org/wiki/Coronavirus_Act_2020], the Government would in effect be able to rule by decree until 2022. https://www.bbc.co.uk/news/uk-politics-54232375
I predicted quite a while ago (about 7 or 8 months ago) that any serious Parliamentary opposition to this government of clowns would eventually come —and have to come, in a Parliament where the Government sits on a majority of 80 mostly inexperienced MPs— not from enfeebled and compliant Labour under Jewish lobby puppet Keir Starmer, but from within the Conservative Party itself.
This is what happens in dictatorships, whether elected or unelected. Take the Soviet Union. There was opposition of an unapproved (illegal) sort: the NTS [https://en.wikipedia.org/wiki/National_Alliance_of_Russian_Solidarists], the intellectual dissidents within the Soviet Union [https://en.wikipedia.org/wiki/Dissident#Soviet_dissidents] and, least important after the 1930s, Trotskyists [https://en.wikipedia.org/wiki/Trotskyism].
However, the real opposition to Stalinism was within the CPSU (Communist Party) itself. Indeed, we now know that one of the most committed "anti-Soviet" "dissidents" was also one of the highest Soviet leaders, Beria [https://en.wikipedia.org/wiki/Lavrentiy_Beria], who however was taking part in the very policies and repressions of which he mostly disapproved! I have blogged about Beria previously: https://ianrmillard.wordpress.com/2018/11/03/what-if-beria-had-succeeded-stalin/
Beria was not alone in the Politburo. Other members had doubts about various core Soviet policies: Collectivization, mass repressions etc. After the death of Stalin, Khrushchev, himself one of the harshest Stalinist repressors in the 1930s and 1940s, arranged (with the rest of the surviving Politburo) to release most of the prisoners of the GULAG labour camp system [https://en.wikipedia.org/wiki/Gulag], and made his famous"Secret Speech" [https://en.wikipedia.org/wiki/On_the_Cult_of_Personality_and_Its_Consequences] in 1956, after which he appeared internationally as the figurehead of the post-Stalin wave of "the Thaw": https://en.wikipedia.org/wiki/Khrushchev_Thaw.
Where was the most significant opposition to Ceaucescu in Romania? In the highest councils of the State itself. Who ordered the execution of Ceausescu and his ghastly wife? Revolutionaries? No, not as such. Palace revolutionaries carrying the rank of general or minister.
Where is any opposition in North Korea? Among peasants and industrial workers? No, they are far too downtrodden, poor and frightened even to think of rebelling. The opposition, as far as it exists at all outside people's own heads, exists in the higher ranks of the military machine and State officials. Which is why Kim Jong Un has had some (including his own relatives) shot, cut to pieces, fed to dogs etc. He knows where the opposition to him lies.
Reverting to the UK, now staggering under the weight of the governmental mistakes of 2020, we see the same. There is no real opposition from the Labour Party. Those feeble "me too", bent-knee bad jokes have swallowed the whole "Coronavirus will kill everyone" thing whole. All they do is support the Government or say "do it more!" Nothing can be expected from Labour. In any case, Labour has no power even in potential, having only 202 MPs out of 650.
So we see that opposition to the absurd dictatorship of the clowns now starts to grow from within the Conservative Party itself, from previously-supportive newspapers etc. It may be that the courts will now turn to the illegality of several of the measures that have been taken.
Tweets seen
Yes, I too noticed that Martha Kearney, that ridiculous BBC drone, was trying, repeatedly, to close down Sir Graham Brady, and to weaken what Brady was saying about this dictatorship of idiots pretending to be a government.
I effectively never use the railways now, but was talking to a lady who travelled from Hampshire to London then (after taxi transfer) to the "****hole of England" (the Kent estuary) recently. She said that the First Class from Hampshire to Waterloo was empty, and the Kent suburban service almost empty.
How mad is the Government, to keep pumping money into this black hole? It continues to depress the economy by its actions, makes the public scared of their own shadows (or of those nearby), then is surprised that the working masses do not want to commute or attend offices!
Just remember that, out of 8,000,000,000 people in the world, 1,000,000, i.e. 1 in every 8,000, have died from (or, more accurately, with) Coronavirus. That puts this whole "panicdemic" in proportion.
Other tweets seen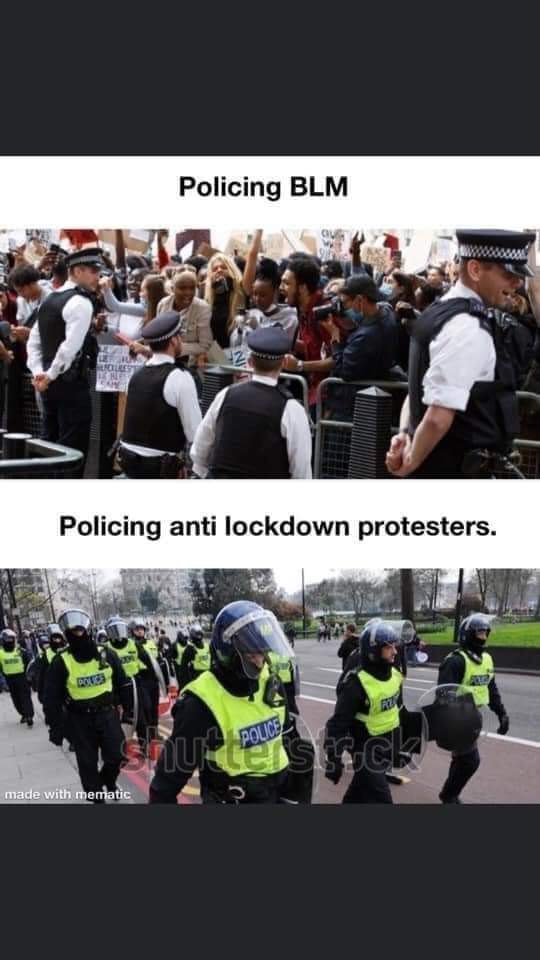 ...and now for something completely different
"Come with me, and I will show you where the Iron Crosses grow."
Musical interlude
Interesting educative animation
Other tweets seen
Yes, but 60+ years divided (albeit unequally) among 7 defendants means about 9 years each, so they will be out, averaged, in about 4.5 years…Idle thoughts? Covert elimination…
Eventually, a real government will have to thoroughly clean our Augean Stables.
This is (even though "the virus" exists and is a threat to public health to a limited extent) a gigantic confidence trick worldwide.
Late music