Jess Phillips
This made me laugh: https://order-order.com/2020/09/23/jess-phillips-sheds-tear-over-obvious-troll-photoshop/
I have blogged about deadhead MP Jess Phillips before: https://ianrmillard.wordpress.com/2019/05/07/deadhead-mps-an-occasional-series-the-jess-phillips-story/
Like so many "democratically-elected" MPs (in fact, first selected, and by a very exclusionary selection process, and only then "elected" in what amounts to a rigged public show), Jess Phillips is a bad joke who should be binned.
Tweets seen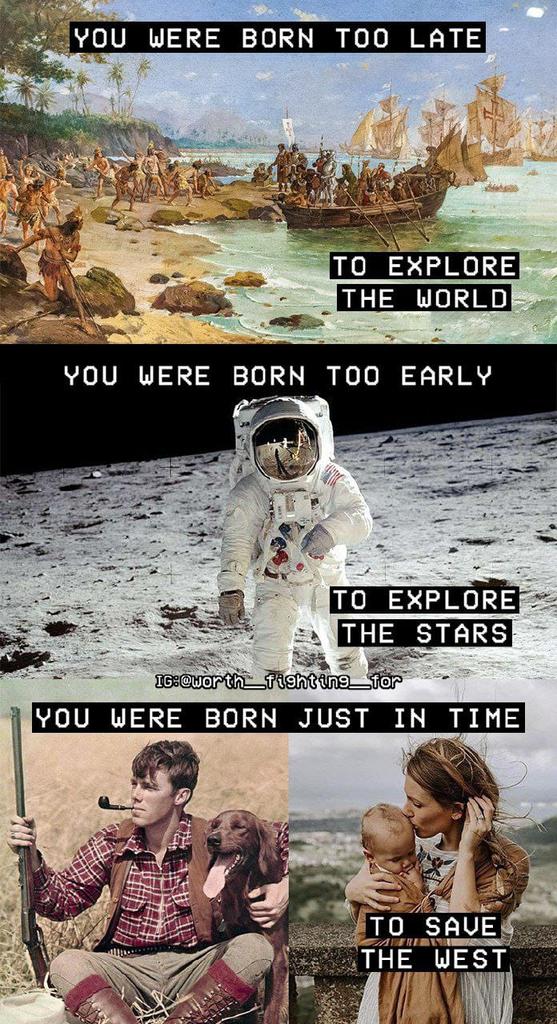 One of the best tweets I have seen.
The whole Western world needs a cultural revolution and a cultural purge.
https://www.bbc.co.uk/news/uk-wales-politics-54281993
Well-intentioned, but writing letters and sending emails (or even blogging) only has limited influential effect in a corrupt system riven with Evil. Most MPs are willing collaborators with the forces destroying Britain and all Europe.
When Britain has a real government, it must launch a real inquiry (not the usual toothless "judge-led" or other PR exercise) into the decadence and subversion riddling our society and particularly the msm, which baleful influence has been growing for decades, and which has intensified recently (because 2022 is approaching). Something akin to the Star Chamber, or —for a limited time— the "troikas" of Stalin's time.
We are presently being subjected to social mass conditioning on the grand scale: the "lockdown(s)", the facemask muzzling of the population, the attempt to create a forest of fear from an acorn of reality. It is connected with "the Great Reset" and "the Great Replacement". Look at TV ads, soaps, dramas on TV etc. All part of the evil conspiracy.
What tweeter "@Sputnik71" means, I think, is that if MPs were "dense idiots", they…well…would never be MPs at all! Ha ha! No doubt kind and well-meaning, but has he ever seen these idiots?! I refer him to my "Deadhead MPs" series for a small selection. A few names might give "Sputnik71" pause: Diane Abbott, Fiona Onasanya, Scott Mann, Iain Dunce Duncan Smith, Jess Phillips; and many more. See the Jess Phillips profile above in today's blog; or another, such as this one about Kate Osamor: https://ianrmillard.wordpress.com/2018/12/02/troop-cartload-barrel-or-family/
It is human nature to suppose that an MP or political leader must be extremely intelligent or at least quite intelligent, educated etc; otherwise he (or she) would not be there. Likewise, that a very wealthy person must be pretty aware and skilled to have their money. Sadly, no.
Many politicians have had both help and luck (though they do need ambition), while most (I concede not all) of the very wealthy simply inherited the loot. Zac Goldsmith. Where would he be, otherwise? An office bod, at best. Or look at Boris-idiot…
Likewise again, when the public are scared witless by "fake news" about a (real) virus being a kind of plague, it is human nature to comply with the "advice" (in the UK backed by fake "law") and regulation laid down by "the authorities".
The truth is that, unpleasant though "Covid-19" Coronavirus is for a relative few who both get it and also cannot fight off the symptoms, it has actually killed (even on officially-inflated statistics) under 50,000 people in the UK, out of over 70,000,000, roughly 1 person in 1,500, and most of the deaths were of the very elderly not expected to live long anyway. That is sad, but simply reality. Like life itself, arguably…
As for the world as a whole, a million deaths out of 8 thousand million people! One death for every 8,000 people living.
There is more behind this. The "virus" may have been deliberately created and/or deliberately released. Whatever the truth of that, it is being used to create a robot-society across much of the world.
"Pfeffel" of course being "Boris" (Boris Johnson, Boris-idiot).
When I lived in Almaty (former Alma-Ata), Kazakhstan (this was in 1996-1997), I once saw, from a car, on the road to the former Olympic skating facility in the mountains (I myself occasionally skated there), a quite large number of Kazakh people bathing naked, or wearing only swimming clothing, in a shallow stream or small river fed by mountain snow and flowing through a wooded glade. This was in October and the temperature in the foothills of the mountains was rather low. Such streams are very cold even in Summer (I know— I tried one once!).
I later asked what the people were doing there and was told that Nazarbaeva, the wife of the President, had recommended bathing in that place as a cure (for almost anything). She claimed to have done so herself. Those brainless Kazakhs were bathing there because they believed her, and they believed her because she was the wife of the President.
Meanwhile, the formerly quite good Soviet medical facilities in the city (Alma-Ata was something of a showplace) were degrading because of funding being diverted from such spending to the offshore bank accounts of the few at the top of the new post-Soviet society in Kazakhstan. Who needs hospitals and medicines etc when a dip in a cold stream will cure you?…
You may say, "well, what do you expect?", and I agree, but look at British people all going to Waitrose muzzled, and mainly out of both social conformity and because they have been fed a pack of rubbish by clowns posing as "Government" ministers or "Government experts".
Some silly rabbits can even be seen walking outside, muzzled even though alone and with strong winds blowing!
Boris-idiot: boo-hoo!
Look at who we have to feel sorry for now! https://www.dailymail.co.uk/news/article-8774005/Wholl-bail-Boris-Johnson-taken-vast-pay-cut-PM.html
Apparently, "Boris" was making £800,000 a year before he became PM, from book royalties (about £10,000), scribbling rubbish for newspapers, from after-dinner speeches and from TV appearances. Unbelievable.
It seems that he is whining about only getting £150,000 as PM. Admittedly, that is parsimonious, but at the end of the day, he volunteered, he wanted to show off by being PM (for he has no programme, no ideology, no real ideas), and he can always resign. Why not? He is useless anyway.
In fact, while the report claims that his ex-wife "cleaned him out", they had two houses worth, together, some £5 million.
It seems that the house "Boris" owns with his present "ho" is now worth over £1.5M. Apparently, he still uses it from time to time. If they are short of money, they could sell it.
If "Boris" complains about the cost of having friends as guests at Chequers (£75 a head), the answer is simple: don't do it. Also, I doubt that many "ordinary citizens" will feel sorry for him that his Downing Street flat has only a cleaner and no housekeeper, or that it costs him £7,000 a year out of his £150,000 (gross) salary.
In fact, if "Boris" was making £800,000 p.a. (gross) until 2018, did he not manage to put aside any of it?!
Reports of this sort from the "friends of Boris" are more likely to intensify public unease and dislike of the clown.
I suspect that that Daily Mail piece was written, not to create sympathy for the clown posing as Prime Minister but to provoke the opposite. The Conservative Party is ruthless. It stabs underperforming leaders in the back. The latter-day Mrs. Thatcher, Major, Hague, Dunce Duncan Smith, "Howard". "Boris" is simply not up to the job. It's a wrong fit for him, something many (including me) realized years ago, but is now apparent to almost everyone across the political spectrum.
My theory is that those influential in the Conservative Party are now thinking how to dump "Boris" and then blame the nonsense of the past 6+ months especially on him. The coming fallout, too.
More tweets seen
Whatever one may say about causation, it is fairly clear that big things are happening climatically. In my view, the only thing that can prevent the Earth becoming a shrivelled husk of what it should be is a gigantic population decrease, and that means a gigantic decrease in the non-white population(s), because white Northern Europeans are now only a tiny percentage of the world population.
Ha. I take Griffin's point, but am not sure that I agree about any sort of "over-education" in the police, not in the ones I have "met" in recent years!
Meanwhile, Boris-idiot has just given away a total of £800 million to useless WHO and other organizations.
I myself have never met Mark Collett, and know relatively little about him, but he seems at least to be trying to wake people up, and to do something.
"Surgeons and operating room personnel are well trained, experienced, and meticulous about maintaining sterility. We only wear fresh sterile masks. We don the mask in a sterile fashion. We wear the mask for short periods of time and change it out at the first signs of the excessive moisture build up that we know degrades mask effectiveness and increases their negative effects. Surgeons NEVER re-use surgical masks, nor do we ever wear cloth masks."
"The public is being told to wear masks for which they have not been trained in the proper techniques. As a result, they are mishandling, frequently touching, and constantly reusing masks in a way that increase contamination and are more likely than not to increase transmission of disease." [Dr. Jim Meehan M.D.]
https://www.sott.net/article/438827-A-classic-fallacious-argument-If-masks-dont-work-then-why-do-surgeons-wear-them
Because we in the UK now live in a toytown police state which is groping its way to becoming a real one…
Late music