Took a psychological test seen online: https://www.idrlabs.com/fascist-elements/test.php
One could take issue with the very title, some of the built-in assumptions etc, but there it is…
My result: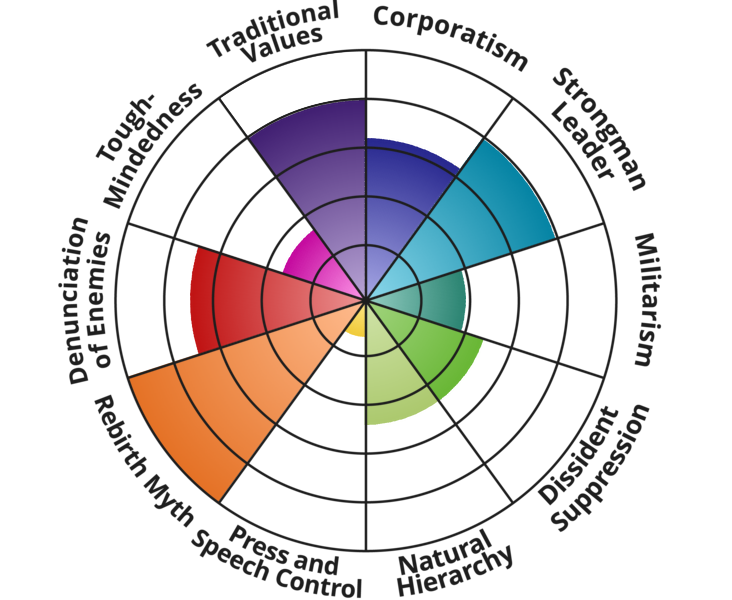 "Your fascist elements are moderate (58.5%)"
My enemies should take note of how "moderate" I am…
I also then tried a "political coordinates" test: https://www.idrlabs.com/political-coordinates/test.php
My results: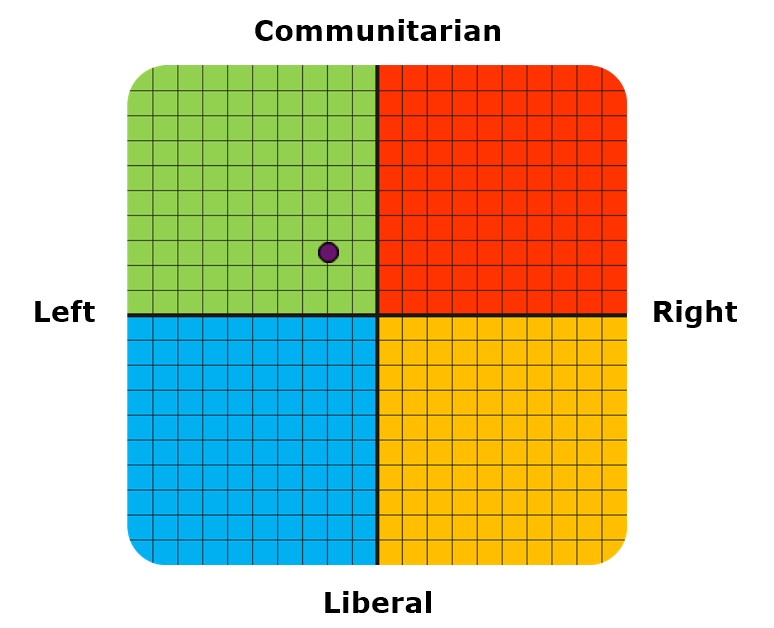 "Your political coordinates are 19.4% Left, 25% Communitarian"
I myself never use the outdated "left/right" terms…
The positions of others are marked below: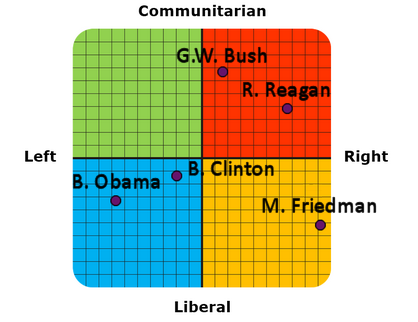 Then I saw a Jungian personality test: https://www.idrlabs.com/test.php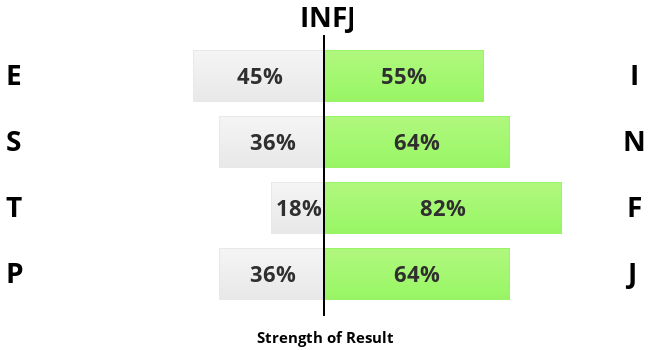 "Your personality type is: INFJ"
"Sensitive, empathic, and insightful, you care deeply about people, wanting to accommodate them on the one hand, and having strong visions that you desperately want to turn into reality on the other. Often preoccupied with mulling over your personal thoughts in your own head, others are likely to describe you as tolerant, courteous, and appreciative, but also a bit remote and dreamy. Thoughtful and caring, you have a well-developed facility for putting yourself in another person's place and an instinctive understanding of how people work. Though you tend to spend considerable time fantasizing about how society could be improved, you typically refrain from arguing passionately in favor of your solutions. Instead, you prefer to influence others by gently letting them know how their individual contributions would be invaluable in the greater scheme of things."
This apparently puts me on the same page as Jefferson and Gandhi, inter alia.
Radio 4 Today Programme
Heard what I thought sounded like a typical British and aged Oxbridge academic woman called Dr. Brenda Boardman, demanding that the little UK, with its relatively small population, take measures (which might trash our living standards) to "reduce emissions", despite the fact that all UK "emissions" of "greenhouse gases" add up to only 1% of those of the world as a whole.
In fact, though she does work out of Oxford University, the woman concerned got a Open University degree in Sociology and Technology around 1980 at the age of (about) 40: https://en.wikipedia.org/wiki/Brenda_Boardman.
I have no objection to people getting degrees "late" or from the Open University, and it may be that that lady's work overall has been valuable, but it can be very dangerous or destructive to give academics or semi-academics too much power or influence over the real UK. Look at "SAGE" (aka "DUMB"— "Department Under Matt and Boris")…
River Lugg
Horrible and upsetting to hear on the Today Programme that "someone", presumably a local farmer or landowner, has deliberately trashed over a mile of the bank of the River Lugg, which meets the Wye near Hereford: https://en.wikipedia.org/wiki/River_Lugg
https://www.herefordtimes.com/news/18919164.pictures-shocking-destruction-enchanting-herefordshire-riverbank/; https://www.endsreport.com/article/1701750/crime-against-environment-fury-illegal-bulldozing-protected-river.
Trees cut down, bushes etc destroyed, the bank of the river actually canalized, otters, birds and fish killed or displaced.
Penalties for this sort of crime must be greatly increased.
[Update, 9 December 2020: the following tweet was seen by me]
Tweets seen
If only all msm scribblers were as honest! In fact, to be fair to Hitchens, he is somewhere between "intellectual" and scribbler.
Alison Chabloz
Persecuted satirical singer-songwriter, Alison Chabloz, expected to stand trial —again— on 17 December 2020, has published her first completely public blog post for some time: see https://alisonchabloz.com/
More tweets
I should say, the degree of domestic comfort now taken for granted by UK residents of all conditions. Central heating is major, as is hot water on tap without problems (see old British films for an idea of what many had to endure before, not even 1945, but c.1970).
Incidentally, the first house in England (and UK, I think) to have central heating, at least since the days of Roman Britain, was the country house of the steel magnate, Bessemer [https://en.wikipedia.org/wiki/Henry_Bessemer], which country house is now a seaside hotel [https://www.beachhousemilfordonsea.co.uk/] not more than a few miles from where I myself now live. Oddly, I also lived (for a year or two) near another area associated with Bessemer, Denmark Hill in South London, which was his main residence (and he died there, not long before the outbreak of the First World War).
What made me laugh were some of the responses to that Goodwin question. Some cited "public housing" (though of course that pre-dated 1945), "good and reliable television" ("reliable", yes, if that means the picture appears when you switch on; "good", doubtful…), and of course TV never really got going until the early 1950s though it had existed (in both Germany and the UK) since the 1930s, but with only a few hundred viewers initially.
I did not see "mass immigration" as an "important advance or achievement" cited by even one of the usually avid Twitter virtue-signallers. Honesty by default?
That Anderson person is in the pocket of the Jewish lobby. He used to tweet against me, before part of that same Jew lobby had me expelled from Twitter in 2018. Interesting to see this news. "Oh dear, what a pity, never mind!…"
Speaking of "what goes around comes around", here is serial Twitter troll "@grubstreetsteve", aka "@rattus2384", real name Stephen Applebaum, an active conspirator of the "Campaign Against Antisemitism" or "CAA", tweeting to others, notably "@TimGStevens" (aka "Dr. Dim") about me:
So I have "zero life"? Well, it is true that my life is far less affluent —and far more circumscribed in consequence— than it was 15, 20, or more years ago, but Applebaum might reflect on how saying unpleasant things can boomerang back: he, once (long ago) an aspiring film critic, is now never, or hardly ever, published anywhere, is basically a "house husband", and moreover has recently been tweeting about how he has been diagnosed as having both cancer and "Coronavirus", which has affected his lungs etc.
As for "Dr. Dim" (Tim G. Stevens), an NHS psychiatrist with a depressive condition, and based in Essex, his tweet (above) scarcely covers his apparent obsession, stretching over several years now, with me. See https://ianrobertmillard.org/2019/07/18/theyre-coming-to-take-me-away-ha-ha/. Seems to be an honesty problem and a medical ethics problem there…
Actually, "Dr. Dim" tweeted not long ago to another mentally-disordered Zionist (a Jewish woman from North London) that he quite often looks at my blog (the said Jewess replied that she looks at it daily, no doubt to see whether she might be able to make —another— malicious complaint against me to the police). In other words, Dr. Dim's assertion that he hardly knows of me, and so on, is rather "economical with the truth"…
"They" snoop constantly on my blog. They do not realize that, by so doing, their own minds will be affected.
Another troll exposed in open court, like Applebaum, is Stephen Silverman, "Head of Enforcement and Investigations" at the sinister Jew-Zionist cabal, the so-called Campaign Against Antisemitism (CAA).
I have noticed that quite a few people on Twitter, gratuitously nasty about me in the past decade, are now either dead or have serious and chronic medical conditions. Looks like someone "up there" is on my side. As the ancient Chinese proverb has it, "the stars in their courses fight on the side of the just". May God mote it be!
As to the "CAA" itself, its scarcely-credible "charitable" status has been criticized almost from its 2014 beginnings. There is an online petition about that: https://www.change.org/p/the-charity-commission-to-get-the-charity-commission-to-deregister-the-zionist-campaign-against-anti-semitism
Police purge
In Hampshire, each little police area seems to run its own Twitter account. Most are unexceptionable, informing the public about their work, and about arrests made etc, appealing for information, and so on. Quite useful for the public. A few, however, have fallen into socio-political bias. For example, the "Waterside Cops" Twitter account (covering the area of the Solent shore South West of Southampton), seemed to be, until recently, full of propaganda about "hate speech", and also about how good, supposedly, are the "Roma", "traveller" etc "communities". Ironic, in view of the "situation" with those "communities"…
Well, it seems that the Chief Constable (or whoever) has taken the matter in hand, with the result that all the local police Twitter accounts in Hampshire, all the ones of which I am aware anyway, will be closed on 4 January 2021. It may be that they are throwing out the baby with the bathwater, in that most of those accounts, most of the time, were all right. Still, there it is.
More tweets seen
The above tweet may be unintentionally misleading. The hearing on 17 December 2020 is the trial of Alison Chabloz on another three charges arising from a complaint made in 2019 by Stephen Silverman of the "CAA". It is not directly connected with Alison's appeal in respect of earlier trials or matters (which are now concluded).
When Starmer was put in (by the Jewish/Israel lobby) to re-take Labour (he's married to a Jewish woman lawyer; children brought up as Jewish, just like those of that corrupt little pissant, Robert Jenrick), I thought that he would at least look reasonably competent. Wrong!
and this (below) is truly amazing!
After 1-2 years of the incompetence of Boris-idiot, he is still well ahead of Keir Starmer in the opinion polls!
My blog
A better day than usual in terms of numbers: with nearly 2 hours to run, nearly 700 hits today from hundreds of unique visitors.
[by end of day, well over 700 hits, and 434 unique visitors].
More tweets