Radio 4 Today Programme; Cressida Dick
Metropolitan Police Commissioner, Cressida Dick, interviewed on the Today Programme. Fairly poor. Did not seem to understand when the interviewer asked whether the "increase in cases" of "the virus" was by reason of those breaking the law, or simply because there were more people legally out and about (compared to early 2020). Cressida Dick simply ploughed on about illegality. Wooden. Woodentopped.
No sign of very high intelligence. Much "communitarian" noise.
The interviewer did not ask about whether the huge increase in testing has simply resulted in a corresponding increase in "cases" (many completely asymptomatic). Beyond the Commissioner's competence, I suppose. What concerns me is that the Commissioner's own job seems to be beyond her competence. https://en.wikipedia.org/wiki/Cressida_Dick
Interesting graphs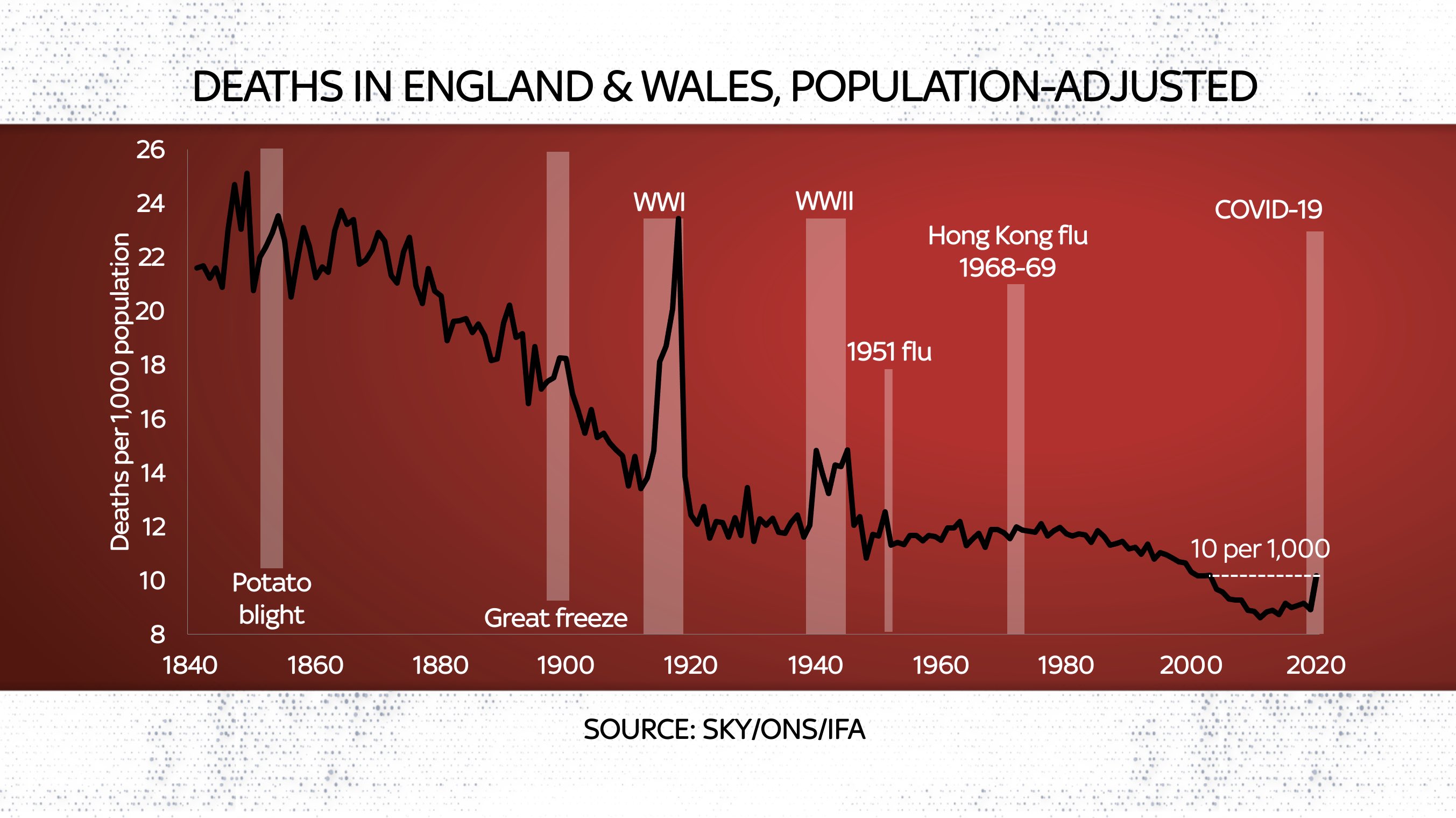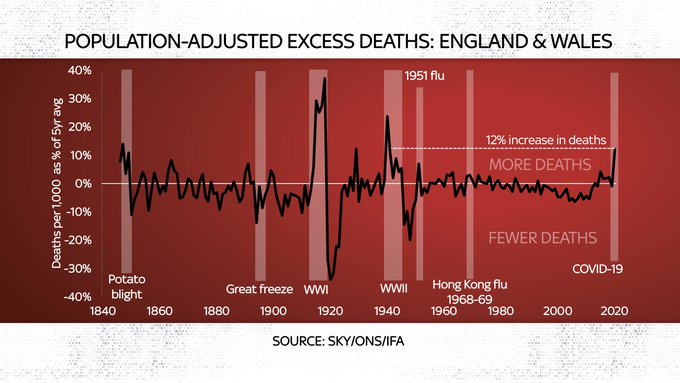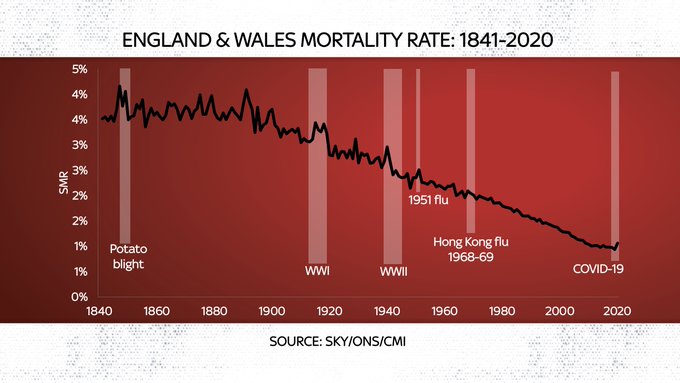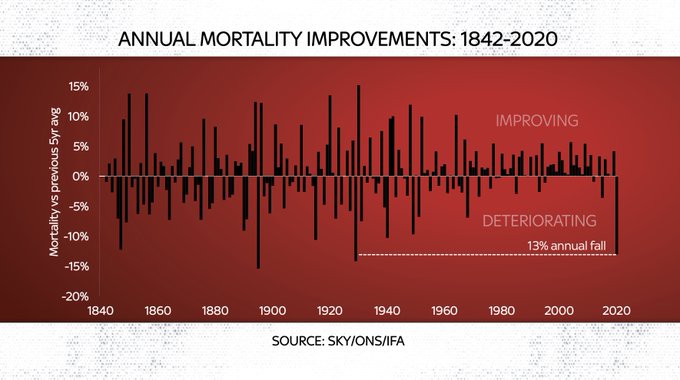 Fascinating to see how much safer life is in England and Wales now compared to the 1840s, since which time there has been a fairly steady decline in the death rate. Even shocks such as the 1918-1920 influenza pandemic have not much impacted the overall picture.
At peak, in the 1840s and then again in the 1890s, about 4% of the population died in a year. Now, the figure is about 1% to 2%. Two to four times better.
Tweets seen today
Derbyshire Police, once again putting the plod into policing (take a look at how they abused satirical singer-songwriter Alison Chabloz; her blog pages are here: https://alisonchabloz.com/).
I thought that at least the higher courts were better than they now have been proven to be. That leaves yet another part of UK society running on empty, together with journalism, the Bar, the NHS, the Westminster and local political system, the schools and universities and (a fortiori), the police.
I agree with the above, within reason. There must be limits to such loyalty, but the drift towards a sub-Stalinist society of snooping and denunciation must be resisted.
Load up…
Exactly. I have been blogging and (before the "CAA"-connected Jews instigated my expulsion from Twitter) tweeting about how a fairly small number of online organizations, huge transnational enterprises, constitute quasi-monopolies and are shutting down freedom of expression.
Now everyone is noticing, but many fools who think that they are terribly clever are still bleating about how "private companies" (including in fact "public" ones) such as Amazon, ebay, Facebook, Twitter etc are simply commercial enterprises, and can exclude anyone at will for "violation" of Mickey Mouse "Terms and Conditions of Service" etc.
Some of the worst of such bleaters are those who think of themselves as "socialist" or pro-"human rights" and so on.
(taking the term "university" loosely, that is…)
Some music
Brilliant staging.
Interesting, nicht wahr? You get someone such as the part-Jew, supposedly "socialist", extremist, Paul Mason. He openly calls for a police state and repression of "dangerous" views (i.e. of dissidents), and he was an editor on BBC Newsnight for years, made a very good income at that and then as a TV talking head elsewhere.
Mason had and even now has no problem getting his (admittedly not uninteresting) books published by mainstream publishers, yet people such as me, such as David Icke, such as Alison Chabloz, and even Peter Hitchens, are "dangerous" and, says Mason (according to the Jew-Zionist lobby too) should be censored, barred, banned, even prosecuted and/or put into prisons or concentration camps.
Mason's Wikipedia page: https://en.wikipedia.org/wiki/Paul_Mason_(journalist). I have read one or two of his books. My assessment of him: economically, interesting; politically, completely stupid.
Society is closing down. The Jews (Zionist or other) are not the only ones to blame for that. The extreme Muslim or Islamist element as well. Then there is the pseudo-socialist "antifa"-type (either actually, or the academic termites that support "antifa"). The blacks are just "useful idiots" of the others, as seen in "Black Lives Matter" etc. (((Others))) are pulling the strings of the puppets.
As for the organs of the State, such as MI5, secretive online propaganda outfits, the political or other police, well, they are mostly the flunkeys of the System, to put it in 1960s terminology.
Who did more damage to the UK? Christine Keeler? Soviet spies? The IRA? Or was it the Labour, Conservative and Liberal/LibDem MPs who imported millions of blacks and browns into the UK (which importees started to breed prolifically)? Was it the BBC and other decadents who have been poisoning the airwaves for at least 50 years? Was it the cuckoos-in-nest (((financial speculators))) and (((fraudsters))), the "Robert Maxwells" and others?
The fact is that the (as someone once described them) "precious" (meaning "up their own a****") SIS, and purse-lipped MI5, have to a large extent been rearranging deckchairs on the deck of the Titanic UK for half a century and more. Pathetic.
"Social distancing"
The proposed new "3-metre rule" is, of course, even more absurd, and even less workable or enforceable, than the "2-metre rule" (which in any case is not law but merely "guidance".
3 metres is 9.85 feet. In old money, ten feet. How does that work in, say, a supermarket, let alone the village shop or urban convenience store? It does not. It cannot.
Afternoon music
Late tweets
Recommended Twitter account
@TheWokin1
Well, here we are. Crunch time. I have heard Americans bleating about "the right to bear arms" etc for years and years and years. Well, here we are. Time to put up or shut up…
Biden is pretty obviously not a good person.
Late music