Asset-stripping parasites
"Grotesque greed"…
https://www.dailymail.co.uk/debate/article-9186615/RUTH-SUNDERLAND-Covid-19-didnt-kill-High-Street-giants-grotesque-greed.html
As the Daily Mail article says, while such parasites stole hundreds of millions of pounds, thousands of British employees lost out and now have lost their jobs.
It has happened before, most obviously in Germany during the time of the Weimar Republic [1918-1933].
See the resemblance?
Something far more beautiful
Rewilding is obviously an important part of the way forward for the UK.
Lenient sentence
https://www.mirror.co.uk/news/uk-news/bully-who-stubbed-cigarettes-out-23384137
Alison Chabloz was treated more harshly for having sung supposedly "grossly offensive" songs about Jews and "holocaust" hoaxes and frauds. Jez Turner of the London Forum was even imprisoned simply for having made a speech saying that Jews should be chucked out of the UK! Real justice is failing in England.
Another lenient sentence
https://www.dailymail.co.uk/news/article-9187973/Boxer-avoids-jail-knocking-girlfriend-told-court-wont-happen-again.html
British Army boxer, "who wanted to represent the Philippines at the Olympics"…
This country is now a complete dustbin.
As for those sentences, the defendants were fortunate that they said nothing about Jews. Now that really would have been treated as a "serious offence"…
Tweets seen
…and who do I see there but Kate Green, present Shadow Secretary of State for Education and MP for Stretford and Urmston [https://en.wikipedia.org/wiki/Stretford_and_Urmston_(UK_Parliament_constituency)]: "Green was born in Edinburgh, to Jessie Craig (née Bruce) and Maurice Green, who was Jewish." [Wikipedia]. Every. Single. Time.
"After university, Green began a career at Barclays Bank, working for the organisation from 1982 to 1997."
"Green is an officer of the following APPGs, as of May 2020:[23] Migration (chair); Gypsies, Roma, and Travellers (chair)…" [Wikipedia].
Every. Single. Time.
When European-race societies awaken from their befuddled dream, a great future…
"Wera Hobhouse is a Christian.[22] Although her mother and grandmother identified as Christians, her great-grandfather was Jewish." [Wikipedia] https://en.wikipedia.org/wiki/Wera_Hobhouse.
The Jewish/Israeli takeover of the USA really took place after the Second World War. At the time of the Suez affair (1956), the USA (as a state) was keeping Israel (as a state) at arm's length [https://en.wikipedia.org/wiki/Suez_Crisis].
Even in the 1960s, the USA was still not entirely under the sway of its domestic Jew (and pro-Israel) lobby. However, the American film industry had been under Jewish control since the 1920s, and the American television industry was under Jewish control from inception: https://en.wikipedia.org/wiki/William_S._Paley [CBS]; https://en.wikipedia.org/wiki/Ralph_J._Roberts [NBC].
Thus the American public was brainwashed by Jewish and Israeli propaganda from, at latest, the 1950s onward. That brainwashing encompassed everything from academic works through to the "nightly news" on TV, as well as works of fiction and "faction" (examples? Exodus and Schindler's List, to name but two of the more influential).
When Israeli forces attacked a U.S. ship, it was discounted as a "mistake"…https://en.wikipedia.org/wiki/USS_Liberty_incident.
We have recently seen that even a "outsider" like Trump was really just a squawking parrot in a gilded cage, completely under Jewish control. The new President, Biden, is under even greater control. All of his top team and Cabinet are Jewish; even his children are all married to Jews. The penetration is so great that even Israeli (and other) newspapers have commented on it.
More tweets
"Liberal", supposedly "caring sharing", Holland/Netherlands. I and my family had friends in Amsterdam, and for many years I had an almost rose-tinted view of life there (and I visited on a number of occasions in the 1970s and 1980s), but since then, in the past 30 years, I have encountered a number of far less congenial Dutch people, very superficial and moneygrubbing; I have realized that much of the famed Dutch "liberalism" is just a lack of real concern, and a superfluity of moral cowardice.
As for the above film clip, I think that the cartoon below is instructive:
Basic Income
A useful link to an article in the British Medical Journal [BMJ]: https://www.bmj.com/content/372/bmj.n193.full
More tweets
Waitrose foray
I went to the local supermarket yesterday, in the mid-evening. Very few customers shopping. Waitrose "Handmaid's Tale" militiamen on duty, clothed in black, as always, faces covered with black scarves and masks like the ISIS barbarians.
The funny thing was that there was a shopper there, a grey-haired woman probably in her sixties if not seventies, wearing a cloth (i.e. useless) facemask and who insisted on giving me a wide berth of at least 10 feet! I saw her shaking her head, probably because she divined that I was not at all interested in pretending that the population has Ebola, or maybe she thought that I should be more fully masked than I was. I was the only other shopper around.
At any rate, I would have loved to have just said "wake up! It is not the Plague, and hardly anyone in this whole district has even had it!", but (typically English?) I just ignored her scarcely-hidden rudeness and carried on.
The mad thing is that you see scared rabbits or extreme social-compliers like that woman everywhere now, masked even when alone on wet windy footpaths or in supermarket car parks. The social pathology is disturbing; I am sure that that is why "a majority of the population want more severe lockdown" (opinion polling) despite the country obviously showing signs of falling to pieces. A kind of mass agoraphobia and fear, and "Soviet" levels of —superficial— compliance; the fear has been whipped up by this government of clowns and their absurd "expert advisers". That fear has taken on a life of its own now…
Still, I am not afraid, and after dark shop peacefully…
More music, dear blog readers?
Tweets
Late cartoon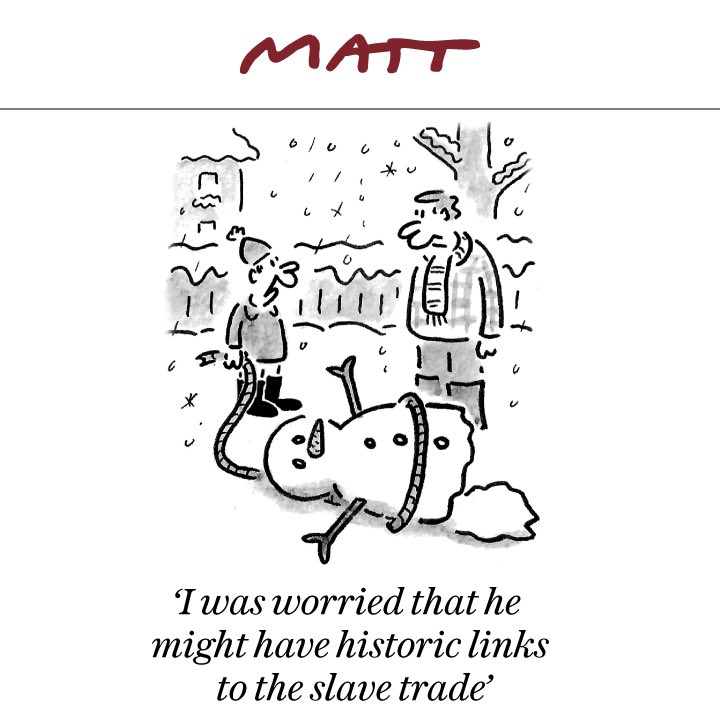 Late tweets
Late music