Looks like being a generally quiet day.
Tweets seen
Someone needs a history lesson. I dislike having to correct those, with some of whose views I might be in agreement, but tweeter "@TimWhit22501381" is quite wrong in his dates.
Nikolai II or Nicholas II was in fact killed much later, on 17 July 1918. See https://en.wikipedia.org/wiki/Nicholas_II_of_Russia; https://en.wikipedia.org/wiki/Nicholas_II_of_Russia#Execution.
While I do not dispute the murderous nature of the Bolsheviks, nor necessarily the numbers killed under Bolshevik and Soviet rule (though numbers are always unreliable), the Bolsheviks took power in a coup d'etat about 6 months after the first revolution of 1917.
History is important. Historical facts are important.
https://en.wikipedia.org/wiki/Russian_Revolution#February_Revolution; https://en.wikipedia.org/wiki/Russian_Revolution#October_Revolution; https://en.wikipedia.org/wiki/Execution_of_the_Romanov_family
It is true that the Afrikaaners were a hard people to like (I met quite a few in 1977, when I was in Rhodesia), but the black Africans are not capable of maintaining a civilized society of the "Western" (i.e. white European-origined) type.
The other parts of black Africa quite quickly reverted to savagery or chaos after colonies became "independent" "states", and after most white people left. What is in black (sub-Saharan) Africa that is not savage or chaotic is, for the most part, like that because European people keep things going, either because they were born there and stayed, or are operating businesses or farms there, or are working for charities and other NGOs in those countries.
South Africa once had about a quarter of its population white. That declined to about 8.9% by 2011 and will no doubt be far less today. I have heard 6% mooted. See https://en.wikipedia.org/wiki/Demographics_of_South_Africa.
South Africa continues to decline, as it must under non-European rule. Slower, true, than has been the case in the rest of black Africa, because the proportion of Europeans is that much higher (Rhodesia, now Zimbabwe, never had more than about 5% of its population white, a figure now far less than 1%, in fact around a quarter of one percent).
The South Africans I really cannot bear are the English South Africans, who were always whining about both the Afrikaaners and the blacks, and about apartheid, which had its flaws but also its merits.
Now, in the UK, we see many of those English-speaking South Africans working here (eg as doctors in the NHS). They display no intent to return to work in the fake "rainbow nation" beloved of the international conspiracy, yet pretend to love what South Africa has become, and decry "racism"…
If only the South African whites had voted differently in the early 1990s and had rejected what amounted to the ANC/Mandela takeover. The whites-only referendum was close; it might have gone the other way. Then, with Soviet support (money and arms) for the ANC, SWAPO etc gone, South Africa would have been able to crush rebellion and to survive, reforming itself slowly and intelligently, under white European control.
More tweets
I am more concerned that the vaccine may affect the fertility of the white European populations. I do not say that that is so, but that it may well be so.
Will there be another clip, from this year? Or in 2022?
https://www.middleeastmonitor.com/20210308-victory-for-bds-as-judge-slapps-down-zionist-attempt-to-stifle-free-speech/
Time for English courts, as well as the police and Crown Prosecution Service [CPS] to awaken to the attempts by Jew-Zionists, and connected individuals, to abuse the English police, courts, and legal system in order to destroy free speech. They openly call it "lawfare". https://ianrobertmillard.org/2017/07/09/the-slide-of-the-english-bar-and-uk-society-continues-and-accelerates/; https://ianrobertmillard.org/2017/07/13/when-i-was-a-victim-of-a-malicious-zionist-complaint/
More "Great Replacement" propaganda
Yet more propaganda aimed at the destruction of our white European race and culture: the Google graphic for International Women's Day (today, 8th of March) shows a large brown/black hand grasping an obviously white and obviously female hand (with painted nails). I suppose that it will be claimed that both hands are supposed to be female and that the picture shows "solidarity" or some such. Deliberately ambiguous…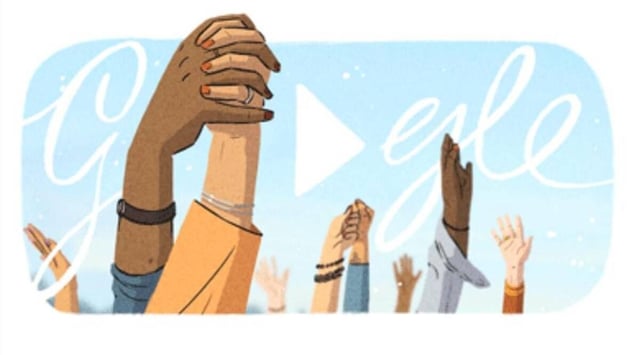 Not only Rassenschande— another act of war against the future of Europe.
Late-afternoon music
Late music