Afternoon music
Psychological tests sometimes surprise
In yesterday's blog, I mentioned that I had once again tried out the "Political Compass" test, only to find that I was somewhere around where I was a year or two ago (previous tests):
Of course, labels (particularly the outdated "Left/Right" ones) can only take one so far without distortion of reality.
Doing that test reminded me of some others that I did: https://ianrobertmillard.org/2021/01/14/diary-blog-14-january-2021/. One was "which political villain are you most like?"
Ignoring the judgmentalism, quite interesting: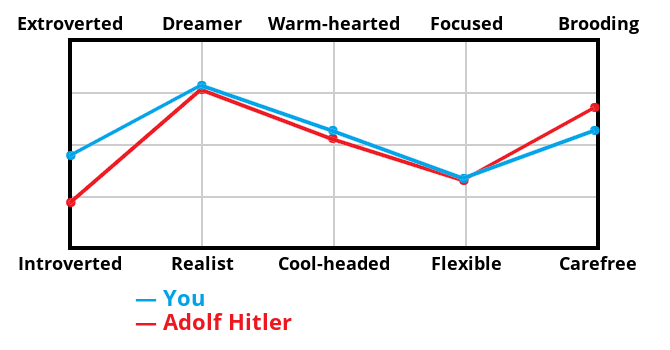 Interesting because I would not have said that I am much like Adolf Hitler in terms of outward personality. I can see, though, that there are shared traits.
Seems that Hitler was slightly more "brooding" and slightly less "carefree" than me. Perhaps unsurprising: I do not have hundreds of Red Army divisions advancing across the Pomeranian Plain at me.
Anyone wanting to try the same tests, including the one immediately above, can find the links on the blog here: https://ianrobertmillard.org/2021/01/14/diary-blog-14-january-2021/. The link to Political Compass is here: https://www.politicalcompass.org/test
More music
Alison Chabloz
Latest reports from usually-reliable sources say that Alison Chabloz, the persecuted satirist, singer-songwriter and commentator, is now likely to be released from prison early, on electronic tag, on 28 April 2021 (next Wednesday), the same day on which she is due to face the latest charge or charges instigated by the malicious "Campaign Against Antisemitism" fake "charity". That court appearance will be, I think, either the taking of a plea or, perhaps, a hearing as to mode of trial (the new charge or charges, which I think are under Public Order Act 1986, are such as can be tried either at Crown Court or in the Magistrates' Court).
There is also the point that, as I realized early on, the new charge(s) are such as can only be preferred if the Attorney-General consents. It came to light on last appearance that (incredibly) the Crown Prosecution Service is now so shambolic that either its lawyers were unaware of that necessity (i.e. were deficient in their knowledge of the law) or negligently failed to apply for the required consent.
There is at least the possibility that the consent of the A-G will not be given. If so, the case will not proceed.
In the meantime, Alison will remain at Bronzefield Prison, Ashford (close to Heathrow). She has, it seems, received literally hundreds of cards and letters, much of the correspondence received being in the nature of fan mail from all over the world. She has also received a few books, and (I believe) small donations of money into her prison account (yesterday's blog post contains links to the government site whereby small donations can be sent using your debit card).
Alison is reportedly in good spirits, and something of a celebrity in the prison, where she has (in the past days of greater freedom) been entertaining the other prisoners with some of her now well-known songs. The other prisoners have even been singing along with her, apparently.
If Alison is released as expected next week, she will have served exactly 4 weeks in prison since sentence on 31 March 2021. For that, the malicious "CAA" Jew-Zionist "charity" (Israel-lobby pressure group and cabal) has put out (as recently admitted in the Jewish "community" Press) FIVE YEARS of plotting, faked complaints, offline persecution, suborning and/or nagging of MPs, "elected" drones of other sorts, police etc.
A huge amount of public money has been wasted at the behest of those CAA swine; legal fees on both sides, police and CPS time, judicial time, prison costs, and so on. All so that the CAA can say, in both the msm and the directly-Jewish Press, "we got antisemite Chabloz convicted and imprisoned".
A Pyrrhic victory for "the lobby", I suspect.
As to Alison's appeal against conviction and sentence, it is set down for the two days of 3-4 June 2021, probably at Southwark Crown Court, and will consist of a complete rehearing of the matter.
More music
Tweets seen
Despite the uselessness of facemasks in preventing virus spread. The human world scarcely deserves to survive.
When working for a large organization in Kazakhstan in 1997, I emailed a colleague in the USA to complain (politely) about her use of "Lviv" for "Lvov" (a city in the far west of Ukraine, and the most Ukrainian-nationalist part of that country: https://en.wikipedia.org/wiki/Lviv), only for that American lady to whine that she had already had to field dozens of similar complaints from colleagues all over the world! It's KIEV and LVOV (in the UK), not Kyiv and Lviv!
I shall of course continue to call Peking, Peking, and Bombay, Bombay. Ditto re. Calcutta, Madras, and other places. Screw anyone who dislikes it.
Britain continues to fall apart, though it is largely a decline which is happening quietly, like someone suffocating in a locked and shuttered room, with no-one listening or seeing the fact. Railways empty, and subsidized to run largely empty. Potholed roads. Hospitals largely empty. NHS operating on a skeleton basis for outpatients. Tradesmen trying to make a living where they can. Shops and pubs almost or actually empty, and often closed. Law courts with huge backlogs of cases.
The Rishi Sunak "free money" giveaway has disguised the decline, but it is there all right.
Local government elections farce
Needless to say, I shall be abstaining from voting. For one thing, where I live, there is only a LibLabCon, and maybe Green, choice. Anyway, even if some pathetic joke "nationalist" party such as "For Britain" or the like were to stand, I would not want to validate it.
I have so far only seen one leaflet put through my door, possibly because security makes approach difficult, but probably because the Conservative Party (who always win all local seats and most County Council seats). and Labour (who win almost no seats even at County level: 1 out of 78 at present) have no members able or willing to push leaflets out these days.
The sole leaflet seen was by the LibDems, and was in the form of a "newspaper", folded, with a front and back page. 4 "pages" in all. What made me laugh is that their only policy that I support (protection of local libraries) was headlined with something like "PROTECT LOCAL LIBRAY SERVICES AND EDUCATION!"…and spelled like that! "Libray" for "Library"! Seems that their County Council candidate needs some education himself! Well, actually, he did look like a schoolboy anyway. About 18 and three-quarters (I think that he is about 30-ish in reality).
LibDems LibDems go away, come again some other day (or not).
April 20th
I had not previously read the following. It was just sent to me. Had I known of it, I should have included it in my log post of two days ago: https://research.calvin.edu/german-propaganda-archive/unser33.htm
Late music