Tweets seen
I remain convinced that the Zeppelin (lighter-than-air craft), but with new technology and ground infrastructure, has a future.
Canadians— Are you going to accept this?
What a disgusting bunch of decadents. I know what should happen to them but am not allowed, in our supposedly "free" country, to say it.
When I had a Twitter account (a pack of Jews had me expelled, via malicious complaints, in 2018), I frequently tweeted that Russia might offer the UK cheap gas supplies in return for a less-aggressively anti-Russia foreign policy.
The fact is that there are some people who cannot wait to be given the green light to denounce others. It happened not only in Stalin's Russia but in the Britain of the Second World War, and in Germany too.
The Gestapo which (contrary to Western popular opinion formed via Hollywood films) was not a huge monolithic "NKVD" or "KGB" but a relatively small and efficient organization staffed almost entirely by ex-police detectives from the "Kripo" or Kriminalpolizei, spent much of its time following up leads generated by the public. Most were nonsense. In fact, a Gestapo officer spent much of his time binning plainly malicious and often anonymous denunciations.
"The Gestapo—at times—was overwhelmed with denunciations and most of its time was spent sorting out the credible from the less credible denunciations.[116] Many of the local offices were understaffed and overworked, struggling with the paper load caused by so many denunciations." [Wikipedia]: see https://en.wikipedia.org/wiki/Gestapo#Population_ratios,_methods_and_effectiveness.
As can be seen, British people in 2020 and 2021 have shown themselves willing to report their neighbours and others even for breaches of the ridiculous and arbitrary "Rule of 6", a "rule" just made up on the hoof by the bad joke currently posing as Prime Minister.
The propaganda put out last year was that Britain had become a stronger "community". 90% or more of that was and is rubbish. As with most of the "virus"-related stuff, you are better off believing the very opposite of what the authorities say.
Friday daydream
Hard to believe that this house (and 127 acres) is less than a mile from my now very humble home…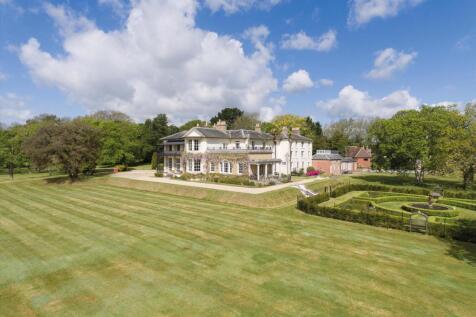 Just put on sale this week for "offers over £10.5 million". Ah, well, I have a Euromillions ticket, so here's hoping…
Afternoon music
More tweets
You can see what is happening from the wider perspective: the international conspiracy (or "consensus") wants to destroy the European peoples, their race and culture.
Aim: destroy European race and culture.
Method: flood Europe with the racially and culturally backward.
Also: Broadcast racemixing propaganda: put it into every TV drama, radio programme, TV ad, and promote the aim in a hundred other ways; normalize mixed-race offspring; prevent opposing views being heard or seen.
In the UK, there is empty rhetoric from the NWO/ZOG government about stopping "illegal" migration, but at same time the System is encouraging "legal" migration (and now also openly inviting 5 million Hong Kong Chinese to come and live in the UK).
Look at what the police, border guards, navies of Britain and France are doing. Are they even trying to stem the flood? No, they are facilitating it, with the occasional arrest of a few people-smugglers (to keep the public quiet).
This is conspiracy, and treachery.
Google "Coudenhove-Kalergi Plan", "Coudenhove-Kalergi" and The Camp of the Saints etc and share it with others. While you still can.
Late tweets
Late music