Keir Starmer interview
As mentioned in yesterday's blog post [https://ianrobertmillard.org/2021/11/27/diary-blog-27-november-2021/], I heard and later saw parts of Nick Robinson's interview with Keir Starmer. Now, because it has been recycled several times on BBC World TV, I have seen most of the rest of it.
Overall impression? What an incredible "cuck", in the American vernacular, that man is! Actually, his manner reminds me of another weasel, now deceased: Cecil Parkinson [https://en.wikipedia.org/wiki/Cecil_Parkinson]. There is even a passing physical resemblance:
The above picture shows Parkinson when aged 75. When younger, he looked a good deal more like Starmer, in my opinion.
I doubt, however, that Starmer is a shit, in the personal realm, on anything like (if at all) the level that Parkinson was:
"Parkinson died from colorectal cancer at The London Clinic in Marylebone, London, on 22 January 2016.[14] He left nothing in his will for his daughter Flora:[15] in April 2017, it was reported that Sara Keays was preparing to sue Parkinson's estate to continue to gain support for her daughter's 24-hour care, for regular payments had ceased a few months after Parkinson died.[16]
Parkinson's daughter, Mary, was found dead at her home in Wandsworth on 10 December 2017, aged 57. Police did not treat the death as suspicious,[17] and it was later reported that she had committed suicide." [Wikipedia].
[addendum: it seems that Parkinson did make Flora Keays the beneficiary of a life assurance policy: https://en.wikipedia.org/wiki/Sara_Keays].
Apart from the (to my mind) physical similarity, Parkinson had something else in common with Starmer, who is (at an educated guess) a freemason. Parkinson was apparently an "active freemason" [Wikipedia]. It would be surprising if Starmer, a former Director of Public Prosecutions, were not a freemason, though I concede that I have no direct evidence that he is.
I ought to add that I once knew a woman who was seated alongside Parkinson at a State banquet, some time not long after the scandal with Sara Keays. That woman said that Parkinson was quite sympathetic in his manner. Maybe he went down better with women; I always thought that he deserved a good kick.
Reverting to that Nick Robinson interview, obviously Starmer is not a clown and pathetic waste of space in the "Boris" Johnson mode, but actually I can see why he has not really cut through to the public, despite Johnson's incredible lack of ability and competence.
Starmer, like a good mid-range lawyer, makes the right noises: Channel migration invasion must be dealt with by "cross-border co-operation", and the "upstream causes" dealt with, said he.
What does that mean? "Upstream causes"? So…wars and socio-economic problems in places such as Iraq, Kurdistan, Syria, Afghanistan, black Africa etc? How will Starmer "deal with", or cure, those? Answer came there none, methinks.
The only thing that Starmer looked at all passionate about, or even interested in, was so-called "anti-Semitism", with the focus on his Jewish wife and half-Jewish children. I saw no real interest in (or policy concerning) the huge poverty that does exist in the UK in places, made worse by continuing mass immigration. Housing problems, the same.
It may be that Starmer does take an interest in those social, and so political, problems, but if so he failed to actually convey any great interest. That is of importance in a supposedly "democratic" political leader.
Hitler talked about "dirty democratic politicians". We are now in a contest between the sheer incompetence and corruption of the "Boris" regime, and the —if you like— "managerial semi-socialism" of a Keir Starmer Labour offering. No wonder the opinion polls show a stalemate at present.
Looking again at Parkinson's Wikipedia entry, interesting to note that he achieved high office despite having come from unmoneyed, modest, and indeed humble, origins. Something increasingly rare in our own day.
Tweets seen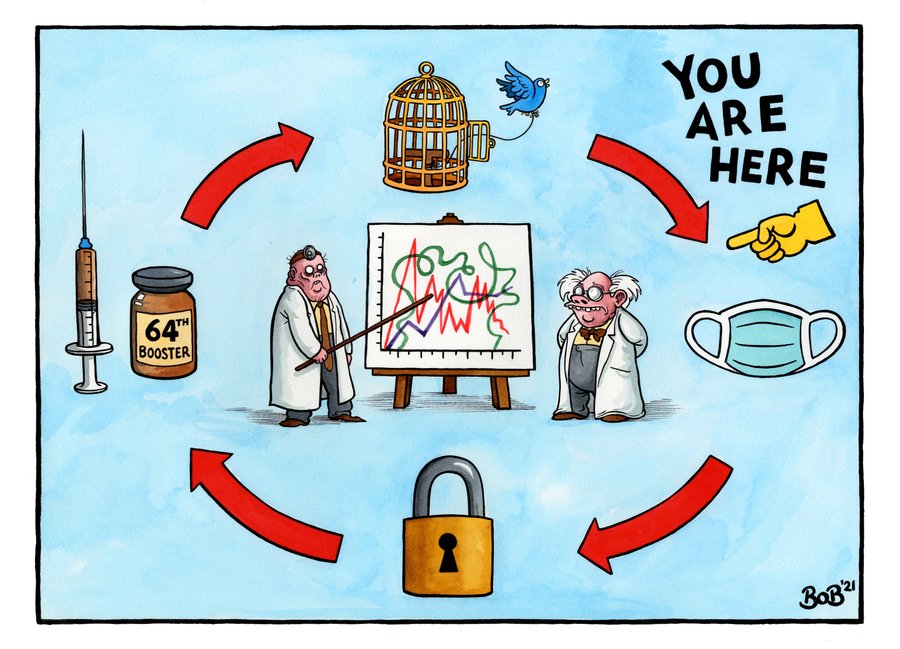 Quite. The facemask and "vaccine" zealots display a pathology that is quite incredible at times, and which will of course be given full rein yet again, now that the Cabinet of clowns has ordered mask-wearing in shops, on trains etc from Tuesday.
As many have pointed out, masks in supermarkets but not in crowded pubs…The whole thing is just mad. All because (we are told) a "new variant" has appeared which may (or may not) be "as dangerous" as previous "variants". Meaning those variants that killed 1 in 1,000 (if that) of the UK population. Madness but, on some level, planned madness.
I cannot believe that Farage retains even the slightest degree of credibility with anyone but, sadly, there probably are maybe rather dim Daily Mail readers, or Daily Express readers (if any still exist), who would still follow him.
I have only known personally two people who have knowingly contracted "the virus". Two people! In nearly 2 years! Both in 2020. One was my late —nothing to do with "Covid", incidentally— and then 98 y o mother-in law, who only knew she had "the virus" because she was routinely tested while in hospital for another, and completely different, problem. She had no symptoms, despite her age, infirmity, and existing medical conditions, and was discharged a few weeks later. Like so many others , she only contracted "Covid" because she was staying in one of the NHS's shambolic hospitals.
The other person I know who has had "Covid-19" is my 20-something Australian niece, living in London, who was advised to take paracetamol, drink water, and rest! So much for the (unused) emergency "Nightingale" hospitals etc! She lost taste and smell for a week or so, had a few other symptoms, but soon made a full recovery without the need for any NHS medical assistance at all, unless you count the "take paracetamol and drink water" "advice" (given over the telephone).
Panicdemic…
All to do, really, with scaring the people to accept a biosecurity police state, so that "the Great Reset" can proceed from 2022-2055.
That ridiculous "Femi" creature was hoping to become a Labour MP, I think, and thousands of white, and even educated, Twitter twits seemed to give him credibility, about 2-4 years ago, but most people soon saw through his complete nonsense, so he remains living with his affluent parents, and pretends to be some kind of socio-political "influencer" on Twitter. See https://en.wikipedia.org/wiki/Femi_Oluwole. Note that Wikipedia calls him "British"…(apparently he was born in the UK).
Forget whatever that evil woman, Priyamvada Gopal, may have said about Israeli puppet Priti Patel; more to the point, the Gopal woman is an enemy of the British people, their history, race and culture. There are, in the real (not the strictly legal) sense, traitors riddling Whitehall.
Dan Snow
Just heard 25 mins of his history podcast. What a total "cuck" for the Zionist lobby… a silver-spoon "favoured nephew"…
I shall not bother with his stuff again.
Apropos of that, the woman interviewed was terribly excited about a British Intelligence bod of (mainly) the 1920s and 1930s. These people never see the wood for the trees. Yes, such spy bods were and are very active, but the big picture is that Britain could have joined with the German Reich to rule much of the world, but instead of that decided to declare war against the Reich. As a result, Britain (with its big friends USA/USSR) beat Germany into the ground, but also lost both its Empire and its world role, and set itself back economically for decades.
As for the rest of the world, the Second World War was disastrous. Famine, population upheavals, civil wars, premature decolonization, environmental degradation. The effects are still rippling out.
Now? Well, we hear much about the supposed "threat" from Russia —non-existent were it not for Russia being prodded constantly by NATO (NWO)—, and of course "terrorism" (including the actually or effectively non-existent "far right" sort) while the UK is actually being destroyed from within, daily, eaten away by treacherous termites, not to mention the connected migration-invasion, and births to non-whites.
The Augean Stables need to be cleansed: msm outlets, Parliament, academia, other areas too.
The big picture is what matters, not spy games by minor-public-school careerists.
https://podfollow.com/1042631089/episode/354f2d08835a7ee810ba4c82678a8fbf73871708/view.
The person lionized on the podcast apparently caused many thousands of Jews to be brought to the UK.
There should be the opposite of a decoration, that could be awarded to some individuals. A "rotten tomato" medal…
Ah…just looked up the interviewee on Wikipedia:
"During the 1990s, she was active on the international stage in the youth movement of The Council of Christians and Jews, and in promoting inter-faith relations. She has written over 20 books, with special expertise on the 10,000 German-speaking refugees who served in the British forces during the Second World War, especially the Royal Pioneer Corps.[1]
She is an Honorary Research Fellow in the Dept of Hebrew & Jewish Studies at University College London and Honorary member of The Association of Jewish Refugees. She teaches at the London Jewish Cultural Centre.
Fry lives in north London."… [Wikipedia [https://en.wikipedia.org/wiki/Helen_Fry]
"Fry", or (originally?/perhaps?) "Frei"?
Afternoon music
Blutfahne
In these times of increasing State and Zionist-lobby repression, we in England must remember that, though people may be repressed, the idea of a better future cannot, ultimately, be repressed.
Haiku
A reader of this blog sent, via the Comments section, a link to, inter alia, a haiku [https://en.wikipedia.org/wiki/Haiku] he had written. I was thus "inspired" to write one for the first time in years. It is in the English haiku tradition, 17 syllables over 3 lines:
The empty words
From the mouth of "Boris"
Seem even emptier now
On this day, a year ago
SNP Conference
As my blog's regular readers will know, I usually steer clear of Scottish internal politics. I do not purport to know a great deal about Scottish politics, and have never even been there. Having said that, the SNP and its peculiar cranky little leader, Nicola Sturgeon, cannot be entirely ignored.
I happened to see the article referred to in that tweet: https://www.spectator.co.uk/article/is-this-the-beginning-of-the-end-for-nicola-sturgeon-.
The SNP, which had almost no MPs until six years ago (it took about 40 years just to get one), took off in 2015, and is still in precarious power north of the border.
The SNP benefits from not being Conservative, Labour, or LibDem. Simply that. Scotland was once rock-solid Labour, but a few years of Blair's pathetic, smug, and dishonest henchman, Jim Murphy (and general trends), put paid to that. Labour now has only one Westminster MP from Scotland.
As the Spectator article notes, only half of the Scottish electorate (in fact, at present, less than half— 47%) favour Independence, the number one policy of the SNP.
Surely Scotland could not and would not break away from the UK if only a tiny majority voted to leave the Union?
In reality, what if even , say, 57% favoured Independence? Would that really be enough to tear Scotland from England? It might be far more divisive in Scotland than the Leave result was in the UK overall in 2016.
The SNP has not done so well in its other areas of responsibility, a fact that might explain why it has only 64 seats out of 129 in the Scottish Parliament, a plurality but not a majority (the SNP governs with the 7 votes of the Green Party): https://en.wikipedia.org/wiki/Scottish_Parliament.
No radical conclusion from me. I do not see the present Con, Lab, or LibDem parties enthusing Scotland much in terms of Westminster elections, so it seems that the SNP will remain the only game in town, north of the notional, if not "national", border.
Late tweets
"The Great Reset" starts in only 5 weeks…33-year cycle. 1923. 1956. 1989. 2022. 2055…
Late music