Morning music
A Jewish careerist called Mark Damazer got rid of the Radio 4 UK theme in 2006, supposedly because he wanted to put a "pacy news briefing" in its place. I myself suspect that the theme was just too traditionally British for him…
Damazer was also responsible for inflicting the often painfully-ignorant (and suspiciously Americanophile) Justin Webb on the BBC Radio 4 Today Programme audience: https://en.wikipedia.org/wiki/Mark_Damazer; https://en.wikipedia.org/wiki/Justin_Webb.
Tweets seen
Quite right. That Maguire idiot is a typical System-Labour drone. No ideas about how to improve society, no proper analysis of current events, just kneejerk tribal Labourism and politically-correct infantilism, while coining as much money as possible from scribbling and being a TV talking head. https://en.wikipedia.org/wiki/Kevin_Maguire_(journalist). Oh, and of course he tends to play the "gritty and disillusioned Northerner" on Sky News newspaper reviews etc, while actually living rather comfortably in affluent Richmond, South West London (when not at his holiday home) with his (privately-educated) journalist/novelist wife: see https://en.wikipedia.org/wiki/Emma_Burstall.
The "gutless, dishonest politicians" ("Conservatives", in power since 2010) to whom Farage himself gave, in 2019, a large Commons majority (by shooting his own Brexit Party supporters and candidates in the head at the General Election).
Labour
I return again to the question of the prospects of the Labour Party now that its leadership is totally controlled (once more) by the Jew-Zionist element.
The most recent opinion polling: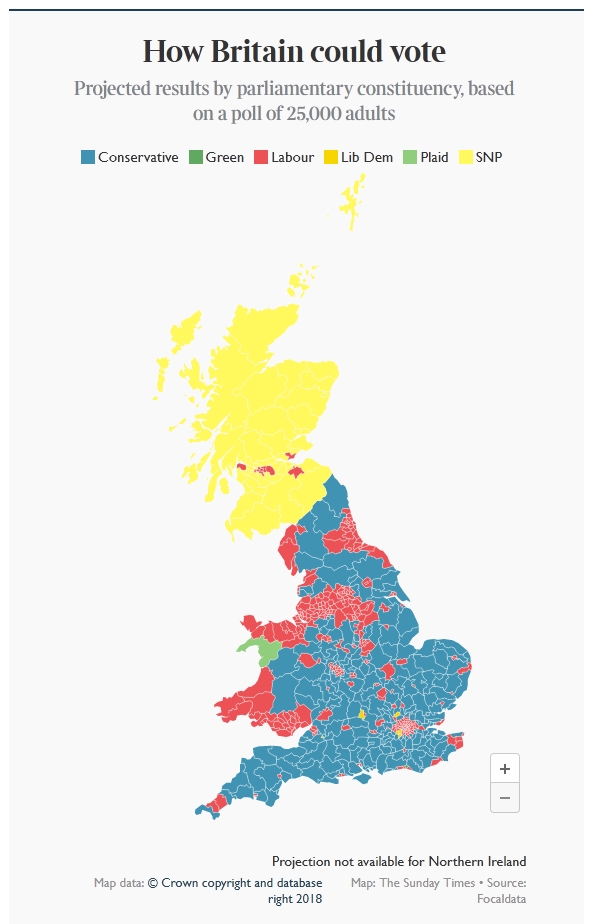 I recently examined the North Shropshire by-election in this regard, inter alia. This is what I wrote on the blog:
"Since North Shropshire was re-dedicated in 1983, and until the by-election, Labour has failed to come in second only four times, and only once (2010) since 1992.
It is all very well to talk about tactical voting, or Labour supporters "lending their votes" to the LibDem in order to beat the Con candidate. Yes; no argument on that, but is that the whole story? The 9.7% scored in the by-election was the lowest Labour vote ever in North Shropshire. Even in 1983, at the height of Thatcherism, and when Labour suffered its crushing national defeat under Michael Foot [https://en.wikipedia.org/wiki/1983_United_Kingdom_general_election], it still scored 14.7% (third place) in North Shropshire.
The conclusion must be that, while many formerly Labour votes went tactically (or otherwise) to the LibDem, many Labour voters just voted with their feet, if such be the bon mot, and stayed home. Labour scored 22.1% in 2019, and 31.1% in 2017 (both under Corbyn) in the constituency.
If this by-election result is bad for Boris-idiot, it is arguably at least as great a blow for Labour's Jewish-lobby leadership under Keir Starmer. The problem is not just the "Israel first" aspect of Labour's present leadership, but also the way in which the supposed "Opposition" keeps propping up "Boris" over various matters, such as the Online Harms Bill and, of more immediate political importance, the Covid/Omicron "panicdemic" "rules" and "laws".
No-one really can have expected Labour to win the by-election, but to fall below 10% is a straw in the wind that (in my view) is significant." See https://ianrobertmillard.org/2021/12/17/diary-blog-17-december-2021-including-analysis-of-the-north-shropshire-by-election-result/.
Starmer-Labour may be doing well in the opinion polls now (is that a surprise, looking at the Boris-idiot disaster?) but we all know how volatile polls can be, and how inaccurate, especially a year or two before any general election.
It may well be that, were "Boris" to be dumped, the Conservative Party might recover ground, despite its lack of credible leadership candidates.
Labour's basic problem remains, as seen in the graphic below, showing voter migration from the 2017 General Election to the 2019 election:
Labour's problem is not how popular the Conservatives are (they are not, and were not even in 2019), but in how unpopular Labour is, resulting not so much in voters moving to the Conservatives, but in former Labour voters either voting for minor protest parties, or voting tactically for LibDems but, more than either of those options, simply not bothering to vote.
Look at North Shropshire: former Labour voters either voted tactically for the LibDems, or stayed home and/or did not vote for Labour anyway.
A far less significant, but still interesting, election, a local one, has just happened not far from where I myself live:
Local elections, with their small electorate, smaller turnout, and often huge swings based on local factors, are hard to forecast at times, as can be seen from the Britain Elects pre-poll analysis: https://www.britainelects.com/2021/12/23/previewing-the-last-council-by-election-of-the-year-23-dec-2021/. Still, look at the result.
The Conservative Party vote was previously around 72%, but now has fallen to 18.5%, and a poor third place. Look at Labour's result, too; a fall from nearly 28% to 4.2%, and (as usual) last place.
A local by-election result of that sort is, at best, a small straw in the wind, but does indicate the disdain in which both main parties are held by the voting public. It looks as if the former Conservative voters mostly voted for the Independent (a local farmer and former Conservative Party county councillor), while the former Labour vote migrated to the Green Party (which was not in the last election). As for the LibDems, they seem to have been unable to find a candidate at all.
It is a matter of speculation to what extent such a local election is affected by national political factors, but I do not think that those national factors can be entirely discounted.
Labour may be favoured in recent national opinion polling, but I am sceptical as to whether it really can pull a rabbit out of the hat and achieve a Commons majority in 2022, 2023, or 2024.
North Shropshire results for the Labour Party were 31.1% in 2017, 22.1% in 2019, and 9.7% in 2021: https://en.wikipedia.org/wiki/North_Shropshire_(UK_Parliament_constituency)#Elections_in_the_2020s.
What about that other celebrated 2021 by-election, at Chesham and Amersham? Yes, the LibDems took the formerly considered safe Conservative seat, as at North Shropshire; the Labour results for the constituency, though, are again very striking: in 2017, 20.6%; in 2019, 12.9%, then a collapse in 2021 to only 1.6%: https://en.wikipedia.org/wiki/Chesham_and_Amersham_(UK_Parliament_constituency)#Elections_in_the_2020s.
Same direction of travel— a collapse in the Labour vote. True, not directly significant, in that neither seat has ever been won by Labour. However, similar decline elsewhere, in seats where Labour has succeeded in the past, could all but finish Labour as a party of government.
Of course, those who control the System do not care which of the two main System parties wins, because both parties are part of the System.
As always, I believe that a credible social-national movement —and party— could rise up, to all but annihilate the System parties; but, as always, I have to note that no such party presently exists.
Tweets seen
A good but arguable point.
Ellwood is a sinister character.
Twin
Watched the start of Norwegian crime/drama series, Twin [https://en.wikipedia.org/wiki/Twin_(TV_series)]. Slightly underwhelming; probably not quite my sort of crime drama, and the bleak Norwegian Atlantic winter (I presume) scenery I find depressing.
The oddest aspect of that series is that here we are in some remote part of Norway, and one of the detectives from the local town is an African! I know that Norway, like much of Europe, has seen a massive influx (invasion), but surely this is just grotesque? In fact, there were two more non-Europeans, one an (?) Indian woman, and also a small child whose supposed parents were both Norwegians. Why? How? No explanation offered.
Seems that the Coudenhove-Kalergi propaganda is not confined to UK TV shows…
"Boris"-idiot
Saw this by Guardian writer John Crace. Not sure of the date, but it is very good as a summary, obvious though it is:
"…Boris Johnson. If he has a talent, it's a talent for lying. And while it may have cost him countless relationships and friendships, it has taken him all the way to Downing Street. Put simply, he has become prime minister by lying better than all the other contenders for the job. But now he has run out of road and the lies have caught up with him. He's the cartoon villain hopelessly spinning his legs before plunging into the abyss. Brexit has failed to deliver any of its promised rewards, and inflation, at more than 5%, is far higher than wage growth. No matter how Boris tries to spin it, people are feeling more broke by the week." [https://en.wikipedia.org/wiki/John_Crace_(writer)#Views]
National Service
Many of the Twitter-twits highly agitato because some Daily Telegraph scribbler has floated the idea of reintroducing "National Service" (I believe that the "Royal Cuck" has mentioned it in the past).
My view? First of all, that National Service, which ran, in the usual meaning, from 1948 to 1960 (the last such conscripts were demobilized in 1963) was not a hugely effective or cost-effective thing from the point of view of the Army (which used the bulk of the manpower). https://en.wikipedia.org/wiki/Conscription_in_the_United_Kingdom#After_1945
These days, it is considered necessary to train soldiers for six months or more before they are much use in action. Thus, to train millions of young men, only to release them from their obligation a year or 18 months later, is very wasteful.
Secondly, the pushback from those unwillingly recruited, then demobbed, may have been one fact fuelling the decadence of the 1960s.
Thirdly, Britain, even in the 1950s, had both an empire, albeit one being dismantled, and an enemy (the Warsaw Pact bloc, or SovBloc) which also had huge numbers of men under arms and was thought to pose a credible invasion threat to all of Western Europe.
You cannot compare the 1950s to today. It follows that, as things stand, I should not like to see National Service reintroduced. Actually, I very nearly had to do the Australian equivalent, having lived there from 1967, aged 10, to late 1969, aged 13. The SEATO Treaty then in force meant that Australian (and New Zealand) forces were fighting in Vietnam on the American side. At age 18, from late 1974, I would have been subject, possibly, to conscription, but as things turned out, my family returned to the UK before the end of 1969, and in any case Australian forces in Vietnam were slowly reduced from 1970; the last few "advisers" left Vietnam in 1974: see https://en.wikipedia.org/wiki/Military_history_of_Australia_during_the_Vietnam_War.
It makes me laugh, though, to see the Twitter-twits attacking Britain in the 1950s. They all seem to have three points, which might be summarized as "blacks were badly treated", "gays were badly treated", and "food was terrible" (because of rationing, in part).
In fact, while gay activities were unlawful, it seems that the laws were not heavy-handedly enforced; some areas (eg Soho, in London) were notorious for such activity.
As to blacks, well despite what present-day msm propaganda (eg in dramas such as Grantchester etc) portrays, there were almost no blacks (or browns) in England then, with the exception of a few ports and a few parts of London. The Empire Windrush had scarcely disembarked its passengers, and they had only just started to breed.
I myself can only remember seeing one black person in the UK before 1969, and that was an NHS consultant (ENT) at the Royal Berkshire Hospital in Reading, circa 1962.
Food rationing (a result of the terrible and completely unnecessary war against the German Reich from 1939-1945), lasted, in part, until 1954, true (and in most respects was harsher in the few years after the end of that war, because Britain was badly-damaged economically), but rapidly ceased to be part of everyday life during the 1950s. See https://en.wikipedia.org/wiki/Rationing_in_the_United_Kingdom; and https://en.wikipedia.org/wiki/Rationing_in_the_United_Kingdom#Timeline.
Other aspects of life in the 1950s compare badly to life today: the lack of central heating in most houses would be one such. On the other hand, the UK population was about 55 million, compared to maybe 70 million today. The countryside was uncrowded and had hugely more wildlife (overall) than now, there was incomparably less crime (especially violent crime) in the UK, society was more stable, less volatile, and children could generally wander safely around the countryside (as I did, though a few years later, in the early/mid 1960s, both on foot and bicycle, the number of cars being only a fraction of the number filling the roads of England today). There were very few non-Europeans around.
Either way, it hardly matters now; "we are where we are"…
Dominic Cummings
Regular readers may recall that I blogged a few times in 2019, 2020 and later about the enigmatic Dominic Cummings: https://ianrobertmillard.org/2020/01/03/dominic-cummings-a-government-of-dystopia-and-lunacy-posing-as-genius/; and https://ianrobertmillard.org/2019/08/10/les-eminences-grises-of-dystopia/.
Well, I have just seen his more recent messaging to the British public:
This government (and its advisers) are more like a dystopian black comedy than a real one could possibly be. To what can one compare it all? Blackadder? The Goons? The Goodies?
More tweets
With such "high anxiety", I doubt that Pollard will live very long. https://en.wikipedia.org/wiki/Stephen_Pollard#Views.
Unpleasant, but thought-provoking…
Evening music (Richard Rodney Bennett) and some film history
Social history too: I remember looking, as a small boy, at my feet, through a "pedoscope" as used by Michael Caine/Harry Palmer in that clip. They were banned later because of the radioactive matter used (radium). https://en.wikipedia.org/wiki/Shoe-fitting_fluoroscope.