Morning music
The BBC and its funding
A tweet showcasing the views expressed by the half-Jew mass media figure Michael Grade [https://en.wikipedia.org/wiki/Michael_Grade].
To a large extent, Grade's views about the BBC are wrongheaded. While I think that the time has indeed come for the BBC licence fee (tax) to go, I do not think that the BBC should simply be left to sink or swim in the commercial media world.
Grade apparently wants the BBC to get rid of BBC2 and BBC Four television, presumably to save money. To echo Margaret Thatcher, "No! No! No!" Completely wrong. BBC2 and BBC Four are the best bits of BBC TV, the bits worth keeping and, though only after reforms are executed, the bits worth subsidizing.
The obvious way to subsidize the BBC is through direct government subsidy. Critics say that that would mean the BBC becoming a government mouthpiece. Hardy ha ha. What has it been for the past ~20 years (and certainly very arguably, since the 1920s)?
We do not say that, for example, the courts cannot do their job properly and (reasonably) impartially because they are funded directly, that is from central funds.
The licence fee system is both unfair and inefficient, with large collection (and enforcement) costs. It comes down to us from the era prior to the Second World War, during that war, and immediately subsequent to it, an era when people had to have a licence to own, among other things, a radio, or a dog.
The original licence was for radio, and was introduced in 1923; the TV licence was introduced in 1946: https://en.wikipedia.org/wiki/Television_licensing_in_the_United_Kingdom#History.
In previous blog posts, I have explained my overall view: I support public service broadcasting, and think that the effective founder of the BBC, Lord Reith, had the right ethos, "to inform, to educate, and to entertain", in that order. See also https://en.wikipedia.org/wiki/John_Reith,_1st_Baron_Reith#%22Reithianism%22; and https://en.wikipedia.org/wiki/BBC#1927_to_1939.
What that means to me is that both commercial and populist considerations have to take second or third place. The BBC, as or if a public service broadcaster, must have the confidence to ignore the siren voices of "is it popular?" or "is it competing with commercial mass media?". The whole point of subsidizing the BBC is that it has no need to compete with ITV, or Sky, and no need to pander to the tastes of the uncultured.
The BBC went wrong a long long time ago. In the 1960s. The pandering to mass sports interest by coverage such as Grandstand was part of that, as was the commissioning of most BBC comedy and variety shows, and the later focus on popular dramas, and what we now term "soaps" (from the American "soap operas" sponsored by detergent companies, shows such as The Guiding Light).
Generally, it can be said that, especially during the 1970s and thereafter, there was the impetus to compete for notional "ratings" with ITV and, later —after the 1980s— Sky. Pointless and unnecessary.
My solution for the current BBC question would be to keep BBC News, BBC2 and BBC Four, though all reformed, and with a far higher cultural level on BBC2. No newsreaders (or others) getting anything over £200,000 a year in gross pay, at absolute maximum. A focus on arts, sciences, current affairs, and historical subjects.
As for radio, keep only Radio 3, Radio 4, and the BBC World Service (and return that last to its pre-1990 glory days); Radio 3 to reverse its current dumbing-down tendency, and Radio 4 to be thoroughly purged of its now-pervasive Jewish influence, suburban "wokery", and general hostility to white Northern European life and culture.
Subsidize the above channels; get rid of, or sell off, the rest. Also, sack most of the present on-camera (and radio presenter) staff. Start with useless overpaid drones such as Gary Lineker. Lord Reith would spin in his grave to see some ignorant big-mouth of that sort paid a million a year to shoot the breeze about football (the new "opiate of the masses").
Amusing note:
In researching for the above piece about the BBC, I happened to see something about John Logie Baird, generally considered the inventor of television (though there are also others with good claims, including Germans, Americans, Japanese and Russians: https://en.wikipedia.org/wiki/Mechanical_television#Television_demonstrations). What amused me was this:
"Soon after arriving in London, looking for publicity, [John Logie] Baird visited the Daily Express newspaper to promote his invention [television]. The news editor was terrified and he was quoted by one of his staff as saying: "For God's sake, go down to reception and get rid of a lunatic who's down there. He says he's got a machine for seeing by wireless! Watch him—he may have a razor on him." [Wikipedia https://en.wikipedia.org/wiki/John_Logie_Baird].
How often we see those ahead of their time described as insane, or silly. The inventor of the hovercraft, Cockerell, received only limited personal benefit from his work during his lifetime. https://en.wikipedia.org/wiki/Christopher_Cockerell#The_hovercraft.
Tweets seen
True [addendum: the already-removed tweet showed Angela Rayner], but then look at the present crowd: Priti Patel, Liz Truss etc…
Come to that, look at the part-Jew, part-Levantine, chancer and bad joke presently masquerading as Prime Minister…The fact is that the whole Westminster political milieu and system is broken.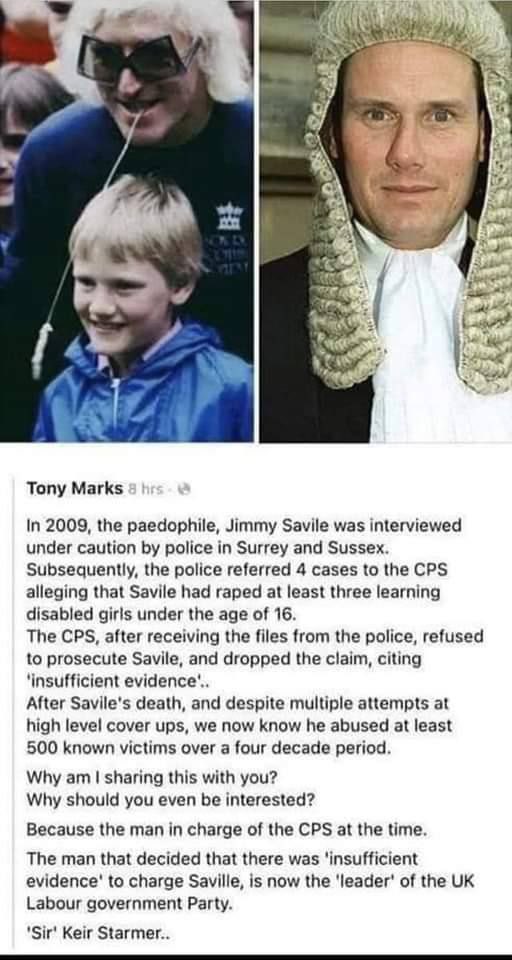 Savile, like others such as the Jews Greville Janner and Leon Brittan, seems to have been protected by the Jewish/Israel lobby. Savile himself as good as admitted it in a TV interview I saw not very long before his death. He said or implied that he was part-Jew (which may or may not have been true, almost certainly not), and that he had somehow helped the Israeli Embassy with confidential matters (who knows?).
Starmer, of course, is married to a Jewish woman lawyer, and their children are being brought up as if fully-Jewish. He is a member of Labour Friends of Israel.
I have no idea whether the above allegations in respect of Starmer's role in the Savile scandal indicate that Starmer deliberately tried to protect Savile (he may have been simply incompetent, or just mistaken). Still, the matter should be investigated, if it has not already been.
Don't blame Raab, as such. Blame the system that put him there. Blame a system that puts idiots like Michael Fabricant, Boris Johnson, Angela Rayner, Diane Abbott, Nadine Dorries, and hundreds like them, into Parliament. Not to mention the untermenschen such as Fiona Onasanya (now binned and on the dole, but others are still there).
More tweets
As for trade unions, like most institutions and organizations in Britain now, all but useless. Completely taken over by Common Purpose careerists and other enemies of the people.
Good grief. The BBC is so replete with "licence"-payers' money that it pays a scarecrow-on-a-stick nearly £300,000 a year to "work" only half the week…
Late tweets
Drunken Churchill, in 1940, made the famous "we shall fight on the beaches" speech, in which he said:
" We shall go on to the end. We shall fight in France, we shall fight on the seas and oceans, we shall fight with growing confidence and growing strength in the air, we shall defend our island, whatever the cost may be. We shall fight on the beaches, we shall fight on the landing grounds, we shall fight in the fields and in the streets, we shall fight in the hills; we shall never surrender…"
…but of course could never have imagined that, 81 years on, most of the British people are more interested in football, TV talent shows, and dance competitions, than in "defending their island".
Indeed, a significant minority of deluded persons actually welcome the invasion of Britain by hordes who, at best, will be useless, and at worst a mortal danger both to UK citizens and to the national heredity.
Ultimately, you can see what element is behind this warmongering in the USA and UK— the same "element" that was behind the two world wars. "They" play on existing tensions for strategic profit.
On this day a year ago
Late music
"The stars in their courses fight on the side of the just"…[ancient Chinese proverb].