First, music:
Bercow autobiography
The autobiography of former Speaker of the Commons, the half-Jew John Bercow, has been published, and is reviewed by Douglas Murray here: https://unherd.com/2020/02/the-strange-tragedy-of-john-bercow/
I did not much like what I saw (on TV) of Bercow: my primary criticism of his behaviour is that he was biased. He openly ranted against the BNP to the schoolchildren's play "Parliament", at a time when the BNP were within sight of winning a few seats, in 2009 or 2010. A silly and nasty little person, who seemed unable to control his drunken slut of a wife.
Historical note
https://ianrmillard.wordpress.com/2019/01/26/the-tide-is-coming-in-reflections-on-the-possible-end-of-our-present-civilization-and-what-might-follow/
Freedom of expression
"Harry Miller, the man whose freedom of expression was breached by Humberside Police, has spoken out for the first time after the High Court ruled in his favour.
Mr Miller, 54, was speaking on the steps of the High Court on Friday morning after partially winning his case against the force which descended on his workplace in response to a tweet they deemed to be "transphobic".
The limerick, which was posted on social media, was recorded as a "hate incident", despite the police admitting that no crime was committed." [Hull Live]
https://www.hulldailymail.co.uk/news/hull-east-yorkshire-news/harry-miller-humberside-police-court-3847539
"He argued that Humberside Police, following the College of Policing's guidance, had sought to "dissuade him (Mr Miller) from expressing himself on such issues in the future", which he said was "contrary to his fundamental right to freedom of expression".
The judge said Mr Miller strongly denies being prejudiced against transgender people, and regards himself as taking part in the "ongoing debate" about reform of the Gender Recognition Act 2004, which the Government consulted on in 2018.
Announcing the court's decision, Mr Justice Julian Knowles said: "The claimant's tweets were lawful and that there was not the slightest risk that he would commit a criminal offence by continuing to tweet.
"I find the combination of the police visiting the claimant's place of work, and their subsequent statements in relation to the possibility of prosecution, were a disproportionate interference with the claimant's right to freedom of expression because of their potential chilling effect."
The judge added that the effect of the police turning up at Mr Miller's place of work "because of his political opinions must not be underestimated".
He continued: "To do so would be to undervalue a cardinal democratic freedom. In this country we have never had a Cheka, a Gestapo or a Stasi. We have never lived in an Orwellian society." [Grimsby Live]
cc. Barnet Police, Essex Police etc!
It occurs to me that, just as Gandhi promoted the idea of "mass disobedience" in India, the users of social media might simply, en masse, refuse to go along with the nonsense that has been imposed for many years past, certainly since the Blair elected dictatorship passed the very bad law known as Communications Act 2003, s.127): http://www.legislation.gov.uk/ukpga/2003/21/section/127
Twitter users and others should take their courage in their hands and surge through the trammels put in their way by bad law and manipulative special interest groups such as the Jewish lobby.
Dominic Cummings and the Boris-idiot reshuffle
This is the person now effectively in charge of what passes for a government of the UK, in a situation where the part-Jew sociopath posing as Prime Minister cannot do anything but come up with schoolboy plans to build bridges over oceans etc:
Below, my main blog articles about Cummings:
https://ianrmillard.wordpress.com/2020/01/03/dominic-cummings-a-government-of-dystopia-and-lunacy-posing-as-genius/
https://ianrmillard.wordpress.com/2019/08/10/les-eminences-grises-of-dystopia/
This is like some low-budget sci-fi/futuristic film, in which the government is run secretly from a rubbish-strewn inner London street and by someone whose only camouflage missing is a stack of copies of The Big Issue.
Meanwhile, as in the days of the more corrupt late-Roman emperors, or the mid-1970s' Harold Wilson government of "Lady Forkbender" and her "Lavender List", influence and indeed power is wielded not only by some eccentric posing as a dystopian "genius" but also by the "ho" of the idiot trying to pose as Prime Minister of this poor country.
Boris-idiot has a problem, because he himself is actually incapable of running the proverbial whelk stall. His metier is that of the part-Jew public entertainer.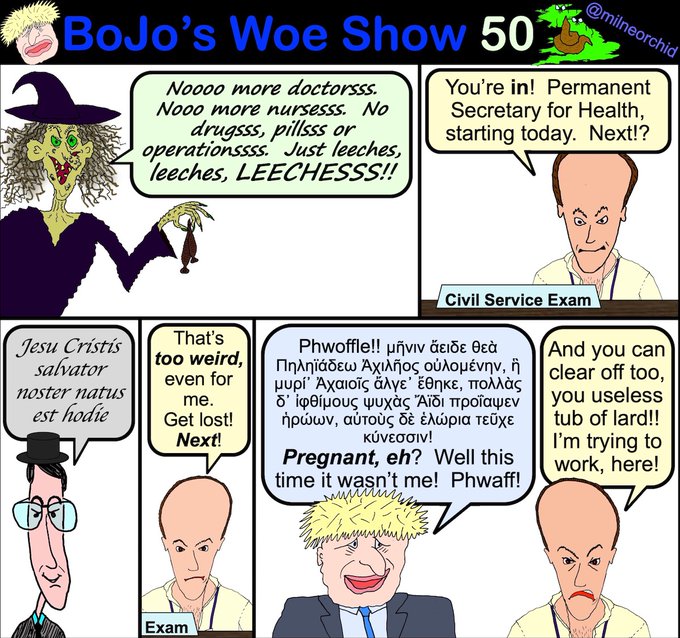 What makes it worse is that Dominic Cummings is actually right on several issues, such as, inter alia, the need to deport black and other criminals— and the equally important need to stop the HS2 madness.
Suella Braverman
"Suella Braverman…is mesmerically dim, with the new attorney general's latest Channel 4 News interview suggesting not only that she could be outperformed at the dispatch box but that she could be outperformed by the dispatch box. Or indeed any other item of furniture in the Palace of Westminster." [Marina Hyde, in The Guardian]
Suella Braverman is yet another post-1997 political drone (elected 2015) who thinks that it is terribly clever to keep repeating the same phrases. I suppose that there are many average Joes who, reading the Daily Mail, Sun etc, think that a woman who is a barrister and has appeared in the High Court frequently must be highly intelligent, but those of us who have or have had similar status (and, as in my case, were also frequently in the High Court at one time) are harder to convince!
Lisa Nandy
Bin her. Bin her. Bin her. Das ist's!
La vie litteraire francaise…
The Cabinet of idiots
"Whitehall is now littered with…secretaries of state such as Gavin Williamson, while Liz Truss – who'd lose a battle of wits with an emoji – is the longest serving cabinet minister."
"I'm afraid Johnson's much-vaunted reshuffle this week merely served as a reminder that the only positive discrimination scheme in this country that has long functioned to the highest level is the one that puts idiots in the cabinet. By this metric, the loss of Andrea Leadsom is a blow, but one that's more than made up for by the promotion of the likes of Oliver Dowden, Alok Sharma, Anne-Marie Trevelyan and Suella Braverman. Braverman in particular is mesmerically dim, with the new attorney general's latest Channel 4 News interview suggesting not only that she could be outperformed at the dispatch box but that she could be outperformed by the dispatch box. Or indeed any other item of furniture in the Palace of Westminster." [Marina Hyde, The Guardian]
https://www.theguardian.com/commentisfree/2020/feb/14/dominic-cummings-cabinet-reshuffle
A reminder about Greta Thunberg
https://ianrmillard.wordpress.com/2019/09/29/greta-thunberg-system-approved-wunderkind/
Africa
If only, after 1945, the European powers had agreed to co-operate in developing Africa as a continent, populating it with white people, taking care of the Africans, the wildlife, the environment, creating towns, cities, farms, with the environment, the animals, the birds being protected. No "African nationalists", no corrupt and hopelessly incompetent African dictators or greedy African "democratic" politicians, no predation by marauders, whether African armed bands or greedy transnational companies.
It could have been so good.
Midnight music: