A few tweets seen
An interesting tweet by one Ed West, but why am I still surprised that a "deputy editor" and published author is apparently unaware that "motherlode" (also "mother lode") is not spelled "motherload"? https://en.wikipedia.org/wiki/Mother_lode
I suppose that I should now be used to the ever-sliding standards in this country…
Looked the tweeter up on Wikipedia out of mere vulgar curiosity: https://en.wikipedia.org/wiki/Ed_West_(journalist) and it turns out that he is the son of the once well-known foreign correspondent Richard West https://en.wikipedia.org/wiki/Richard_West_(journalist) and the Irish columnist Mary Kenny https://en.wikipedia.org/wiki/Mary_Kenny.
I always wondered where Private Eye magazine got that term, "discussing Uganda"… https://en.wikipedia.org/wiki/Mary_Kenny#%22Ugandan_discussions%22
If there ever was a pointless contest!…
True, I have been writing off the LibDems since the betrayals of 2010, but the trajectory remains downward.
Humpty-Dumpty LibDem was broken in 2010. Votes and seats slid in 2015 and then 2017 (though number of seats increased from 8 to 12 in 2017), though there was an upturn in 2019: over 3.5 million votes (an upturn of over 50%) but a decline in number of seats (from 12 to 11) thanks to the way the FPTP system and the boundaries of seats work in Britain (cf. 2017).
Looking into it a little more, it can be seen that the LibDems benefited a little from being the only 100% Remain party. Next time? I still think that the LibDems will be wiped out. Few of their MPs have a strong local following to set against the party-label vote swings. Also, what is the standout profile of the LibDems now? They have no real identity, it seems to me.
Surprisingly, the LibDem membership numbers are not unhealthy: over 120,000, it seems, which is in the same ballpark as the Conservative Party. However, that alone does not bring electoral success (cf. Labour, with perhaps 600,000 members).
I should expect the LibDems to decline further and perhaps to disappear, at least as an independent party.
https://en.wikipedia.org/wiki/Liberal_Democrats_(UK)#General_elections
Well, there it is. The print newspapers are mortally ill and maybe on their last legs. These screeds of rubbish have been declining in quality as long as I can remember. In the 1970s, the quality level was better by far. The old Daily Telegraph magazine, published on Fridays, contained serious reportage and interesting feature journalism: see
https://www.littlereddog.info/vintage-1970s-daily-telegraph-magazines-for-sale.html
Look at the Telegraph itself now! Uncritical Boris Johnson "Conservative" propaganda, and at an excruciatingly low intellectual level. Ironically, though, it was the Telegraph, in the 2005-2010 Parliament, that broke the MP expenses scandal, one of the most serious stories of the past half-century. It does say something about the UK's "free Press", though, that MP expenses were an open secret for years, certainly since 1997 and the corruption Blair brought into UK politics, yet were not investigated until the Telegraph decided to take it all seriously and to print.
In the 1970s, even some of the less-serious or less intellectual newspapers, such as the Sunday Express, sometimes contained interesting first-person accounts and so on.
Look at, say, The Times now! Pathetic and shallow "Conservative" and Zionist propaganda. As for the Sunday Times magazine, more or less what used to be called a "woman's magazine", full of ads and with little substance in its content.
I welcome the demise of the print newspapers and their fundamentally Zionist-contaminated agenda.
Completely infested.
They even decided to print one-sided stories about me back in late 2016! (Google "Ian Millard barrister" to see some).
True, those newspapers all have an online presence now, but the Times and most of the Telegraph are behind a paywall and, like the others, have to compete for public attention with other sources of news, some of which are, mirabile dictu, not so (((infested and contaminated))).
Where I deviate from Hitchens in respect of the above is that the number of "lives blighted" should be at least 36,000, maybe as high as 90,000. Why? Most employees laid off have wives (or husbands), children too. Then there is the knock-on effect on the local retail sector as local purchasing power diminishes. Also, redundancies in the supply chain.
Not exactly surprising. There has been a Jewish coup in Labour, one over 4-5 years. Starmer is its figurehead. He is not a Jew, but is married to a Jewish woman (a lawyer) and their children are being brought up as Jewish…
I thought that the Jewish Chronicle had gone up the chimney. Seems not.
Alison Chabloz
I happened to see this rather inaccurate report about the Alison Chabloz case, which was heard two years ago:
https://journals.sagepub.com/doi/abs/10.1177/0022018318792937?journalCode=clja
Despite being in the august pages of the Criminal Law Journal, the report, penned by one Laura Bliss of Edge Hill University in Lancashire [https://en.wikipedia.org/wiki/Edge_Hill_University] misdescribes (?) Alison Chabloz as "a holocaust revolutionist"! Well, if the cap fits, though "revisionist" was probably the term used in court. Ms. Bliss also mispells Elie Wiesel's name as "Wiezel". How about "weasel"?
Sadly, most of the report is behind a paywall.
More tweets seen
Below: looks as though someone has woken up, at least…
My feelings exactly: Boris Johnson, Boris-idiot, completely out of his depth as Prime Minister, a part-Jew public entertainer, is turning the UK into a banana republic. It was already on the way there, but that idiot has made it official
Still, so what if he bunged one of his not-very-interesting-looking girlfriends a hundred grand or so out of public funds? Worse things happen in black Africa…oh, wait…
Seems that only 12% of people have really thought this through, while 47% are a panic-stricken mob.
Look at the graph below. Look at "actual impact"…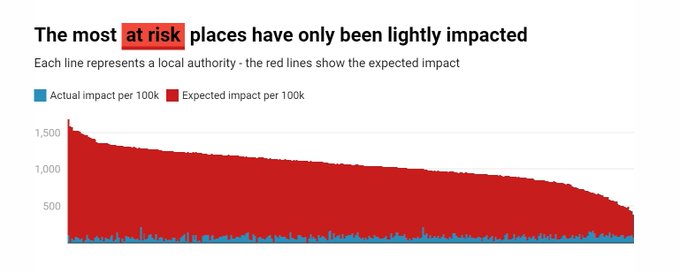 Nigel Farage
A complete busted flush. The man has the gall to continue whining about illegal migration (migration-invasion) to the UK, while having stabbed in the back his own party (parties, really, meaning both UKIP and Brexit Party) because he wanted to enable the victory of the misnamed "Conservative" Party, and (of as much importance for someone who is plainly another doormat for the Jewish lobby) the defeat of Corbyn's Labour Party.
Of course, what he says about the invasion is true, but he carries no weight. It is partly because of his electoral manipulation that the present government has a large majority; thus a thick-as-two-short planks Ugandan Indian, Priti Patel, now sits, uselessly, as Home Secretary, doing nothing to stem the invasion (of which she herself and her parents were part, albeit in the wider sense).
and see here (below) a metropolis-based newspaper drone (columnist, deputy editor), one Sarah Baxter, laughing at concerns around the migration-invasion. Well, why should she worry? £500,000 a year (at a guess)? Large house or penthouse? Good neighbourhood(s)? Second home in the country?
Yes, he is right. Trust in the mass media, especially the BBC, is at rockbottom: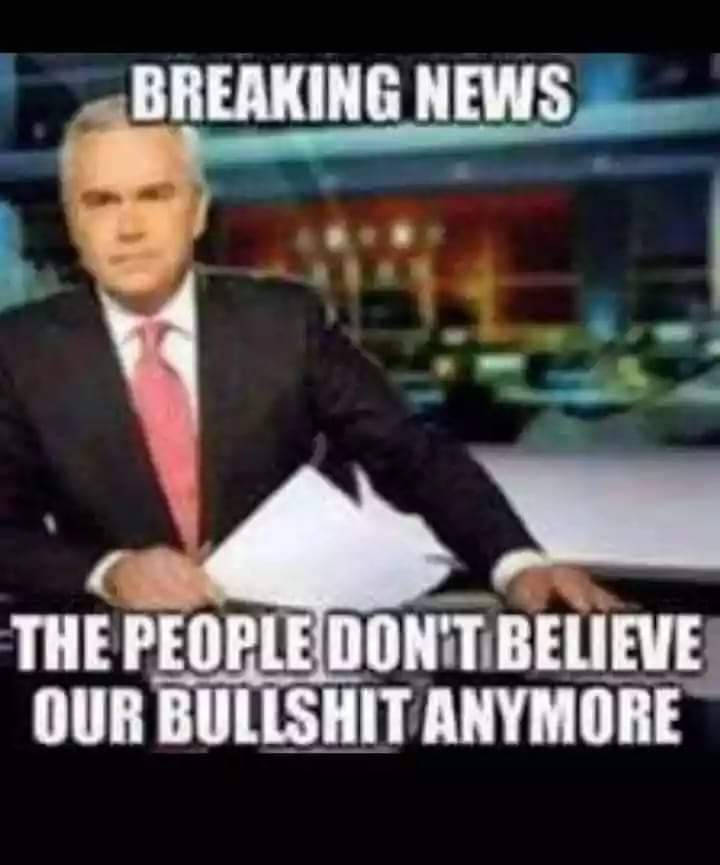 This is an organized and/or facilitated invasion of this country, an invasion by persons who have no connection with Britain, and who will be millstones round the neck of the people.
https://en.wikipedia.org/wiki/Richard_von_Coudenhove-Kalergi
Anyone who supports the invasion in any way is treacherous.
This is, to be rather topical, like a foreign element entering an organism, breeding fast, and eventually killing the host.
https://www.westernspring.co.uk/the-coudenhove-kalergi-plan-the-genocide-of-the-peoples-of-europe/
Lord Sumption writes…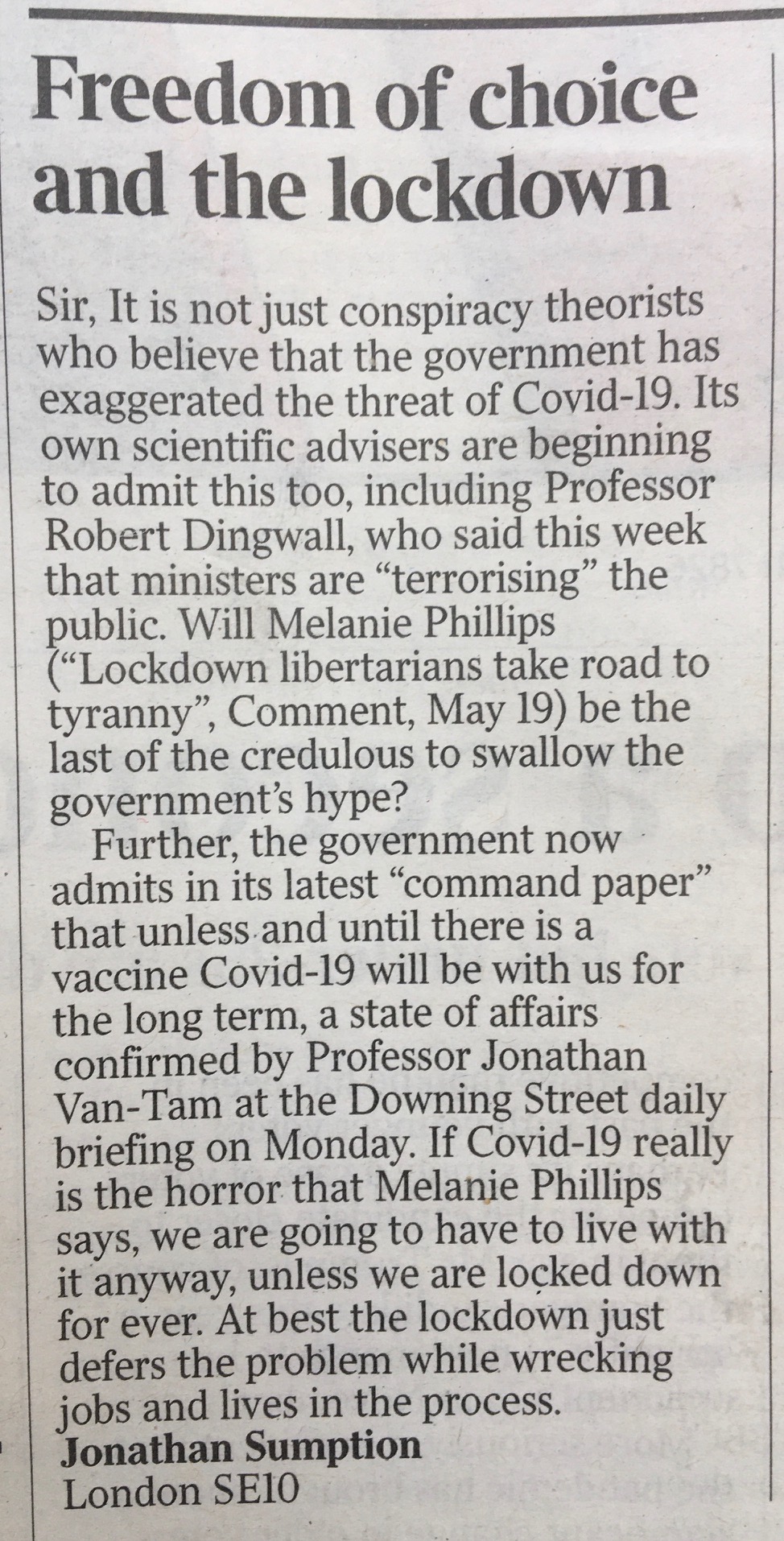 Freedom? What's that?
Hitchens should look to the source…
…while not forgetting the "useful idiots"…
More tweets
Foray
Had to emerge from my cave to complete my appointed rounds. On the return journey, my less than contented mood was made worse as I went through a more or less suburban area, only to see some rabbits waiting at the end of their short drives or standing in gardens, about to participate in the State-promoted and socially-mandated "clapathon". Not many, about one house out of about 20, I would say. Mostly very elderly, though there were a few odd children too. The sight of all the rabbits standing waiting, like robots, or serfs populating Potemkin villages, irritated me even more than it usually would.
Tweets seen
Some music to soothe the cares of the day