More System censorship
OFCOM has taken on greater powers, purporting to censor video clips shown online in the UK.
I wonder what lobby is behind that…
After the destruction of free speech generally, in broadcasting, on social media, on YouTube, on other video sites, what's next? Blogging sites such as WordPress, unless they fight back.
Once all free speech is destroyed, there will be only one way to fight back…
Transformation of the land
The Bealtaine Cottage project, like the much earlier, larger and very different one at Findhorn [https://en.wikipedia.org/wiki/Findhorn_Foundation] and others elsewhere, can be very instructive.
The website of Bealtaine Cottage shows what a transformation is possible in a fairly dull and almost derelict area: https://bealtainecottage.com/before-permaculture/. That link is well worth clicking on, to see the "before and after" photographs.
The same could be said of Findhorn.
When I had a Twitter account, I occasionally interacted with the Bealtaine Cottage account, until a couple of malicious Jews trolled that other account, saying that the lady operating it should not be talking to a "neonazi" (after which she, rather foolishly, blocked me). "They" ruin everything; it is what they do…
The Internet holds out the promise of connection for isolated communities and individuals, commercial possibilities, help and advice etc. In a general societal collapse, such communities and individals could be the key to recovery, especially if the Internet continues. It was originally developed with that in mind: survival (after a nuclear war). What would happen now, I do not know.
Child benefit
I was interested to see a Wikipedia article about child benefit in other countries: https://en.wikipedia.org/wiki/Child_benefit#Comparison_in_Europe
Seems the UK is one of the least generous states in Western Europe. What a surprise…
Tweets seen
Yet that talking head presenter and others (eg Peter Hitchens) are unwilling to make the leap from thinking that this whole "virus" disaster is a result of governmental incompetence, to thinking that there is a supranational agenda behind it.
Google these: The Great Reset, The Great Replacement, the Coudenhove-Kalergi Plan, NWO, ZOG etc.
Incidentally, Brexit, as I suspected would happen, is going to be, at least mainly, Brexit In Name Only ["BRINO"]. Maybe 90% EU nonsense continuing, but under UK rather than EU banners.
Lockdown (shutdown)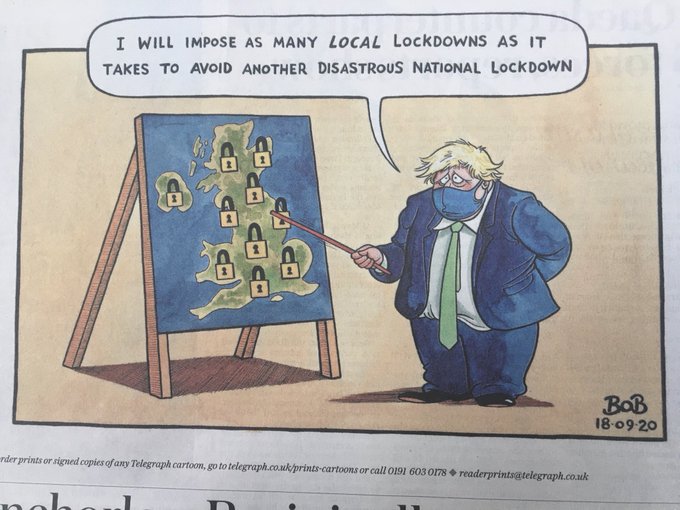 I suppose that, when we hear or read about historical events such as the 1930s and 1940s Soviet purges, or the hunt for heretics by the Roman Catholic Church in the late Middle Ages and Renaissance, we wonder "whatever can have possessed them?", and perhaps we smugly conclude that it was a form of mass hysteria that could never afflict us. Well, think again…
Here we are in the UK, keeping (most people) to a ridiculous "Rule of Six", something which has really no scientific basis, and was laid down (and the term itself coined) by the part-Jew public entertainer turned ridiculous "Prime Minister"; Boris-idiot.
"We" (most of the public) have been frightened out of "our" collective skin by a virus not infecting most people, and which kills about 1% of those who are infected in the UK. It has killed one individual person out of every 8,000 (!) on the Earth. Not one in eight, not one in 800, but one in 8,000!
"We" (most of the public) are wearing (being forced to wear) facemasks in shops, supermarkets, on trains (where a study has shown the chance of being infected without a facemask is only 11,000:1 (and so the chance of being infected on a train and then dying is about one in a million…). It's mad.
Why are "we" complying with the above and other crazy "measures"? Well, partly because "we" (most people?) believe that "we" are both in danger of infection, and also that facemasks etc help to prevent that infection (which they do not, or only peripherally).
Then there is the fact that the "rules" are at least notionally "the law", and most British people are still law-abiding most of the time. In fact, those "rules" may be legally invalid, but that is above most people's heads, and so "caviar to the general"). Most of the public just take them as being prima facie valid.
For those not sufficiently intimidated, there is the toytown police with which to contend, brandishing their now-huge fines.
Finally, there is the combined effect of social pressure from the brainwashed many, and the guilt propaganda ("if you fail to wear a mask, you are careless about the lives and health of others, and are a kind of murderer or terrorist").
The result of all that is huge pressure to conform, which is what this is all about, behind the scenes. Part of The Great Reset (openly admitted by the World Economic Forum etc).
Tweets seen
The next step? Probably, long-term or permanent "isolation" (incarceration) of, not only "the sick" (including the vast majority of infectees who are asymptomatic), but also the dissidents, those opposed to migration-invasion, those opposed to the Jew-Zionist lobby etc…
Idiot deadhead MP thinks (as many do) that Sweden is a strange land where people live isolated lives, probably in remote log cabins. In fact, most Swedes live in cities, towns, suburbs. Just like the UK…
Exactly.
What is the plan of the international conspiracy (or "consensus")?
First of all, the destruction of Europe as the leading population in the world. There are several ways in which the international conspiracy is plotting that.
First of all, by encouraging migration-invasion by blacks, browns and "yellows" (mainly Chinese).
Secondly, by making Europeans a minority in their own lands. This has several aspects. Firstly, as above: migration-invasion. Secondly, by births to non-Europeans but in Europe; thirdly, the propaganda which puts white Northern Europeans down in terms of history, culture, ability etc. You name it. The "Black Lives Matter" nonsense, the attack on our history (statues, heroic tales, great personalities etc).
It would also include the fact that the actual "black" population of the UK is only about 3% or 4%, and the whole black/brown/other non-European population no more than 20%, yet pretty much every TV ad now has blacks and/or mixed race individuals in it, not infrequently a white/black couple (usually a white woman with a black "husband" or "boyfriend"). That also applies to the popular "soaps" such as Emmerdale, and even the period dramas set in the almost entirely white England of 1940, 1950 or 1960 or so: Inspector George Gently, Grantchester etc. "...and is there still honey for tea?"
Propaganda. It is noticed by many, though I think more by those who are older, maybe wiser and/or who actually remember what England/UK used to be like before the System "agenda" picked up the pace (to pick a year, before 1989, which was the last 33-year-cycle year. The next one is 2022…).
2022, the next really significant agenda-setting year.
Thirdly, the international conspiracy wants to marginalize Europe by the above methods, and then by reducing Europe to a vassal of NWO/ZOG, placing North America and China/Far East in the forefront.
My solution to that attack of Evil is, firstly, for the UK and all Europe to join forces with Russia and the Russian people; secondly, to remove non-Europeans (as large populations) from Europe; three, remove those who constitute a Trojan Horse in the UK and Europe; four, eliminate the decadence in culture and the msm.
BBC Radio 4 PM
Happened to hear the System current affairs show, PM, yesterday. They had on Professor Ferguson, he of the "800,000 will die in the UK by the Summer", he of or formerly of "SAGE" (i.e. DUMB— Department Under Matt and Boris), he who broke his own "rule" when he allowed his married "ho" visit him three times during "lockdown" in the Spring.
Incredibly, PM did not tax him on his hypocrisy, neither, moe importantly, did the interviewer question Ferguson about his many disastrous mis-predictions, going back years, to the foot-and-mouth disaster of 2001. He was treated very respectfully, as an "expert"…It's sick. Pure propaganda.
More tweets seen
"There was once a famous Chinese executioner so skilful with his razor-edged sword that crowds would pay to watch him behead criminals. 
One day he came to a small provincial town where the authorities had given him a large fee to do away with a notorious killer.
He entered the arena and made several elegant and delicate passes with his weapon. 
The condemned man sat gloomily before him, looking unimpressed with all this fuss. 'Just get on with it!' he growled.
The executioner bowed politely, smiled and said softly: 'Kindly nod, please.' The murderer did so and his head, already parted from his body by a stroke of incredible swiftness, tumbled from his shoulders.
I think we in this country are like that condemned man. A terrible thing has been done to us but we have not yet realised it." [Peter Hitchens, in the Mail on Sunday].
https://www.dailymail.co.uk/debate/article-8901637/PETER-HITCHENS-dictators-taken-didnt-notice.html?ito=native_share_article-masthead
"In a lecture of astonishing power and force last week, the former Supreme Court judge, Lord Sumption, revealed in sad detail what has happened to our country in the name of Covid. 
I have placed a copy of it and a recording on the Peter Hitchens blog and I strongly advise you to read and watch it.
It says that Parliament has been elbowed aside by Ministers who rule by decree.
Now, Jonathan Sumption is not just a brilliant lawyer. He is also a distinguished historian. 
Last year he gave the BBC's Reith Lectures, and they were the best for many years. If he has any politics I have no idea what they are, but he uses language with immense care.
If he says this 'has been the most significant interference with personal freedom in the history of our country. We have never sought to do such a thing before, even in wartime and even when faced with health crises far more serious than this one', then you may be sure that this is so.
When he says 'Ministers are accountable to no one, except once in five years at General Elections', you may be sure that this is true. This a complete breach with centuries of law and tradition, and who can say where it might end?
When he points out that laws, backed by tyrannical, ruinous fines, are now made at televised press conferences and enforced by bluff by police forces operating far beyond their authority, then it is happening. 
He accuses the Government of showing 'a cavalier disregard for the limits of their legal powers'. This, he says, is how freedom dies.
And behind it lies an astonishing, previously unnoticed seizure of economic power, which has made the entire Covid panic possible.
I cannot say where or how this will end. It is my own growing belief that Johnson and Hancock do not understand what they are doing." [Peter Hitchens, in The Mail on Sunday].
Peter Hitchens does not specifically implicate Common Purpose [motto: Leading Beyond Authority]. Those termites must eventually be dealt with.
Also, just because part-Jew public entertainer Johnson and Indian "clever boy" Sunak do not understand what is happening, it does not mean that others, pulling the strings, do not understand…
"The oddest thing about the Panicdemic is that nobody would know it existed if the Government and its mouthpiece the BBC did not constantly seek to terrify us into a state of servile fear."
Very true.
If you read Hitchens' article extracted above, do not fail to notice that the Mail refuses to allow readers' comments. Obviously afraid that "Coudenhove-Kalergi", "The Great Reset", "NWO/ZOG" etc will be mentioned.
Afternoon music
"England's month-long lockdown could be extended beyond 2 December if necessary, cabinet minister Michael Gove has told Sky News"
At the whim of Israel-First ZOG/NWO puppets such as Gove, Boris-idiot etc. Now do you see the tyranny? Surely now it is in plain sight, nicht wahr?
More tweets
I do not say that a "Second Wave" is faked, not faked, or even exists. I have no idea from my own knowledge. I (just like Boris-idiot, cokehead drunk Gove, Rishi Sunak and little Matt Hancock) am not a scientist and know of it only what I have read or been told.
From where did this "Second Wave" arise? Not China. "The virus" is in abeyance there. If it exists at all, it has come from the British population that has been "locked down" for half a year. Or has the "new" wave been released deliberately? We do not know.
The tweet below by "@TimWardCam" shows how many people have no self-awareness…
The smug certainty and judgmental little-mindedness oozes out of the tweet. Remain, climate change zealot, etc etc. No doubt believes that "gas chambers" existed. He lives in Cambridge. Oh, and he's LibDem. He ticks all the boxes…
That is more or less my view. To me, "Tommy Robinson", pro-Israel etc, is "controlled opposition", just like Breitbart, Katie Hopkins, UKIP, Brexit Party etc, Prison Planet Watson, all the "alt-Right" wastes of space. However, what happened today was a manifestation of the toytown police state that is slowly becoming a real police state.
"Police cite Coronavirus restrictions"… Well, there we are. There it is. People who said, 7 months ago, that the "virus" "rules" would be misused for political purposes have been proven completely right…
The tweet below made me laugh:
For a second, I thought that that tweet was genuine and that the tweeter had confused Stanley Baxter with Stanley Baker, but my second thought and present thought is that the tweet is just a joke.
Blasts from the past
I happened to see the Twitter account of airhead ex-Labour MP and (incredibly) minister, Caroline Flint. "Shallow" would be too kind a judgment. That led me to the tweets of another Blairite "Labour" ex-MP, Gloria del Piero. She managed to fall below even the Caroline Flint standard. Incredible. Both "Labour Friends of Israel" members.
Flint was also a noted expenses cheat and freeloader. She made millions out of being an MP for 22 years, not least by having the taxpayers buy her a second home (a flat in Victoria, Central London) via the MP expenses system. She also "employed" (also via expenses) her own husband, and claimed for anything and everything.
Corbyn was not the one who —mainly— destroyed Labour, but harpies of the above sort (Jacqui Smith, expenses fraudster, was another).
Actually, I had forgotten that the above two even existed. Happy days.