[Today's blog will be short, and so will be conjoined with that of tomorrow, 14 April 2021]
13 April 2021
Press standards, and a few other thoughts
From a Daily Mirror report, penned by "journalists" Alec Whitaker and Lorraine King:
"Bride-to-be Tiffany Anderson, 28, even done the books for Rhys Mason so he could a tab on his ill-gotten gains while he stored the drugs in the safe at her tanning studio." https://www.mirror.co.uk/news/uk-news/beauty-salon-boss-allowed-fiance-23881586
She "done the books…so he could a tab on his ill-gotten gains"?! Newspapers such as the Daily Mirror may not be great literature but they used to be at least halfway literate. Nowadays, supposed journalists are often seen writing such as "she was stood at the back"! Not only the Mirror, incidentally. The Daily Mail is also terrible. Others too.
Neither is the above sentence, about someone called Tiffany, an isolated mistake. Look at the sub-headline in the same report.
On the wider question, how is it that the defendants got off so lightly? The thug boyfriend got 27 months, so he will be out in a year. As for the "ho"…yes, that's right...suspended sentence. Who needs a Get Out Of Jail Free Card when you have a couple of young children as an argument in mitigation to put before the sentencing judge?
Finally, the court was told that the amount made by the couple was uncertain. Maybe so, but they owned a Range-Rover (albeit a decade old).
If the State, if society, is unwilling to really repress drug dealers and users, it will never solve the problem…
Alison Chabloz
Nothing new about Alison Chabloz's proposed appeal and/or bail application. I shall add detail as I have it.
In the meantime, at least Alison has now already served (as of tomorrow,14 April 2021) 2 full weeks of what is effectively, or in real terms, a 7-8 week sentence.
Tweets seen
Nick Griffin forgot to mention the £100,000 the Lawrence family was awarded by way of compensation.
Windsor Castle
The sheer scale of the royal palaces can be understood better from the air.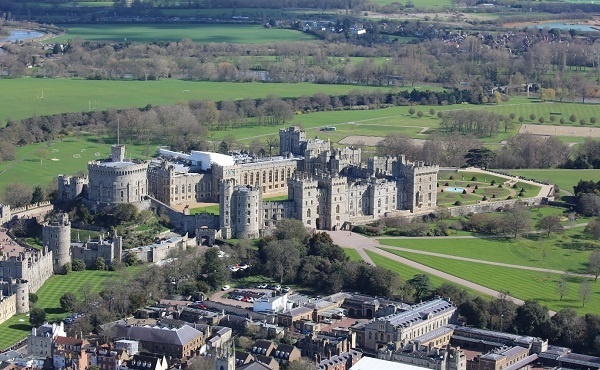 Straw in the wind?
I was at, inter alia, a filling station today. As I went into the kiosk to pay, a lady was just coming out. I noticed that she was unmasked, though had pulled up her loose woollen jumper in a ludicrous gesture to the Covid toytown police state regime; yet the mere fact that she had no facemask muzzle on made my heart leap. Freedom!
More seriously, few really have much (if any) fear of "the virus" now (for good reason) but are complying with the facemask nonsense purely out of conformism and convenience. The whole nonsense of the "panicdemic" is ebbing away, not before time.
Late music
14 April 2021
Tweets seen
Translation of tweeter "@HerbyMcfly"s tweet: "I only accept what the msm news outlets tell me. I have no idea about the "Great Reset" or other proven (and even admitted) matters that are often lazily called "conspiracy theories". I cannot even understand why a serial and constant liar, chancer, and opportunist like Boris Johnson would lie again for political advantage..."
Truly, "democracy" (and education) is wasted on some people.
"Beginning to think"?! Good grief! Where has that tweeter been for the past 50 years?!
Tweeter "@BillDrysdale6" makes a good point. A similar example might be the fairly useless and certainly hypocritical utterances of Laurence Fox, the "Free Speech Union" etc. While they are (like Breitbart, Prison Planet Watson, UKIP, Brexit Party, Farage etc) "controlled opposition", the utterances of those people and groups do start to awaken some people, if not "radicalize" them directly.
…and there is no semi-placebo vaccine available, ironically.
…"had enough", perhaps, but "do anything much about it", beyond posting on Twitter, I doubt it.
I have no quarrel with people trying to raise socio-political consciousness by tweeting, vlogging, blogging (as I myself do), but those activities alone will not trigger anything directly.
I, who once lived in London (mostly Little Venice, but also several other areas from time to time), now have not even visited the capital for over 4 years, and have not followed the contest for the position of Mayor in detail.
I imagine that Khan, though useless and unpleasant, will probably win; the "Conservative" candidate, Shaun Bailey, has never done anything but be a kind of "Uncle Tom" for various parts of the Conservative Party etc, except to run a "charity" which accomplished nothing, and which suffered from financial "irregularities" (though Bailey was never actually charged with anything). Let's just say that the monies "disappeared" somewhere…[https://en.wikipedia.org/wiki/Shaun_Bailey_(AM)#Career_before_politics].
Bailey may or may not have been dishonest; he may have been simply incompetent and/or negligent. Just the person to run London! Oh, no…wait!
Since 2016, Bailey has been a "list" member of the London Assembly. Nearly £60,000 a year for doing not a lot…[https://www.london.gov.uk/about-us/governance-and-spending/spending-money-wisely/salaries-expenses-benefits-and-workforce-information].
Bailey recently held a press conference, but the only person he could get to be filmed with him was a woman who could best be described as a "Balkan fraud", and who was actually convicted of fraud and forgery a number of years ago (in 2013). 'Nuff said…(for now).
The bookmakers have Khan as 1/33 (thirty-three-to-one on) favourite at present. Bailey is at 45/1 (against), with the second favourite one Brian Rose, an American former banker and heroin addict [https://en.wikipedia.org/wiki/Brian_Rose_(podcaster)], and who stands at present at 25/1 in the betting, thus far ahead of Bailey but far far behind Khan: https://www.oddschecker.com/politics/british-politics/london-mayoral-election/winner.
Laurence Fox, the actor and (supposed) "free speech" champion is a candidate (presently in the betting at 250/1).
There are 20 candidates altogether, and a more useless bunch it would be hard to find…[https://en.wikipedia.org/wiki/2021_London_mayoral_election#Candidates].
They call a circus like that "democracy" ("democrappy"?)…
Afternoon music
More tweets
Hm…interesting filly…
Late music