Morning music
On this day a year ago
Untermensch kicks and slaps cat while another films it for fun…
https://www.mirror.co.uk/sport/football/news/kurt-zouma-cat-video-footage-26166135
I was not going to look at the clip of the African's cruelty, but happened to see it on Twitter. Upsetting. It angered me. People should know what a subhuman bastard it, the untermensch, is:
Why are such untermenschen even in England, or indeed Europe?…and why does the Daily Mirror refer to the said untermensch as "the Frenchman"? He may have a French passport. That means nothing.
At least get that one out of this country and out of Europe. Better still, just [redacted]…
Tweets seen
Yet teenage boys playing at being "terrorists" online (who would not, most of them, ever do anything at all) are prosecuted and even imprisoned for effectively nothing. (((What))), I wonder, can be making the difference?
Ha. I visited a chain pizza restaurant near Exeter about 15 years ago. Can't remember which chain. That was not bad. As far as McDonalds, Wendy etc are concerned, I have not been in one for many years. I think that I got something to take away from one in Southampton about 7 years ago. A drive-thru. The last time I actually sat in one was, I think, near Washington D.C., about 30 years ago.
The best time the Afghans ever had was probably in the 1970s, followed by (at least for those in Kabul) the 1980s Soviet occupation.
I blogged about Rory Stewart nearly three years ago, and have updated that blog post since then: https://ianrobertmillard.org/2019/05/03/will-rory-stewart-mp-be-prime-minister/.
The police. Useless. Say a word about some Jew, and the plod are on the case at once, or at least once they are wound up and sent on their way by a malicious Jew-Zionist agitator, but in a case where a criminal is filmed plainly being disgustingly brutal or cruel to a cat, the plod are "nothing to see here". Is it because the criminal is a black? Or because he is a footballer (i.e. a priest of the new "British" religion)? Why? Why have the police become so useless? The influence of Common Purpose? "Diversity" training? Why?
Oh, yes…Putin must be quaking as "British" junior minister, James Cleverly, armed with his "degree" in "Hospitality Management" (and a Territorial Army commission), takes to the field. Not.
As for Macron's pathetic attempt to play the role of de Gaulle, could Putin have made it any more clear that he is not interested in whatever Macron has to say? See photo below:
The truth is now an embarrassment…
https://www.dailymail.co.uk/news/article-10488967/Barrister-branded-female-lawyers-hysterical-intemperate-overemotional-fined-500.html
I could talk for an hour on the same theme; after a couple of drinks, make that two hours.
The British people are being conditioned to accept lower standards in all areas: NHS, the police, the legal professions, housing provision, MPs (most are real deadheads now), roads, universities, pension age, pay, State benefits etc.
Mass immigration is part of the reason: you cannot import millions of people from lower-quality ethno-cultural groups, and then expect standards to stay the same, or to rise. Such expectation would be lunatic.
On the broader canvas, the secret cabals and ruling circles of the West (commonly called NWO and ZOG), want to build up North America and the Far East, mainly.
Europe, with a European population, gets in the way of that, so the Coudenhove-Kalergi Plan provides for importation of tens of millions of blacks, browns, and others, in order to create a mixed-race population that can be easily ruled by (mainly) Jews and, especially publicly, mixed Jewish/English individuals. The prime ministers and other top ministers of recent years prove the point: David Cameron-Levita, George Osborne, Theresa May, "Boris" Johnson, and so on.
Unexpected agreement
I happened to see a shot of the headline of something written by Jew-Zionist and extreme conservative, Melanie Phillips: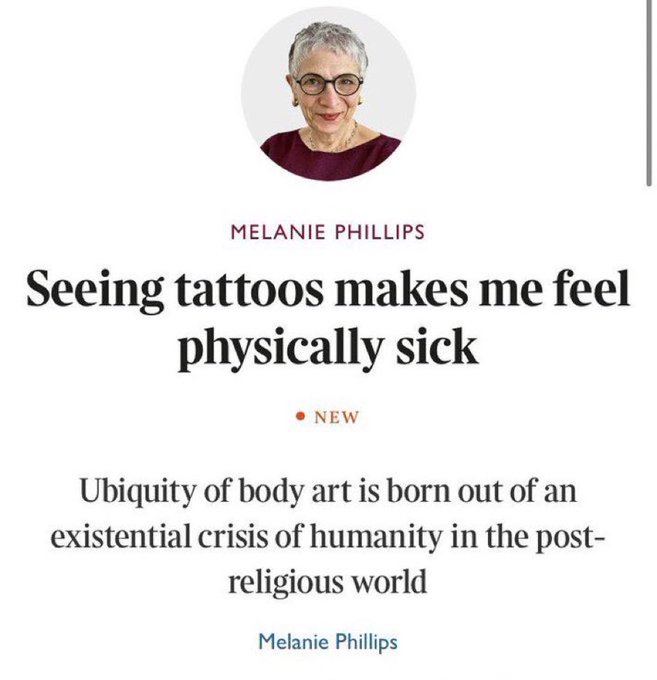 Not often that I would be on the same page as her, though it has happened once or twice before.
I have always disliked tattoos, especially but not only on women. In the past, tattoos, at least in the Europe of the past couple of thousand years, were for men only, and usually for men in particular "walks of life": some sailors, some soldiers, some criminals.
Even in the armed services, not only in the UK but in most countries, while tattoos might be acceptable in the ranks, they were, traditionally, not acceptable in the officer caste.
It is well-known that Jews are not generally tattooed; that seems to come from one of the strictures laid down in the Book of Leviticus. Some Jews were tattooed involuntarily when detained by the forces of the Reich; they were tattooed on the lower arm with their prisoner number: https://en.wikipedia.org/wiki/Identification_of_inmates_in_German_concentration_camps.
Waffen-SS men and officers often had their blood group tattooed under the left arm, for practical reasons. Not all SS personnel, though, had such a tattoo: https://en.wikipedia.org/wiki/SS_blood_group_tattoo.
I have not read the Melanie Phillips article (behind a paywall), but I am sure that the tattoos to which she objects are the purely decorative ones.
I too have puzzled over why they seem to be so popular now. It does seem to betoken a retreat from culture and civilization, but that is my feeling, not backed by cold logic.
I am not sure that my reaction on seeing tattoos is as visceral as that of Melanie Phillips, but it is broadly similar— I don't like them.
Late tweets
Can no-one in Canada get rid of Trudeau? Still, he is only the monkey, or one of them, not the organ-grinder. The secret cabals and ruling circles are at the heart of the problem.
I thought at the time that the old ex-officer and one-time director of a concrete company was a well-meaning (but probably naive) fellow, and I did wonder whether the monies he raised would actually get through to do much good, but I preferred not to blog about it mainly because it seemed churlish to raise doubts based mainly on instinct or feeling (without hard evidence). I could see also that "Captain Tom" was to some extent being used by the same forces behind the "panicdemic" and the "weekly clap".
It did not occur to me that quite a bit of the money would be, in effect, just stolen or embezzled. I thought that the public scrutiny would prevent anything as direct as that from happening. Apparently not.
Late music