In responding to the grandeur of the stars, the only answer is awe.
Where will people turn when the time comes?
I caught the last 5-10 mins of Radio 4 Today Programme. Some fellow whose voice betrayed his smug certainty of knowing "the truth"…That person managed to get away with several meaningless statements such as "populism is Right Wing" ("rightwing" stopped being a useful descriptor decades if not centuries ago), finishing up with the assertion that "populists" were trying to "latch on to anti-lockdown protests" but that would not help the "populists" because it put them in the same place as "the nutters who think that the virus is caused by 5G".
Well, I don't think that many imagine that "the virus" is or was caused by 5G, though there seems to be at least some evidence that 5G has deleterious health effects. After all, the public were told for decades that high-tension power lines caused no health problems. Now?
"There is no known mechanism by which magnetic fields of the type generated by high voltage power lines can play a role in cancer development. Nevertheless, epidemiologic research has rather consistently found associations between residential magnetic field exposure and cancer." [Forbes Magazine] https://www.forbes.com/sites/stevensalzberg/2014/09/01/do-high-voltage-power-lines-cause-cancer/?sh=254028206497
Not understanding why something happens is not the same as something not happening.
Moving back to "populism", I think that it is true that mere populism is usually short-lived, built as it is on the shifting sands of public opinion. Without ideological structure, a populist protest movement is a jellybag and cannot create anything lasting. I noted that in previous blog posts about the EDL and the "Football Lads' Alliance": https://ianrobertmillard.org/2017/10/09/football-lads-alliance-march/
The sine qua non is ideology. After that, structure and organization. Numbers come later.
In the UK, stormy times lie ahead. The necessity is for an ideologically-sound advance guard, leading a tightly-controlled party. Once that exists, numbers will come and the people will respond, in the right external circumstances.
What group or tendency opposes the existing System in the UK? Not the self-describing "Left", meaning the ragbag of Jews, other anti-whites, pseudo-socialists, "refugees welcome" dimwits, and "antifascists" (etc). They, indeed, are more loyal to the System even than "normie" "conservatives"! You only have to look at their favourite echo-chamber, Twitter. They want stricter "lockdown" "rules", more censorship, arrests of dissidents (sometimes even those who themselves are self-describing "Left"-oriented). They support the "rights" of transnational exploitative companies such as Twitter, Youtube, Facebook, and mostly want to "deplatform" those of whose views they disapprove (if they cannot have them arrested or attacked), while themselves retaining the Twitter accounts which are their main focus in life.
The above types are almost invariably in the pocket, in effect, of the Jewish lobby, despite the fact that that lobby despises them. You only have to look at Corbyn, McDonnell and other Labour Party idiots. They were still singing the praises of the Jews, and supporting the "holocaust" farrago, even as the Zionists toppled them and stamped on them! Political masochism.
The weakness of the pseudo-socialists (etc) is made manifest when they want to attack, eg social-nationalists. They appeal to authority in the shape of the officials of Twitter, Facebook, YouTube, or the police. Just like the Jewish lobby, in fact…
The strength or, rather, weakness of the self-describing "Left" was exposed in the 2019 General Election. Weak as weak could be.
The self-describing "Left" has pretty much given up on trying to create a better society or a "revolution". Its main aim now is negative: to "defeat" those it opposes by having them "deplatformed" or, in their wildest dreams, arrested by the System police and convicted eventually of some so-called "hate crime". The obvious example is that of Alison Chabloz (convicted of satirizing "holocaust" fakery in song), but there are several others.
There is every chance that, if a credible social-national party can emerge and survive for a while, circumstances and events might propel it to power far faster than most imagine. There is no real opposition to that except the System itself; the other would-be contenders (the pseudo-socialists etc) are just a wall of noisy squawking on Twitter. They have no power.
Weather
Interesting dissenting film seen on Twitter:
Other tweets seen today
Even more or less mainstream journalists such as Peter Hitchens are now being shadowbanned, censored, even deplatformed. First they came for the…"Nazis"?...
You can see what is happening. The international conspiracy first censored and "deplatformed" social-national people such as me (the Jews had me chucked off Twitter in 2018), and anything likely to make people think twice about whether Hitler was "evil" (hence the banning on YouTube of almost all 1930s or "Third Reich" material).
Then came the turn of the "alt-Right", such as Katie Hopkins, Tommy Robinson etc; and also those with interesting dissident views. David Icke, for example.
Now, we see that the caravan has moved on. Mainstream journalists are being censored and banned. YouTube even took off, for a while, the channel of talkRadio, a major UK radio station, and I believe that some material is still banned.
This is all in preparation for 2022 and "the Great Reset".
Morning music
More tweets
That, then, will be the chance for social-national rebirth. Then, we shall be able to say, "we're back!"
This is no co-incidence. Look at that map. Look where the dividing line is. Think back to where the Western cabals allowed the Marxist-Leninist control to extend westward: in their plans, to the Rhine, but Sovietism did not get quite that far. Now, with Russia and Eastern Europe resisting, the new plan, in part, is to eliminate at least White European Christendom in the Central and Western parts of Europe.
Anyone who supports the migration-invasion is an enemy.
Incidentally, observe the "smiling when there is no obvious reason to smile" in the very sinister Barbara Lerner Spectre: a kind of erratic rictus, like a malfunctioning back light. Very much a Jewish characteristic, and often seen on TV interviews.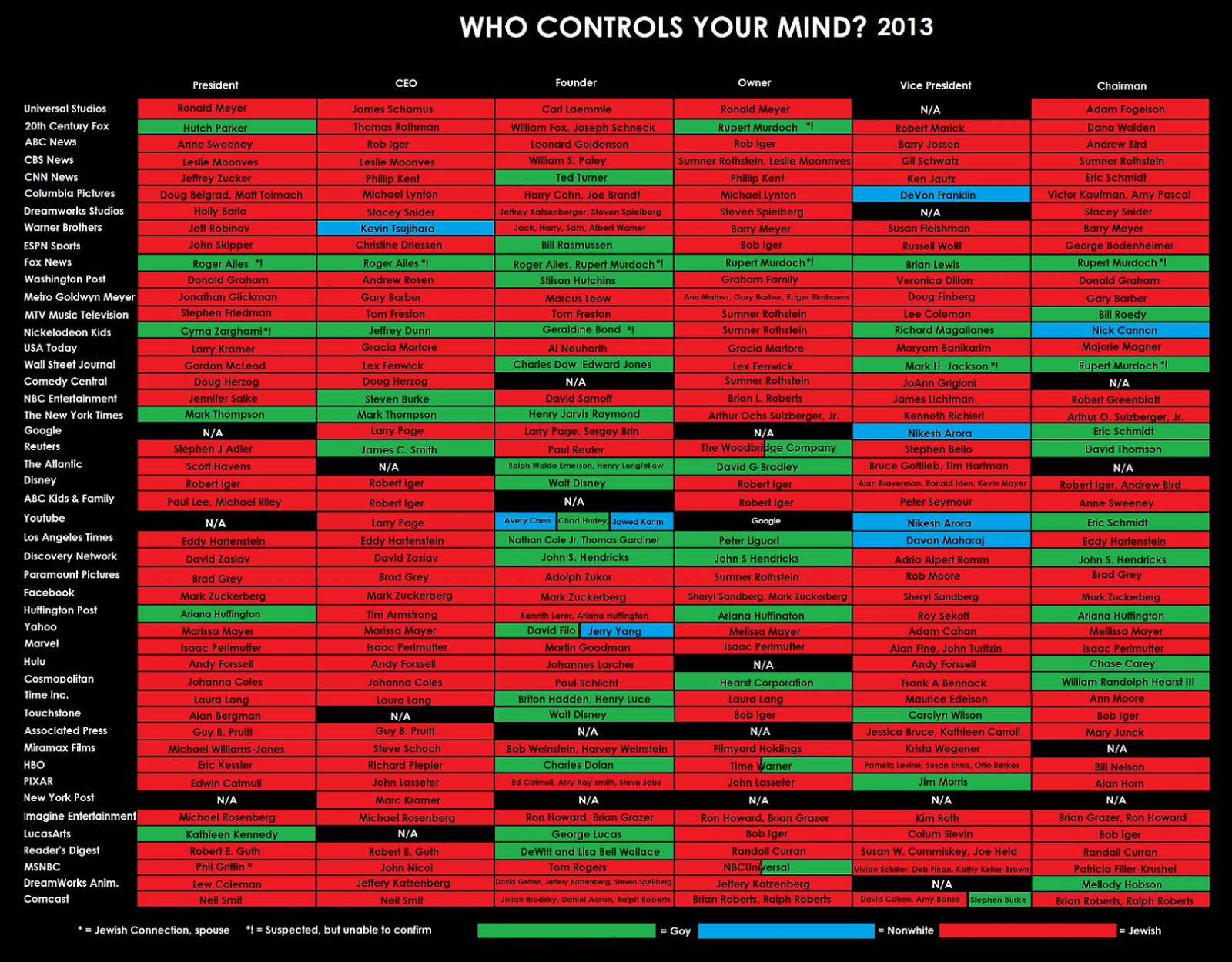 Daniel Hannan: the personification of braindead and/or mad (pseudo-) "libertarianism". Wants 4 million Hong Kong Chinese to come to the UK!
Wall. Squad. End.
Another of thousands of examples of the Twitter mass purge of anyone not signed up to the "Great Reset" and "Great Replacement".
https://en.wikipedia.org/wiki/Savitri_Devi
"Savitri Devi Mukherji (born Maximiani Julia Portas, French: [mak.si.mja.ni pɔʁ.tɑ]; 30 September 1905 – 22 October 1982) was a French-born proponent of Nazism who served the Axis powers by committing espionage on the forces of the Allies of World War II in India.[1][2][3] She was later a leading member of the Nazi underground during the 1960s.[1][3][4]
Savitri was a proponent of a synthesis of Hinduism and Nazism, proclaiming Adolf Hitler to have been sent by Providence, much like an avatar of the Hindu god Vishnu.[5] She believed Hitler was a sacrifice for humanity which would lead to the end of the Kali Yuga induced by the Jews, who she felt were the powers of evil.[3]
Her writings have influenced neo-Nazism and Nazi occultism,[6] and more contemporaneously, she has influenced the alt-right.[7] Rejecting Judeo-Christianity, she believed in a form of pantheistic monism; a single cosmos of nature composed of divine energy-matter.[8] Within neo-Nazism, she promoted occultism, ecology,[9] and the New Age movement. She also influenced the Chilean diplomat Miguel Serrano. In 1982, Franco Freda published a German translation of her work Gold in the Furnace, and the fourth volume of his annual review, Risguardo (1980–), was devoted to Savitri Devi as the "missionary of Aryan Paganism".[1]"
"Devi was a pioneer in animal rights activism, and was a vegetarian from a young age and held ecologist views in her works. She wrote The Impeachment of Man in 1959 in India[3] in which she declared her views on animal rights and nature. According to her, human beings do not stand above the animals; but in her ecologist views, humans are rather a part of the ecosystem and should respect all life, including animals and the whole of nature.
She always held radical views on vegetarianism[3] and supported the death penalty for those who did not "respect nature or animals". She once broke into laboratories and took animals being held there, releasing them from being used in experiments.[citation needed] She believed that vivisection, circuses, slaughter and fur industries among others do not belong in a civilized society."
Her most famous book:
https://en.wikipedia.org/wiki/The_Lightning_and_the_Sun
"Begun in 1948, completed in 1956, and first published in 1958 in Calcutta, she said it "could be described as a personal answer to the events of 1945 and of the following years." It is dedicated "To the god-like Individual of our times; the Man against Time; the greatest European of all times; both Sun and Lightning: Adolf Hitler, as a tribute of unfailing love and loyalty, for ever and ever."[3][5] It opens with quotations from The Bhagavad Gita and Rudolf Hess." [Wikipedia]
More tweets
https://www.crowdjustice.com/case/mike-sivier-libel-fight/
NHS
Recently, information (secondhand, but thought reliable) about the state of the NHS. Dire. Not "because of COVID", though made worse by the extra admissions, perhaps. It is just maladministered, and also has attitudinal problems, not universal, that are reducing it to a "Soviet" level in some respects. There is also the effect of mass immigration, which has increased the UK population from about 56 million in the 1960s to about 66 million today. Huge increase, huge extra demand.
Trump and Presidential pardons
Trump has once again been proven a huge disappointment. Had the chance to pardon Snowden, Assange, and especially the social-national prisoners in Federal prisons. Result? A big fat zero.
More tweets
Private Eye was worth reading, long ago (30+ years ago), though it always had the seeds of its own decadence and destruction within it. Its creators and readers were largely the kind of people who would like Monty Python, those better at poking fun from a comfortable perch than anything else. The sort of people who probably really like Michael Palin's smug travel shows.
Like (the now long-defunct) Soviet humour mag, Krokodil. Like HIGNFY. In other words, "approved humour", fronted by some boring drone like Paul Merton.
In fact, political correctness and "wokeness" has pretty much killed off satirical humour. God help any humorist now who laughs at (inter alia) Jews, "holocaust" fakery and/or hoaxes, the blacks, "Black Lives Matter", facemask-wearing rabbits etc…
UK slides to insolvency
"Britain's airlines, airports and aviation manufacturers pleaded for immediate financial support from the government and a longer-term recovery plan after COVID-19 stopped travel and new testing requirements dashed bounce-back hopes." [Reuters].
Hello? "The virus" did not stop travel, though it may have slightly discouraged it. The governments of panicked Europe and elsewhere stopped it!
Late music