Hartlepool by-election
I blogged about this the day before yesterday, and also a month ago: https://ianrobertmillard.org/2021/04/06/hartlepool-by-election-2021-preliminary-look/; https://ianrobertmillard.org/2021/05/05/diary-blog-5-may-2021-with-more-thoughts-about-the-hartlepool-by-election-and-latest-news-about-alison-chabloz/.
[More about the Hartlepool by-election etc below]
Tweets seen around midnight last night:
Can the truth of that last comment be denied?
Again, nothing much to be added to that, except that that very slender Conservative Party win (another by-election, in 1959) was on different constituency boundaries.
Another accurate tweet.
Could that be because the voters feel that they have had no real choice?
As for Sky News, their figure for yesterday's turnout was wildly wrong. Real turnout was about 42%…
More about Hartlepool later.
That Jessica Simor (((person))) seems to have little political nous; was a candidate for the always-doomed "Change UK" short-lived party, and gives me the impression of someone who seems to think that she takes the moral high ground. The air in Hampstead seems to have that effect on some of its residents. Oh, no, wait…https://order-order.com/people/jessica-simor/.
I enjoyed especially her tweet about how others have "unbelievable silver spoons stuck in their mouths", which is often true in the UK (as elsewhere) but comes awkwardly from a woman who attended St. Paul's Girls' School and St. Catherine's College, Oxford, followed by both City University and Kings' College London!
St. Paul's Girls' School, famous inter alia for the fact that Gustav Holst [https://en.wikipedia.org/wiki/Gustav_Holst] taught there and wrote his St. Paul's Suite there [https://en.wikipedia.org/wiki/St_Paul%27s_Suite], currently charges between £8,000-£10,000 per term, or £24,000-£30,000 per year! Not including textbooks etc. https://spgs.org/admissions/fees/; https://en.wikipedia.org/wiki/St_Paul%27s_Girls%27_School. Silver spoon territory? They do offer some scholarships and bursaries.
Seems that some members of the Bar can, e.g. swear prolifically at people on Twitter without (Bar) censure, yet I —who only tweeted five completely true and accurate tweets on political and social issues— had to be disbarred to placate the Jewish lobby: see https://ianrobertmillard.org/2017/07/09/the-slide-of-the-english-bar-and-uk-society-continues-and-accelerates/. Oh, and the great "human rights" barristers at, inter alia, Matrix Chambers (which Jessica Simor co-founded in 2000), said and tweeted not a word in defence of my rights to socio-political expression.
I was also surprised that the Simor woman, in one tweet in that Guido Fawkes report above, renders "I could make neither head nor tail of it" as "I couldn't make head or tale of it." That's no more than semi-literate.
Other tweets seen
Yes. My mother-in-law (aged 99) was recently in hospital for a fracture. After 2 weeks under the hit or miss care of the NHS, she was routinely tested for "Covid-19". Positive. She had no symptoms. Obviously picked up the virus in the hospital. Was discharged a week or so later. Had she then died from any cause, even in a car accident, she would have become another "died within 28 days of a positive test" statistic. The whole thing is a ludicrous misapplication of statistics and propaganda.
Sadly deluded. A student or ex-student who would have been more at home in Blair/Brown days, it seems.
Ha ha! How could this unthinking young Labourite miss the 4 years of Jewish-lobby bile against Corbyn? Every day, and on every msm platform! I am not even a Labour supporter (or member, or voter), and it was unmissable! Plots, conspiracies, legal cases…Labour Friends of Israel MPs and the rest.
Hartlepool results and thoughts thereon
Wikipedia has been quick off the mark: https://en.wikipedia.org/wiki/2021_Hartlepool_by-election.
Conservative Party first with 51.9%; Labour second with…28.7%. That's the headline, of course.
Interesting to note that the eligible electorate is over 70,000. Of those, only 29,933 turned out to vote, and only 8,589 voted Labour. About 12% of the entire eligible electorate.
The demise of the LibDems was confirmed (again): 7th place, with only 1.2% of the vote (349 votes). The worst-ever LibDem result in the constituency, by far. The LibDems got 4.1% last time, in 2019; in 2017, only 1.8%, and in the 2015 meltdown, 1.9% (2010, 17.1%, but in 2005 they got 30.4% and 2nd place, and in 2004, which was another by-election, 34.2% and another 2nd place, that time only 6 and a half points behind the winning Labour candidate).
The 3rd, 4th and 5th places at Hartlepool were taken by an Independent, Sam (Samantha) Lee, a local businesswoman and former local journalist (note: local…), who achieved a creditable nearly 10% of the vote, then "Heritage" and "Reform UK" parties, effectively UKIP/Brexit Party offshoots. 1.6% and 1.2% respectively. Green Party took 6th place, also with 1.2% of the vote.
The Northern Independence Party, which I thought would get around 5%, in fact attracted only 235 votes (0.8%, 10th placed) and looks washed-up already. I had thought that their concept might prove attractive to many "up North". Seems not. Not so far, at least. Rather unimpressive also that they are so disorganized that they failed to register in time with the Electoral Commission, so their candidate, Thelma Walker, a former Labour MP, had to stand as Independent. They might have done better under their real banner.
The remaining eight candidates were either Independents or crank-party candidates, and only one got more than 0.5% of the vote.
What does this result mean, in the wider sense? Firstly, that Jewish-lobby puppet Keir Starmer is too colourless to make any impression at all. Part-Jew chancer and fraud "Boris" may be corrupt, incompetent, and unfit to be an MP, let alone PM, but he has (carefully-cultivated) presence, a fact recognized by the huge Munich-style effigy of him that appeared at the by-election count. https://en.wikipedia.org/wiki/Carnival_in_Germany,_Switzerland_and_Austria#Alemannic_Fastnacht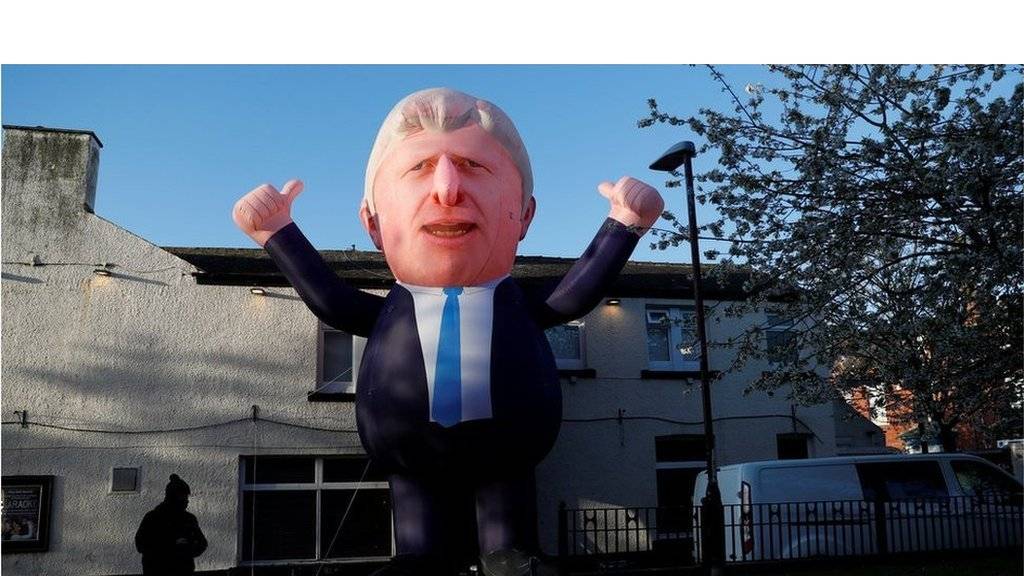 Reminiscent of Berlusconi in Italy a number of years ago, or of some banana republic.
As I have blogged before, Keir Starmer has nothing to offer the people, and nothing to say except "I was the Director of Public Prosecutions!". Nothing to offer. Nothing at all. As some wag commented on Twitter a while ago, were the "Conservatives" to open workhouses in the manner of the Dickensian age, Starmer-Labour would be there to agree with the policy, but say that it should be run more efficiently and slightly more fairly…
Then we recall Starmer on his knees, with dim deputy Angela Rayner, not so long ago, professing fealty to the "Black Lives Matter" nonsense. That must have played well in Hartlepool, which has a proud, if poor, English/British history…
The problem Labour has, though, is not Starmer but its own identity and role. As I have blogged before, the System parties were all products of the 19th and early-20th centuries (taking the LibDems to be an extension of the old and once-governing Liberal Party).
Somewhere like Hartlepool may look superficially similar to what it did in 2010, 1997, 1980s, even 1960s, but the social changes in the UK have been huge. No large nationalized industries. Few manufacturing industries at all. A growing atomization of the individual in society. Lessening "community". Growing socio-political volatility. Insecurity. The Internet. In places such as Hartlepool, a considerable drug problem to add to the traditional drink problem.
The old parties have no answers, and not even any questions, about all of that. What Hartlepool and many other places want, perhaps without knowing it, is social nationalism. A new socio-national community to replace the old forms of community that are now all but gone.
Look at that by-election: not one social-national candidate, not even from the joke "parties" such as For Britain or Britain First. The voters wanted rid of Labour. If you like, "Problem— get rid of fake Labour; Method— vote fake Conservative, or stay at home and watch fake reality-TV shows". Apathy and abstention was enough to sink Labour, as in 2019.
Tweets
Short and sweet (and true).
She's right (for once). Where (I apprehend) she is wrong is in impliedly saying that Labour did better in 2017 because of Corbyn. Partly-true maybe, but had UKIP not taken 11.5% of the vote in 2017, Labour, though still in front, would have won by only about 5 points.
It was not always thus. I have never been a Labour member, supporter, or even voter, but many Labour MPs up until the 1980s were decent British ex-workers, others were at least reasonable intellectuals of sorts. I might not have agreed with all they said or did, but they had integrity, most of them. Now look! Since, say, 1989, freeloaders, careerists, expenses cheats, fakes. Jess Phillips, Ruth Smeeth (now binned), Patricia Hewitt (gone), Mandelson, the whole pack of Blair/Jew lobby MPs. Many are still around, unfortunately.
Look at Williams, the Hartlepool candidate that Labour put up: a medic who preferred to "get ahead" as an MP; formerly failed in another constituency; wanted to become a Police and Crime Commissioner too. Rather "dodgy" generally; pro-EU, pro-Jewish Lobby. Never trust a doctor who becomes a politician. A good rule of thumb, by the way.
"During the by-election campaign, Williams apologised for a tweet he posted in 2011: "Do you have a favourite Tory MILF? Mind-blowing dinner table conversation".[38] He was defended by Starmer, while Labour peer and former shadow Attorney General Shami Chakrabarticalled for him to be replaced "immediately".[39] Williams' campaign featured a pledge to return hospital services to the town, but was accused of hypocrisy after it emerged that he was a co-author of a clinical commissioning group report which recommended the closure of those services in 2013." [Wikipedia]
A social-national party, were one allowed to exist at all in what is a society of increasing socio-political repression, might not be "voted in" —because the (((System))) would probably make sure of that— but would be a way of gathering support for an attempt to seize power by any other means.
More tweets seen today
A pretty silly tweet. Corbyn, whatever his faults, was at least as "electable" as Starmer, but that is, well, not very…and the tweeter ignores the 4 years of Jewish propaganda carried on against Corbyn, on a daily basis, and on every single msm platform (and many online too).
Every single one of those MPs is either a Jew or a Jewish-lobby puppet. Expenses freeloader and anti-Corbyn plotter Tom Watson has not only been given the very well-paid sinecure previously occupied by Michael Dugher (another puppet of "the lobby", now head of a betting organization) but is even getting paid non-political TV appearances. As people say, "ker-ching"…
Two stupid tweets for the price of one. They would probably like that Nigerian bigmouth, Femi Oluwole [https://en.wikipedia.org/wiki/Femi_Oluwole], still posing as a political activist while living in his affluent parents' attic, to be Labour leader! Don't laugh too quickly! Of course, by then Labour will be about as popular as the LibDems are now…
For "British media", read "Labour Party members"…
Maybe, but probably not. Had Corbyn done that, the Corbyn candidate would have got about half, maybe more, of the Labour vote at Hartlepool, but even taking that as maybe 25%+ (half of 50%+ as in the past), that would still be a close contest if the Conservatives were not also challenged by (as in the past) a Brexit Party or similar; which would probably still result in a Con victory…
System politicians rarely start new parties, mainly because few succeed. One of the few that might have done was Enoch Powell. He just might have gathered enough support from Conservative voters and others (eg National Front voters) to get a bloc of MPs. He decided, though, to reprise Parnell [https://en.wikipedia.org/wiki/Charles_Stewart_Parnell], who controlled a bloc of pro-Home Rule (Irish Independence or autonomy) MPs in the 19thC; Powell thought to do that, on a smaller scale, with Ulster Unionists. Never got anywhere. He was too tied up in traditional thinking. https://en.wikipedia.org/wiki/Enoch_Powell.
If that was indeed Powell's strategy, it was based on faulty thinking (surprising, in someone of Powell's intellect): Parnell controlled around 90 MPs in the late 19thC; Powell could never have hoped for that with the Ulster Unionists.
Possibly a System politician to watch: https://en.wikipedia.org/wiki/Ben_Houchen.
In fact, that 2015 poster was one of the better Labour attempts. I suppose that the very silly tweeter hates the "control immigration" bit…but the migration-invasion and encouragement thereof was one of the aspects of Corbynism that appalled many voters…
Afternoon music
BBC PM
Listening to PM for the first time in quite a while, heard an interview with Ben Houcher, the Teesside Mayor. Not very impressive in terms of content, but full of confidence, and his electoral result speaks for itself.
Then came an interview with three Labour activists. Not very interesting, though I agreed with their point that "Boris" is "an act" (as they put it), "supported by a sycophantic mass media". Also true. None openly called for Starmer to go. They really should…
The most interesting thing heard was from the presenter, Evan Davis, in the Ben Houcher interview, who expressed the idea that politics in the UK is "going beyond Left and Right". Well, I have been saying that for years, decades even. Always the Cassandra, usually right but rarely listened to…
More tweets
Good to see.
Typical (?) UK Labour supporter of 2021: " Historical novelist, THE SEA GATE out now. UK publisher of GRRM, Hobb, Lawrence, Feist; ex-Tolkien publisher; gardener. Married to a Berber chef. #CFC #Chelsea...Location Cornwall/Morocco"…[https://www.janejohnsonbooks.com/].
Not that she is entirely wrong about the influence of the mass media, but she completely fails to see that the Conservative Party won Hartlepool not because the eligible voters were supporters of the Conservative Party and/or finance-capitalism (egged on by the msm) and voted accordingly, but because out of 70,000+ eligible voters, only about 8,500 went out to vote Labour.
Why? Because Labour is useless. It is now once more completely in the pocket of the Jew/Zionist/Israel lobby, and its MPs are mostly worthless chancers, expenses blodgers, and/or careerists; many of them (especially but certainly not exclusively the blacks) are also as thick as two short planks. Also, Labour scarcely opposes the Government at all, but supports it, or cavils at unimportant details (Keir Starmer was, after all, best known as a prosecution lawyer who became DPP).
The Conservative Party did not win Hartlepool— Labour lost it.
Incidentally, that lady "@JaneJohnsonBakr" is a director of HarperCollins publishers: https://www.janejohnsonbooks.com/about/. Whatever her ideological leanings, I think that it can probably be surmised that she does not have the financial struggles common to most of the voters of Hartlepool, and it sounds as though she is far from them in terms of outlook, as well.
I do not think it unfair to say that there we have Labour's problem in a nutshell. It can get the (apparent) support of a presumably rather affluent lady who, with her Moroccan husband, splits her time between her houses in Cornwall and Morocco, but it cannot get the support of over 60,000 of the 70,000 struggling English voters of somewhere like Hartlepool…
Here's another of the lady's tweets, expressly contemptuous of the British people:
I wonder whether she supported Tony Blair's government?…
Not that she is wrong about "Boris", of course; and the people are easily fooled, that's true.
She seems to support censorship too…
No wonder that she feels at home in Morocco!
"Freedom of the press is quasi-absent and many journalists are thought to practice self-censorship." [Wikipedia] https://en.wikipedia.org/wiki/Human_rights_in_Morocco#Freedom_of_expression.
She seems to think it wonderful that Liverpool now has a "black" woman as Mayor! These people…! You really could not make it up…
Late tweets
The lady featured above is still tweeting…
She should stop bleating about being "progressive" and just come out 100% for "enlightened" dictatorship…though I see her point about "Fred" (supposedly) from Hartlepool (supposedly)…Is he a joker?
Late music