Morning music
"Covid" biosecurity police state
https://www.dailymail.co.uk/news/article-10228145/THIRD-night-violence-streets-Europe-Covid-clampdowns.html
"The Germans have a Health Minister who's only qualification is a Certificate in Business Studies and a so called Covid expert working at the Robert Koch Institute who's only qualification is having one in Veterinary science." [the published comment of a Daily Mail reader]. (reader's spelling, not mine).
People across Europe are starting to fight for freedom. A small minority, yes, but backed by many millions of others. There is always a vanguard ahead of the mob.
In the Netherlands, the Dutch police fired at random into the crowd, killing two protesters. So much for the superficially "caring sharing" Dutch state…oh, and incidentally…the Daily Mail chose not to report that fact.
More music
Destruction of freedom of expression in the UK
https://www.onelittlewarrior.life/post/pensioner-imprisoned-for-thoughtcrimes
Is the above any different or any better than what happens in Belarus, or even China?
Tweets seen
That is where we are in the UK: suppression of real news, endless (and endlessly dull) recounting of the official versions of "fake news" (mainly "Covid" nonsense, with some "climate change" stuff tacked on, and there is little or no real difference among the main System news outlets: BBC, Sky, ITN etc. Britain is now largely (((occupied))) territory. ZOG.
I was going to add something about Brenton Tarrant, but the repression of free speech in the UK is now such that a degree of self-censorship afflicts even me…
Anyone who has visited an NHS hospital in the past 18 months (as I have, several times, as a specially-permitted visitor) must have noticed that hospitals have been largely empty, the few staff almost unoccupied. There are, probably, exceptions to my impression(s), perhaps in a few large cities, but I have seen what I have seen.
The pseudo-socialists on Twitter are just me-too idiots, whose only aim is to "deplatform" those with whose views and ideas they disapprove. No ideas about society, except that everything would, they imagine, be much better if advanced white societies were flooded even more by the backward and unpleasant from the black/brown areas of the Earth. They are basically "useful idiots" for those pushing the Coudenhove-Kalergi Plan.
https://en.wikipedia.org/wiki/Richard_von_Coudenhove-Kalergi
More tweets
In fact, there is a need to depopulate, but the devil is in the detail. What is needed now is for the European populations to stay pretty much at their present levels, but for there to be a large-scale diminution of the non-European populations.
Since 1945, the populations of Asia (particularly China, India, Pakistan and Bangladesh) have rocketed, as have some others. Ideally, the European and European-origined part of the world should comprise the vast majority of the whole world population. See https://ianrobertmillard.org/2019/01/26/the-tide-is-coming-in-reflections-on-the-possible-end-of-our-present-civilization-and-what-might-follow/.
Wales and Welsh independence
Ecce, the complete unreality of the pseudo-socialist Twitterati. Wales as an independent country? It never has been, unless you count its prehistoric origins: see https://en.wikipedia.org/wiki/Wales#History.
Wales is small (the same size as New Jersey, at about 8,000 square miles), and has three million people. Its resources traditionally lay in sub-surface minerals and rocks: coal, slate etc, now not hugely valuable or competitive internationally.
The agricultural sector relies on subsidy, much of Welsh agriculture consisting of uneconomic hill farms.
Tourism exists, mainly in some coastal towns but also elsewhere.
An independent Wales would be a very poor little state.
As for the advantages of independence for Wales, they are hard to see. The devolved Welsh Government already decides upon 20 devolved areas of administration: see https://en.wikipedia.org/wiki/Wales#Areas_of_responsibility.
Aaron Bastani's tweet, above, seems to envisage an independent socialist Wales. It seems to me that Wales is better off as part of the UK. After all, without UK (English) subsidy, Wales would have little money to subsidize its farming sector, the coal mines are merely historical now (and part of the "heritage tourism" trade), the slate mines still exist here and there but are hardly the basis for statehood's necessary income, and tourism could not bear the financial load of true "statehood". What else is there? Not much, I think.
Labour has a plurality, and near-majority, of seats in the Welsh Parliament— 30 out of 60: https://en.wikipedia.org/wiki/Senedd.
In my view, a truly independent and socialist Wales would be as poor as North Korea after a while. An extreme view? Not really. How would the Welsh Government fund hospitals, schools, and so on?
Not that it could not be done. Will is all. If the 3,000,000 people resident in Wales (many of them now English) were to vote for real independence, they could make it work, up to a point. Why not? However, they would have to accept living standards far below even the modest ones now existent.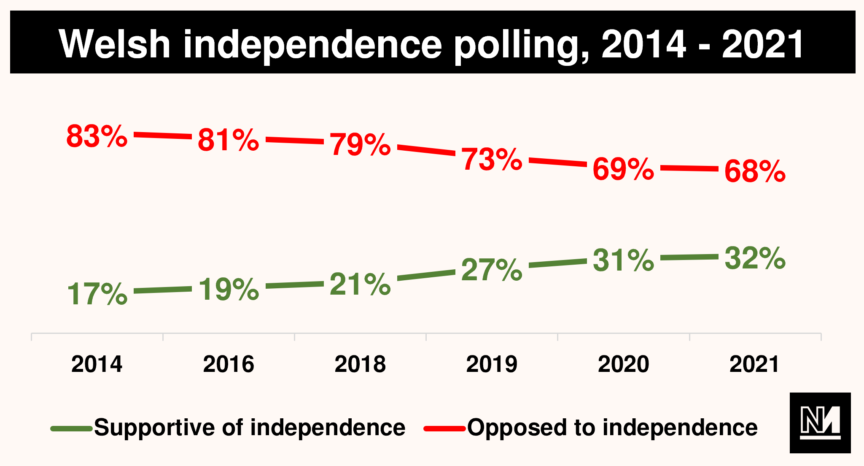 More tweets
A good example of the political, or social, or ideological cover the "Covid" "panicdemic"/"scamdemic" gives to political apparatchiki. Had those "Abos" been detained for any other reason, or under any other excuse, the pseudo-socialists, "human rights" bods etc, even the msm talking heads, would have been outraged and up in arms against it. Not this time, because…"Covid"…the magic word that quells all opposition.
The UK Cabinet of clowns (sinister clowns) has condemned itself out of its own collective mouth, by its very silence in the face of Evil.
#Osterreich #Freiheit #Kristalltag!
"Adolf Hitler, please return to us!"
Austria needs to reawaken from its consumerist sleep.
System mouthpiece James O'Brien expressing support for "more meaningful measures", meaning forced "vaccination", camps for dissidents etc.
O'Brien says that only a "tiny minority" oppose such measures. Not true, but, how strange, the vast majority in England want NO MORE MASS IMMIGRATION, yet when it comes to migration-invasion, msm/System mouthpiece O'Brien seems to prefer the views of the "tiny minority" (the "refugees welcome" dimwits, the Jewish lobby —mostly pro-immigration— etc)…
Note the ignorance of another LBC and System mouthpiece, Shelagh Fogarty, who pretends to knowledge, based on not very much.
If the System forces me to be "vaccinated" against the panicdemic, that will be a declaration of war against me, and against the entire population.
and look below:
Useless (at his job), irritating, ignorant (but paid a few hundred grand a year anyway…) Jeremy Vine, showing incredible (?) bias, with guests the hugely ignorant scribbler (poses as "journalist") Yasmin Alibhai-Brown, and Daily Mail scribbler, something (?) Pierce. That is what the msm serve up to the watching populace as a "discussion", with the presenter, Vine, advocating that the government use "snitches", fines, prison, "spot checks" of documents etc to repress those who defy "vaccination" with useless fake vaccines.
At least the DDR [East Germany] did not seriously pretend to have "civil rights"…
When the Hungarian Uprising occurred in 1956, those most closely involved with the repression of the population (secret policemen etc) were caught, and some of them suffered the supreme penalty at the hands of the rebels.
Britain was once proud of its civil rights. Even during WW2, when rights were partly suspended, few openly called for the introduction of a complete police state…yet here now in the UK, we see mediocre System msm mouthpieces openly calling for a system of secret informers, denunciation of neighbours and family members, authoritarian police presence on the streets and checking "papers", and "volunteer co-workers" helping the State to keep the population repressed.
All that, notionally, for suppression of a virus which has (supposedly) killed about ONE in every FOUR THOUSAND people in the world (1 in 1,000 in the UK)…
A little Ostalgie?
Afternoon music
Late tweets
I caught a few minutes of Diane Abbott on Newsnight, still defending the migration-invasion. That stupid bitch must have been worth a million votes to the Conservative Party in 2019!
Laurence Fox evidently does not know his political **** from his geopolitical elbow. Controlled opposition, and pretty pathetic it is.
Late music