Belated Saturday quiz
I forgot about the i paper quiz yesterday. So here it is:

Only 5/10 this week, though I still beat John Rentoul (again); he only scored 4/10. I did not know the answers to questions 4, 6, 8, 9, and 10 (could not remember what LED —exactly— means, and I hit the post on the Battle of Bannockburn, knowing that it was Edward I's successor but not knowing who the hell that was).
Tweets seen
The reference there is to Paul Halloran, the candidate at Batley and Spen of the "Heavy Woollen District Independents" in the 2019 General Election: https://en.wikipedia.org/wiki/Batley_and_Spen_(UK_Parliament_constituency)#Elections_in_the_2020s. He scored 12.2%, a very creditable result. I mentioned the fact in my blog post of yesterday about the upcoming Batley and Spen by-election (1 July 2021): https://ianrobertmillard.org/2021/06/04/the-batley-and-spen-by-election-2021/.
It seems that the said Halloran has now joined the no-chance Reclaim Party set up by the actor Laurence Fox, who now stands for free speech (except, it seems, where Jews disapprove or are mentioned). https://en.wikipedia.org/wiki/Laurence_Fox.
Halloran, Fox, and Reclaim Party have issued a statement: https://mailchi.mp/a466726a0fd3/media-statement-the-reclaim-party-and-paul-halloran?e=d4fb63896d.
https://www.examinerlive.co.uk/news/west-yorkshire-news/paul-halloran-wont-standing-batley-20751008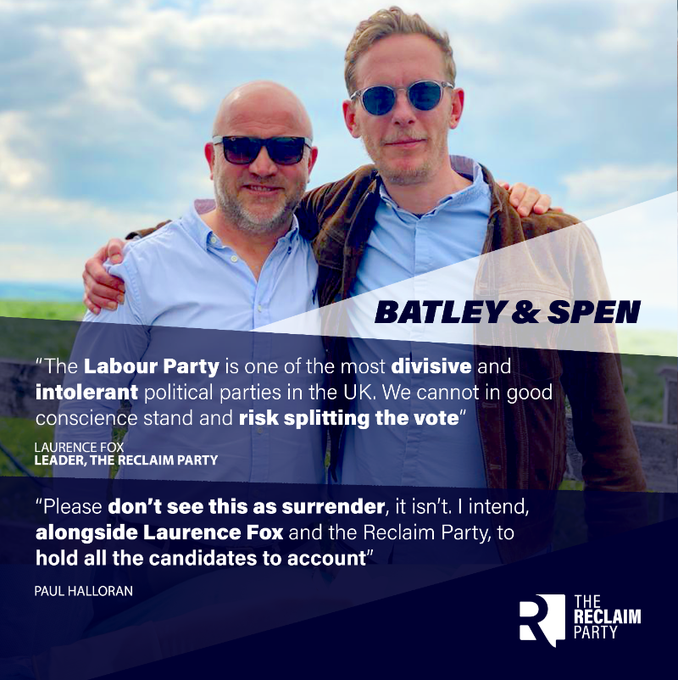 It is clear that Reclaim Party will never amount to anything. As far as the Batley and Spen by-election in July is concerned, the stand-aside will obviously help the Conservative candidate, but what is unknown is by how many votes. Halloran received 12.2% of the vote in 2019, true, but Fox, in the recent London Mayoral Election, only 1.9%.
I suppose that it might be surmised that Halloran, had he stood at Batley, might have garnered 5% of the by-election vote, possibly 10%, and maybe even 15%+, but the fact is that that is pure speculation. We do not know.
What we do know is that the above news is probably a blow for Labour. A few percent might decide this contest.
Chesham and Amersham by-election 2021
The Chesham and Amersham by-election is set down for 17 June 2021. It has been occasioned by the death of the sitting member, Cheryl Gillan [https://en.wikipedia.org/wiki/Cheryl_Gillan].
I usually abide by the maxim de mortuis nihil nisi bonum ("[say] nothing but good of the [recent] dead") but the fact is that the recently-deceased MP was little better than a persistent and outright thief [https://en.wikipedia.org/wiki/Cheryl_Gillan#Expenses] who defrauded the taxpayer out of far more than was explicitly exposed during the 2009 expenses scandal.
As to the constituency, this is rock-solid Conservative Party territory, situated at the suburban and semi-rural Northern joint termini of the Metropolitan Line.
Since the seat was created in 1974, the Conservatives have held it, at first with Ian Gilmour [https://en.wikipedia.org/wiki/Ian_Gilmour,_Baron_Gilmour_of_Craigmillar] and then with Cheryl Gillan, who "inherited" the seat in 1992.
The lowest ebb of Conservative Party fortunes at Chesham and Amersham was 1997, but even in that year of "Labour landslide" the Conservative vote held up at 50.4%. The high-water mark was the 1992 General Election (63.3%). Even the expenses scandal did not dent Cheryl Gillan's vote (60.4% in 2010).
Second place in elections at Chesham and Amersham has usually gone to the Liberal Democrats, but UKIP (2015, 13.7%) and Labour (2017, 20.6%) have also featured.
The LibDem vote-share fell to only 9% (and a fourth-place) in the debacle of 2015, but recovered to 13% in 2017, and to 26.3% in 2019.
As for Labour, its low point was 2010 (5.6%), and its high point 2017 (20.6%).
Eight candidates contest the by-election, the other five being Green Party, Reform Party UK, Freedom Alliance, Breakthrough Party, and Rejoin EU.
Green Party got 5.5% at Chesham and Amersham in 2019.
Reform Party UK is the rump of Brexit Party, and scored 1% in the most recent London Assembly elections.
Rejoin EU managed to get a vote of 1.1% in the 2021 London Mayoral election. Its by-election candidate is Brendan Donnelly [https://en.wikipedia.org/wiki/Brendan_Donnelly_(politician)], a one-time employee at the Foreign Office, who became a Conservative Party MEP in 1994, then left the Conservative Party, stood again in 1999 under the banner of the short-lived "Pro-Euro Conservative Party" [https://en.wikipedia.org/wiki/Pro-Euro_Conservative_Party], failed to be re-elected, and thereafter became a serial and unsuccessful pro-EU election candidate under several flags.
Freedom Alliance is a reaction to the toytown police state created by the 2020 Coronavirus events, and is based in Huddersfield [https://freedomalliance.co.uk/], though its Chesham and Amersham by-election candidate is a former Green Party councillor who lives in High Wycombe [https://freedomalliance.co.uk/england-candidates/].
As for Breakthrough Party, it describes itself as "a democratic socialist party, led by the younger generations..." [https://breakthroughparty.org.uk/]; https://www.thecanary.co/feature/2021/04/18/a-new-political-party-wants-a-breakthrough-for-young-people/. Its by-election candidate is Carla Gregory, aged 31, a charity worker: https://www.nationalworld.com/news/politics/chesham-and-amersham-by-election-mum-of-two-standing-for-new-breakthrough-party-to-be-voice-of-unheard-3241528.
The main interest in the by-election will be that of seeing how low Labour will sink.
The Normandy Landings
Today is the 77th anniversary of the Normandy Landings, the biggest invasion by sea in history, and the determinative turning-point of the Second World War on the Western Front: https://en.wikipedia.org/wiki/Normandy_landings
Tweets seen
Well, Hitchens is sometimes worth noting, but I have to say that when I had a Twitter account (a pack of Jew-Zionists had me expelled in 2018), Hitchens blocked me mainly if not entirely because he saw that I knew more than him. My later assessment of him: https://ianrobertmillard.org/2019/05/19/peter-hitchens-and-his-views/.
Not new, of course. I wrote the following blog post over two years ago, and about a Daily Telegraph article itself written in 2012: https://ianrobertmillard.org/2019/02/04/white-flight-in-a-small-country/.
NWO. ZOG. The Great Reset. It's happening right in front of our eyes, yet the majority, perhaps the vast majority, are unaware, or think it is just something to do with a virus that has killed about one in a thousand British people (and even fewer worldwide)…
Fabricant, of course, is a Jew, and was at one time an employee or agent of SIS.
British foreign aid cuts
There is a case for foreign aid. It rests, in its purest form, on charity or compassion, just like social welfare, free medical care etc in the UK domestic context. In less obviously pure form, foreign aid can be regarded as an incident of "soft power" and diplomacy.
Having said that, much foreign aid is misapplied, wasted, or stolen. I could give examples from my own overseas experience.
On BBC TV News, I saw today some woman talking (from her own rather comfortable-looking home) about the recent decision to further cut foreign aid. She was one of the directors of the long-established charity, Save the Children, which —subject to correction— I think was founded in or at the end of the First World War.
Some reading this may recall that, after the Jo Cox assassination in 2016, it came to light that the husband of that MP, the (I always thought, seeing him on TV etc) rather thuggish Brendan Cox, was exposed as a sex pest and quasi-rapist. Well, what interested me more was the fact that (if I recall aright), as something like third in command of Save the Children, Brendan Cox was being paid something like £200,000 pa. Not bad for someone with a very underwhelming academic and other background. Worse, the actual head of Save the Children was getting over £300,000 (in fact, from memory, it was nearly £400,000).
Not that I think that the head of a large organization, even a charitable one, should not be paid decently or even well, bearing in mind the skills required and responsibility held, but all the same it sits unpleasantly to see people donating pennies, or hard-scrabbled pounds, while the fat cats at the top of the tree get hundreds of thousands of pounds (and expenses) every year.
The world of international aid charities is a rotten borough. I once met a woman who was getting very well paid indeed (the equivalent of maybe £100,000 a year in today's money), for about 2-3 days a week working for DFID as a "consultant"; she had some academic job as well. She told me that she had even been offered more money, about double, working for the UN Food and Agriculture Organization [FAO] in Rome. Her job title? [would be] "expert in food poverty"!
There's something unclean about all that. Carpetbagging hypocrisy.
More tweets
Alison Chabloz
The latest news (as yet unconfirmed) about the persecuted satirist and singer is that her appeal against conviction and sentence will take place on 13 August 2021. As said, this is as yet unconfirmed. The appeal had been set down for the two days of 3-4 June 2021, but was adjourned at the request of the Crown. It may be that the appeal will now be more narrowly focussed, i.e. focussed on strictly legal arguments, and that that is why it seems now to be set down for only one day.
In the past, little happened in the courts in August, but that was then.
Late music